Do you feel like you're constantly buying new skin creams and trying to fight dry and aging skin? While aging is a part of life, you could be expediting the process by exposing your skin to the wrong environments. Even a space as safe as your home could be causing your skin to feel rough to the touch. Explore the following three ways you can update your home for softer, better-looking skin.
Add Shade to Your Patio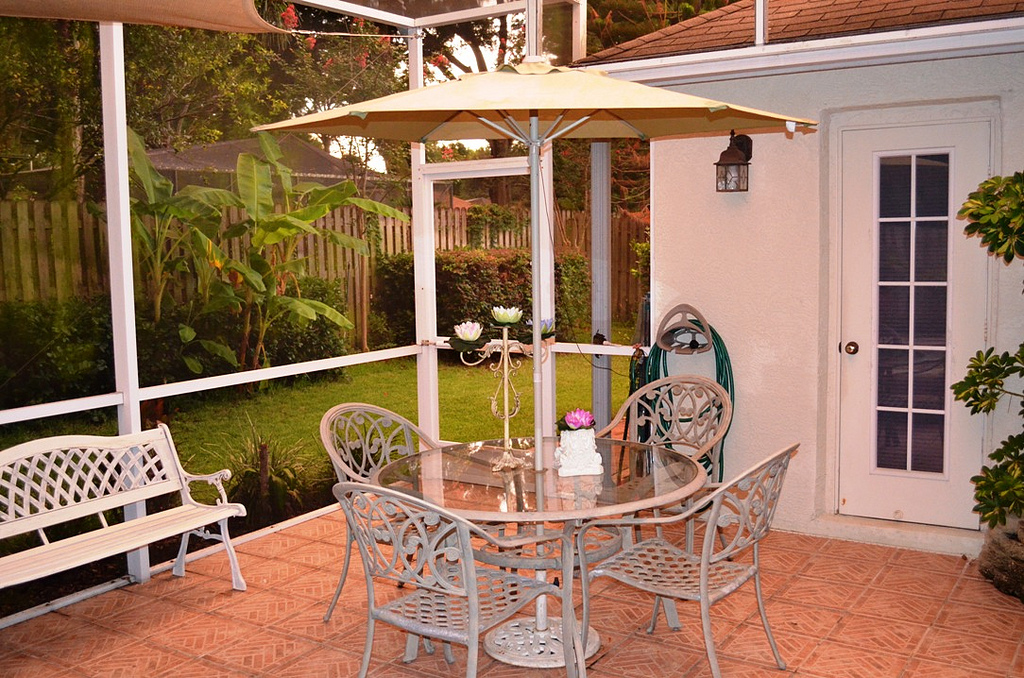 Image via Flickr by Bellafaye Garden
Your porch can be a great place to hang out year-round. You can sip drinks with friends during the summer months, settle in with a book during chilly fall days, and curl up under a blanket with someone special during cold weather. While the seasons might change, the sun doesn't. Even during the colder months of the year, UV rays can harm your skin, leaving it rough and causing premature wrinkles.
Many skin experts recommend applying sunscreen when you leave the house or investing in makeup with SPF protection, but what about when you're at home? Consider installing an overhang over some part of your patio or enclosing it with a mesh screen. Not only will this enclosure block out the shade to keep your skin safe, but it will also allow you to sit outside in the rain and keep the space cool during the hottest months of the year.  
Install a Humidifier to Battle Dryness
Finding the right humidity in your home requires a delicate balance. Too much humidity can cause mold growth while too little can dry out your skin. If you feel like your skin is flaky or itchy when you're home, the air itself could be to blame.
Consider investing in a humidifier to keep your home in the desired humidity levels of 30 to 50 percent. A humidifier is especially important if you live in dry areas such as Arizona or overly humid regions such as Florida. This balance will keep you cool and comfortable — and your skin will thank you.  
Add Ventilation to Your Bathroom
Taking a steamy shower is a great way to relax after a long day, but the steamy environment can also wear on your skin. Excessively hot water washes away the natural oils in your skin and hair, leaving your skin dry and your hair brittle. Not even a humidifier can fix dry skin if you're scrubbing away natural nutrients.
Improving ventilation in your bathroom can be as simple as leaving the door open after you shower. However, you can also change your bathroom windows to models that open to let the steam out. Installing a fan can push dry air into your bathroom and counteract the power of the steam. Remember, installing these ventilation solutions is only the first part; you need to remember to turn on the fan and leave the window open when you shower for maximum effect.   
You don't have to completely remodel your home to get amazing skin, but you should keep an eye out for culprits that are harming your body. With a few easy changes, you might find yourself throwing out the anti-aging cream and showing off your naturally glowing skin.