It's not secret that I am a fan of Aveeno products, the whole family has been using the brand for many years.  I have been an Aveeno Ambassador now for more than a year and have discovered many new favorites since then.  Recently, I received the Aveeno Positively Radiant Intensive Night Cream from Influenster for review.  I have used it as my night moisturizer for a few weeks now and would love to share my opinion with you all!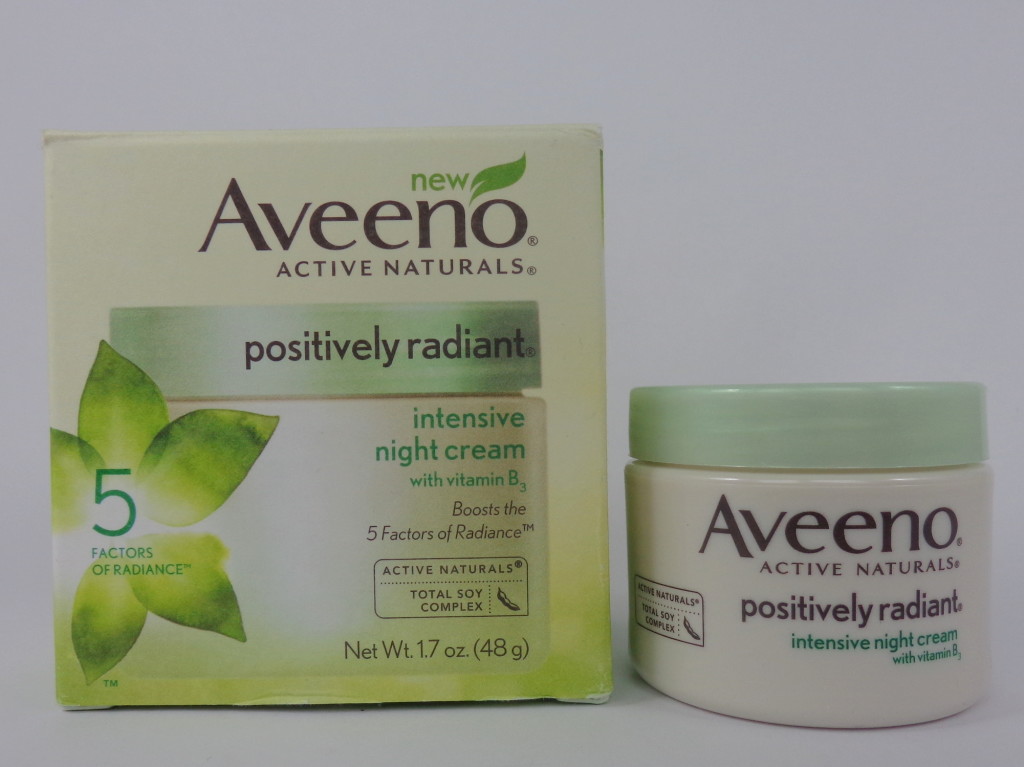 Aveeno Positively Radiant Intensive Night Cream is an oil-free moisturizer that contains the "Active Naturals Total Soy Complex boosted with tone-evening vitamin B3".  It sets out to "give an extra boost on all 5 factors of Radiance – tone, texture, dullness, blotchiness and brown spots".
The consistency of the cream is very lightweight and does have the lightest of scents that does not linger.  It is almost a whipped-type of product and I noticed that as I use it, the product settles back down in the jar.  Hopefully that gives you an idea of how light/heavy it is and it's also nice because you can tell how much you have left.  Does that make sense?
I like how the cream glides over my skin and sinks in nice and quick.  I can actually say I noticed a difference in the way my skin looked the very next morning.  Typically I wake up and have some blotchiness on my cheeks and that was definitely reduced with the Intensive Night Cream.  Over the course of a few weeks, I thoroughly enjoyed the results of this cream on my skin.  It has improved the tone, texture, dullness and blotchiness just as it claimed.  I love that the texture of my skin is even throughout my whole face.  Before this, I had a real difference in texture on my cheeks and it is now very soft.  I also did not have any issues with breakouts while using this, a major plus!  I have not noticed a reduction in brown spots though.
I guess the only problem is that I did not like having this cream in a jar where I had to dip my fingers in it every day.  Trust me when I tell you that my hands are always VERY clean as I wash them a zillion times a day.  Even so, I cringed every time I dipped my finger into this jar.  I felt like I was contaminating it each and every day.  Weird, right?  It may be weird but that is the only thing keeping me from continuing to use my Aveeno Intensive Night Cream going forward.  I really like the effects but HATE that it is in a jar.  I have since gone back to my favorite moisturizer to date:  Aveeno Clear Complexion Daily Moisturizer (full review). Drugstores, mass retailers, Aveeno.com $14.99-$16.99.
I received this product complimentary from Influenster for testing purposes.
Have you tried this new product yet?  Do you like it in a jar?