Over the years I have learned a few things about skincare. I have done my share of excessive scrubbing, too much sun, and using way too many quick-fix products that never actually worked. Some of the most important things I have learned about treating my skin well: 1. Drink plenty of water to hydrate skin (it really works); 2. Apply sunscreen on my face every day to avoid sunburn which leads to premature aging; 3. Use the right skincare products for my skin type; 4. Treat my skin instead of concealing with makeup.
Whatever skin issues you may be dealing with (pimples, rosacea, blackheads, you name it) all are best handled with the right treatment rather than the perfect foundation or concealer. If you are dealing with the facial redness of rosacea, Mirvaso could help.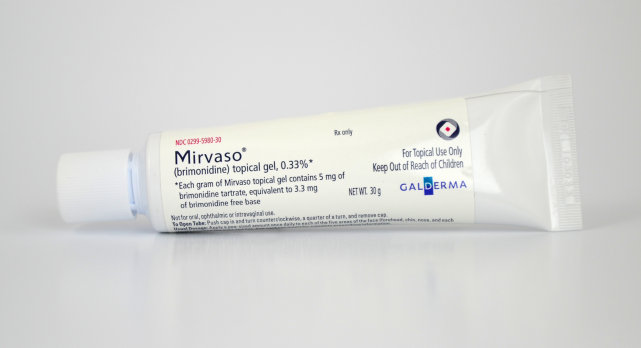 Mirvaso is an easy-to-use gel for daily use and results can been seen quickly.  Over 82% of rosacea sufferers have used makeup to cover up redness.  Some cosmetics and skincare products can irritate sensitive skin even more so you might be making your redness even worse!
I was surprised to learn that 51% of rosacea suffers do not visit a dermatologist for fear of the cost of treatment.  In contrast, those same folks spend around $36 on a single non-prescription product that claims to cover up facial redness!  If you suffer from facial redness from rosacea it may be time to make that visit to a dermatologist and break up with your makeup!
Click here for tons more helpful information on Mirvaso Gel from Galderna Laboratories, L.P.  You can take a quiz to find our if Mirvaso is right for you, find out about saving money on your prescription and even find a dermatologist in your area!
BONUS:  Enter for your chance to win tickets to the Emmys, just click on the photo below!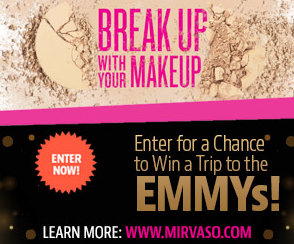 Important Safety Information
Mirvaso® (brimonidine) topical gel, 0.33% is an alpha adrenergic agonist indicated for the topical treatment of persistent (nontransient) facial erythema of rosacea in adults 18 years of age or older. Adverse Events: In clinical trials, the most common adverse reactions (≥1%) included erythema, flushing, skin burning sensation and contact dermatitis. Warnings/Precautions:Mirvaso Gel should be used with caution in patients with depression, cerebral or coronary insufficiency, Raynaud's phenomenon, orthostatic hypotension, thromboangiitis obliterans, scleroderma, or Sjögren's syndrome. Alpha-2 adrenergic agents can lower blood pressure. Mirvaso Gel should be used with caution in patients with severe or unstable or uncontrolled cardiovascular disease. Serious adverse reactions following accidental ingestion of Mirvaso Gel by children have been reported. Keep Mirvaso Gel out of reach of children.Not for oral, ophthalmic, or intravaginal use. You are encouraged to report negative side effects of prescription drugs to the FDA. Visit www.fda.gov/medwatch or call 1-800-FDA-1088.
I was selected for this opportunity as a member of Clever Girls Collective and the content and opinions expressed here are all my own.