I participated in an Influencer Activation on behalf of Influence Central for Crepe Erase. I received product samples to facilitate my review and a promotional item to thank me for my participation.
This month I turned 40 and addressing the signs of aging on my skin has become a top priority.  I know age is just a number and it doesn't bother me at all to be 40.  What does bother me is looking older!  I'd say that it has been in the last 5 years or so that I have really seen the effects of aging.  Besides the fine lines on my face, I have noticed that the skin on my body (especially in areas like the neck, decolletage, knees, elbows) has become less smooth and firm.  My skin has begun to look a little like crepe paper in some key areas.  I already have a routine in place for my facial concerns but had not really focused a whole lot on anti-aging for the body.  Over the past couple of weeks, I have added Crepe Erase to my daily body routine and would love to share my first impressions with you all!  The Crepe Erase 2-step system includes the Exfoliating Body Polish and the Intensive Body Repair Treatment.  The Crepe Erase system is formulated with the TruFirm™ triple complex of skin-restoring plant extracts.  The system sets out to target those stubborn signs of aging all over the body (that crepe-paper skin I mentioned) and leave skin smoother-looking and softer with the help of the TruFirm™ Complex.  I'm on board with that mission!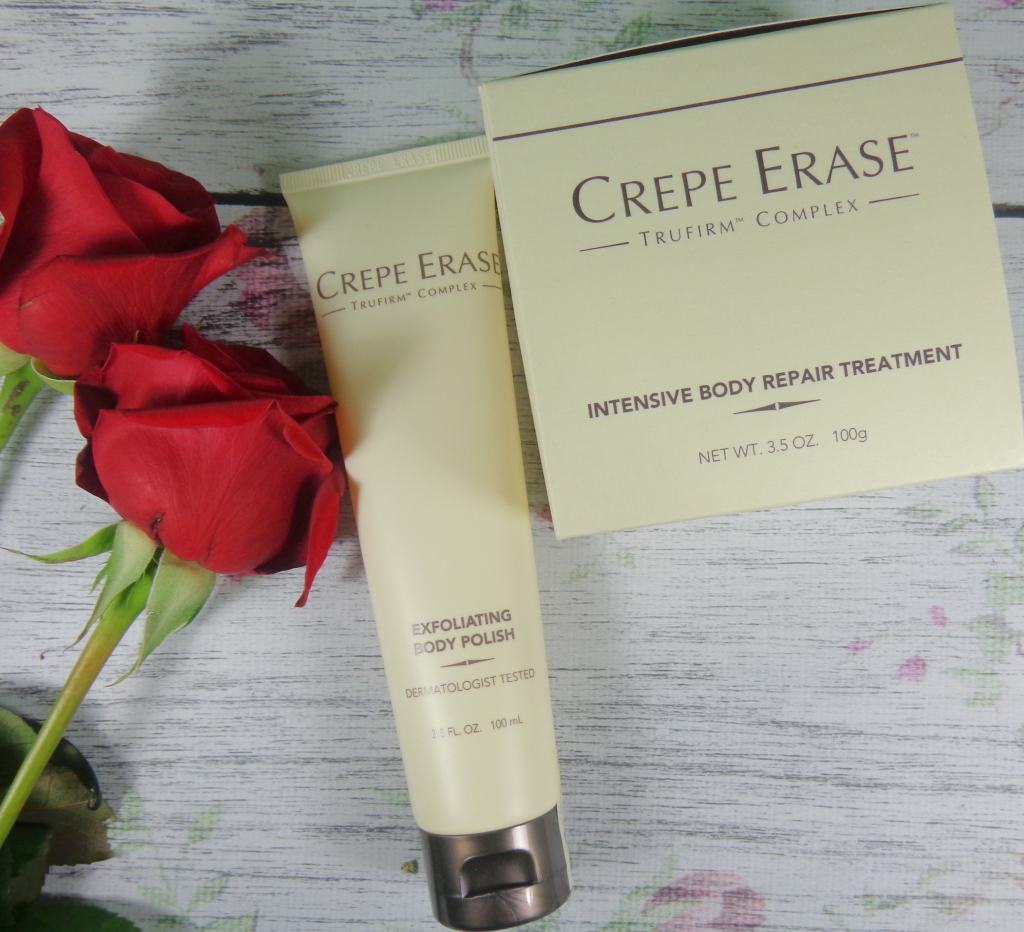 Crepe Erase Exfoliating Body Polish is Step 1.  The body polish is meant to help visibly smooth and tighten that crepey skin that shows up on the neck, chest, legs and arms.  The TruFirm™ Complex helps to firm up the skin and restore the look of skin that is showing signs of aging.  I will use the Exfoliating Body Polish as my last step in the shower every day.  I massage it into the skin in circular motions and I can feel the little round scrubbies doing their duty.  I use it on my arms, legs, chest and neck.  I can tell you that after about the second use my skin felt softer for sure.  I like that the ingredients list includes good ingredients like Apple Fruit Extract, Dill Extract, and Olive Fruit Oil.  This scrub is water-based so I recommend giving the tube the tiniest squeeze when dispensing product.  If you give it a big squeeze, you will most certainly dispense way too much.  To prevent unneccesary waste, my advice is to be cautious or the Body Polish will spill out in a hurry.  I'd also like to mention that I really like the light citrus fragrance in this Body Polish, it has a luxury spa feel to it.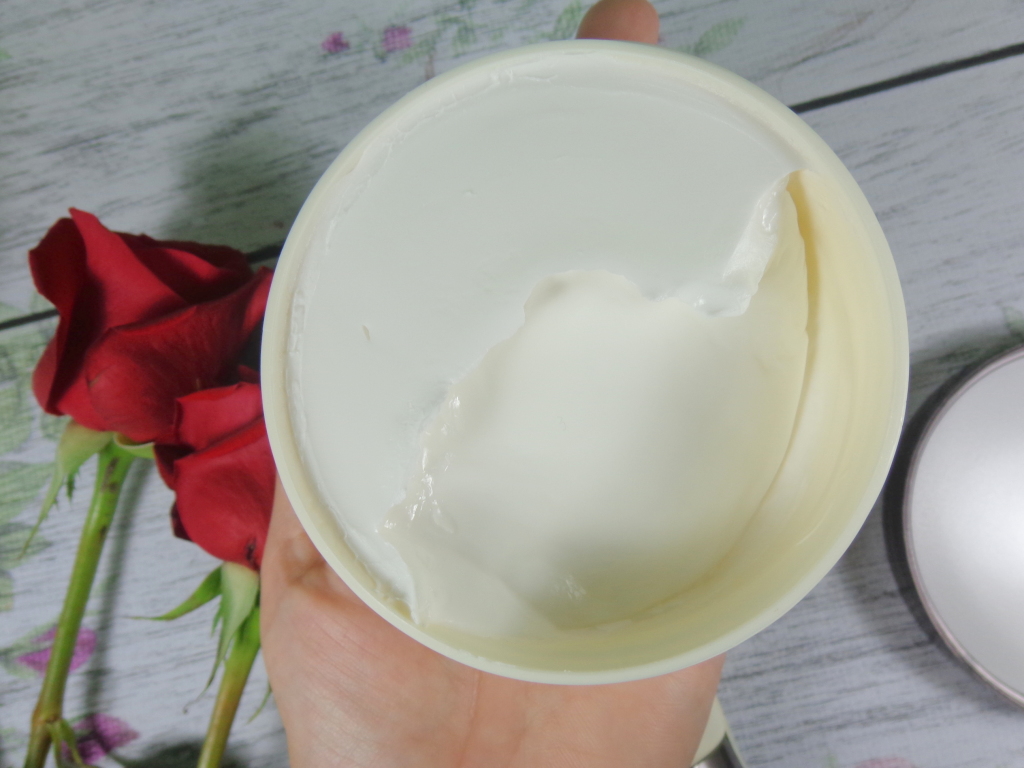 Crepe Erase Intensive Body Repair Treatment is Step 2.  This treatment is meant to plump and hydrate your crepey skin.  The TruFirm™ Complex in this second step helps to reinforce the firming and restoring abilities initiated by the Exfoliating Body Polish in Step 1.  I use the Intensive Body Repair Treatment after drying off from my shower every day.  I apply a small amount to my arms, legs, neck and chest and massage in circular, upward motions.  While the product appears like a solid in the jar, it applies so smoothly and with the heat of my hand absorbs within seconds on the skin.  I absolutely love the effect of this treatment on my skin.  It has my skin feeling ultra-hydrated, soft, and smooth.  Good ingredients in the Intensive Body Repair Treatment include Shea Butter, Cocoa Seed Butter, Coconut Oil, Olive Fruit Oil, Apple Fruit Extract and more.  Again, the light citrus fragrance in this product is so nice and puts you in a spa frame of mind.
L to R:  Crepe Erase Exfoliating Body Polish / Crepe Erase Intensive Body Repair Treatment
In a nutshell, my first impression on Crepe Erase after my first couple of weeks is very good.  I am enjoying both products and already notice my skin feels softer and smoother.  I think it's important to have a routine to improve the look of aging skin.  For me, it's about feeling more confident and knowing that I'm doing what I can for my skin.  With just a few minutes every day, I can improve the look and feel of my skin AND feel more confident.  It's worth it!  I look forward to sharing my in-depth review of Crepe Erase after 4 weeks of use!
To purchase or get additional information, visit CrepeErase.com.
Do you have a routine in place to target your aging skin?  Will you be trying Crepe Erase soon?