Have you seen "Spooksville" on the HUB Network?  I actually watch it with my kids quite often on the weekends.  It's  a live-action TV show about the new kid in town, Adam Freeman, played by Keean Johnson ("Billy Elliot" – Broadway).  Adam discovers that he holds the key to a battle between good and evil that has been taking place for centuries in a weird small town where all kinds of supernatural and unexplained happenings occur. It's one of those shows that has just the right amount of spooky and the whole family can watch it together!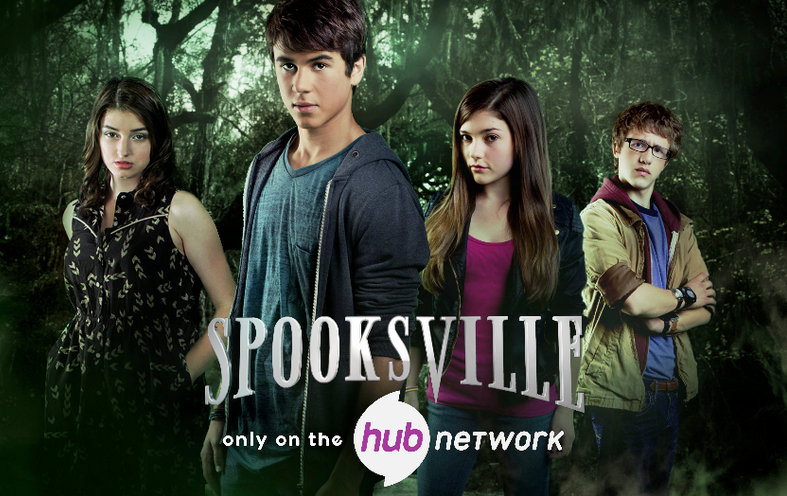 The producers of "Spooksville," Jane Startz Productions and Front Street Pictures, invite parents and kids (ages 13+) across the country to participate in the "Monster Dress-up Photo Giveaway" and win a PRETTY AWESOME "Spooksville" goodie basket.  It's so easy to enter and fun too!  The prize will include: (1) Signed Poster of the Cast of "Spooksville," (1) $200 Gift Card to Target, (1) Spooksville Book by Christopher Pike, Various Hub Network Swag Items, (1) Clue the Classic Edition Game, and (1) Orville Redenbacher Gourmet Popcorn, Jar-30 oz. Giveaway goodie basket subject to change.
HOW TO ENTER
Participant must follow all five (5) steps below to enter, giveaway ends 5:00PM ET on April 4, 2014, subject to Official Rules
1.) Participant submitting must be age 13+ and a United States resident.
2.) Participant must submit only one (1) photo, of one (1) person, to one (1) of the possible three (3) social media platforms. Those platforms include Facebook, Twitter, or Instagram. If participant creates multiple accounts in order to enter into the giveaway more than once, participant may be ineligible.
3.) Participant must Like or Follow "Spooksville" on Facebook, Twitter, or Instagram. Platforms listed below:
Facebook: https://www.facebook.com/SpooksvilleTVShow

Twitter: https://twitter.com/SpooksvilleTV

Instagram: http://instagram.com/spooksvilletv
4.) Participant must post a photo on their individual Facebook, Twitter, or Instagram page dressed as a monster, use #SpooksvilleMonster, and tag "Spooksville" in their submission post. Tags or handles listed below:
Facebook: @Spooksville

Twitter: @SpooksvilleTV

Instagram: @spooksvilletv
5.) Participant must email SpooksvilleTV@gmail.com and include the following contact information:
First and Last Name, Address, City, State, and Zip Code

Twitter or Instagram handle name
I hope you will enter the super-fun "Spooksville" Monster Dress-Up Photo Giveaway!  Good luck with your chance to win that totally amazing "Spooksville" Goodie Basket worth $300!
Disclosure: This is a sponsored post.