Recently, I became aware of a new (and quite innovative) beauty brand.  Farmacy beauty uses farm-grown, hand-picked botanicals in their products that set out to give us fresh, beautiful, radiant skin.  The real scientific nitty-gritty from Farmacy: Powered By Echinacea GreenEnvy™. A unique patent-protected variant of Echinacea Purpurea, GreenEnvy™ contains the highest known concentration of the phytochemical Cichoric Acid, a potent natural antioxidant which helps protect and firm the skin by inhibiting the enzymes that break down collagen. Cichoric Acid also normalizes the skin pigmentation process to promote a more evenly toned complexion.
Farmacy sent over the BRIGHTENING Hydrating Coconut Gel Mask for review.  It is a sheet mask and boasts quite a bit on the package about the "farm fresh extracts, bio-cellulose sheet with unprecedented structure and design, etc."   I was ready to see how this mask performs!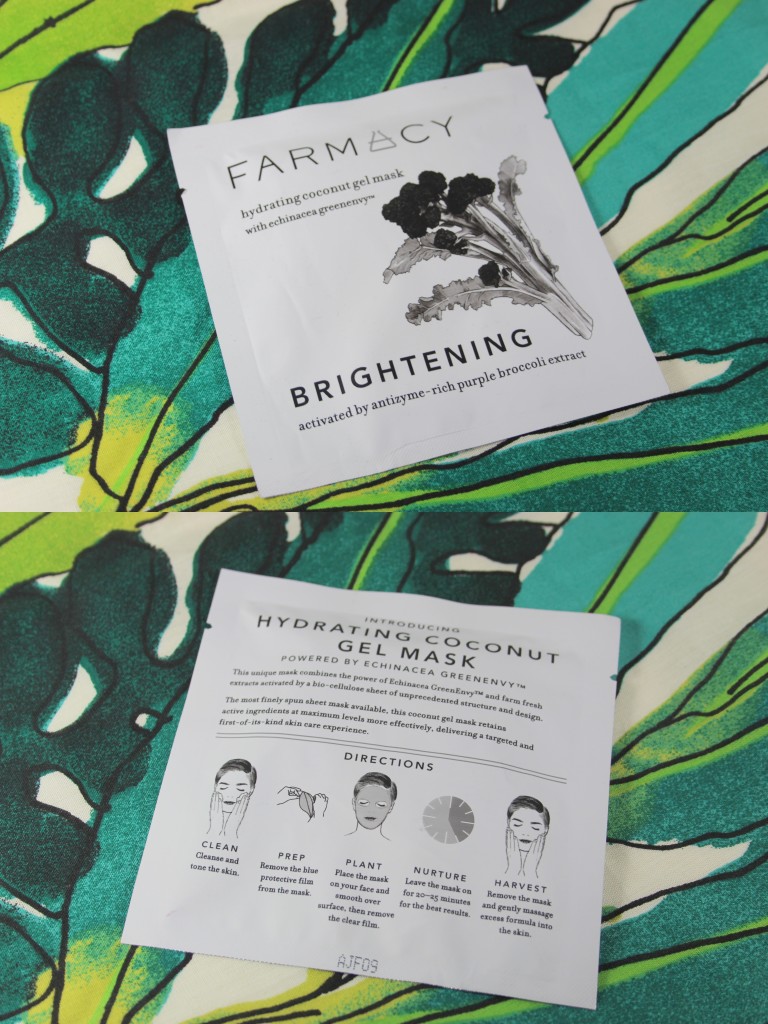 I followed the directions to cleanse my skin, then opened the package to unfold the mask.  There is actually three layers and the package tells you to remove the blue protective film first.  I have to admit it was a bit difficult to see which side was "blue". I took a guess and then once I removed that layer, I could see a very faint blue tint to it.  Eureka, I chose the right layer!  I placed the mask on my face, smoothed the surface and then removed the top layer of film as instructed.  What is left is a gel-type sheet mask.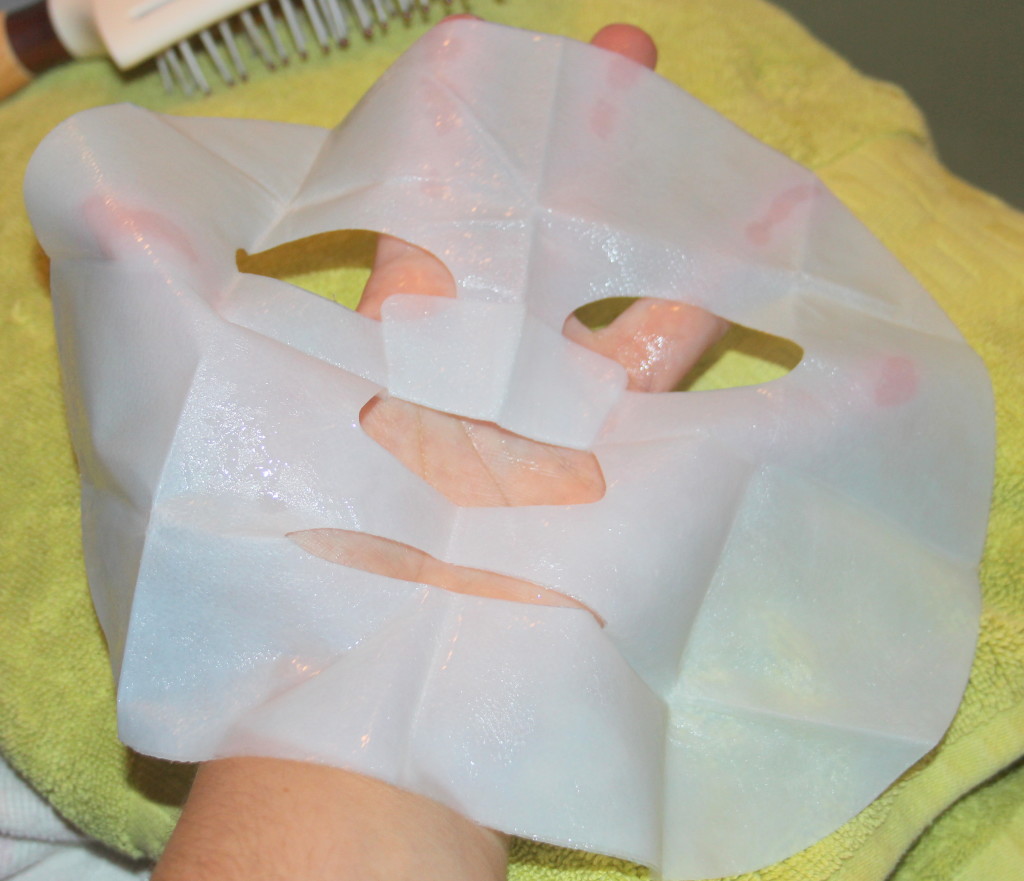 the mask right out of the package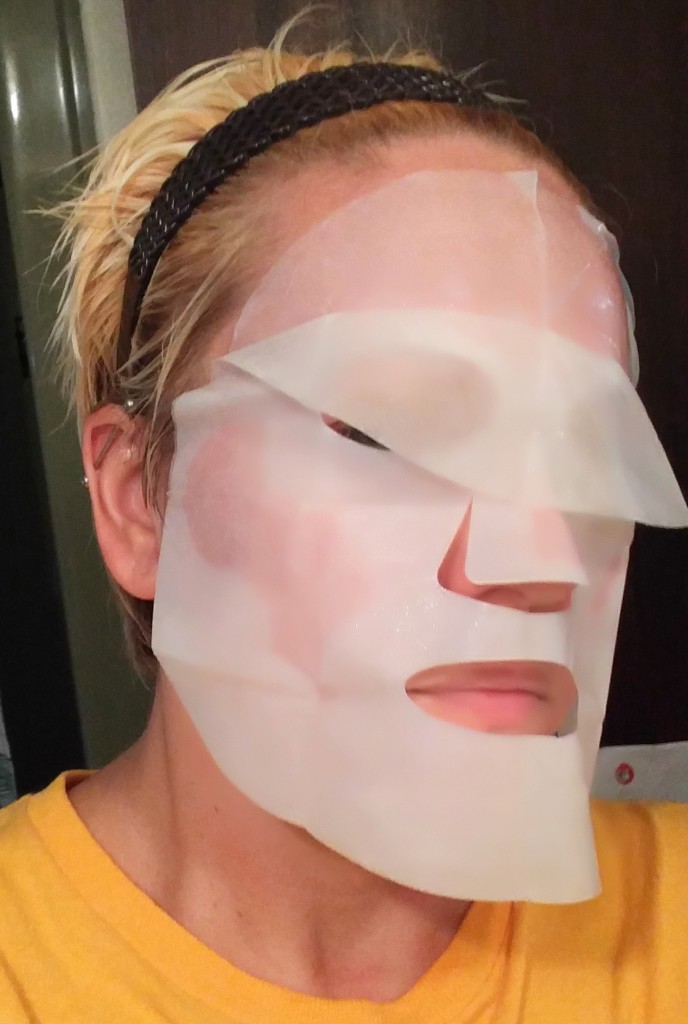 pulling away the final protective layer
there are TWO protective layers on this mask that you need to remove
I was impressed right away that the mask was so easy to place on the face, fit well (a lot of these type of masks have eye/nose holes that seem to be awkwardly placed), and it stayed put.  I have used sheet masks in the past that slip, slide and often never stay in place.  That makes for a less-than-relaxing experience.  I left the BRIGHTENING mask on for about 25 minutes, all the while it feeling very cooling on my face.  I was able to sit up on the couch and watch an old Teen Mom episode and even drink my coffee with no problems.  I really can't stress how impressed I am with the structure and design of the mask.  Normally, I would have to lay back and abandon all movement to keep these type of masks from slipping off.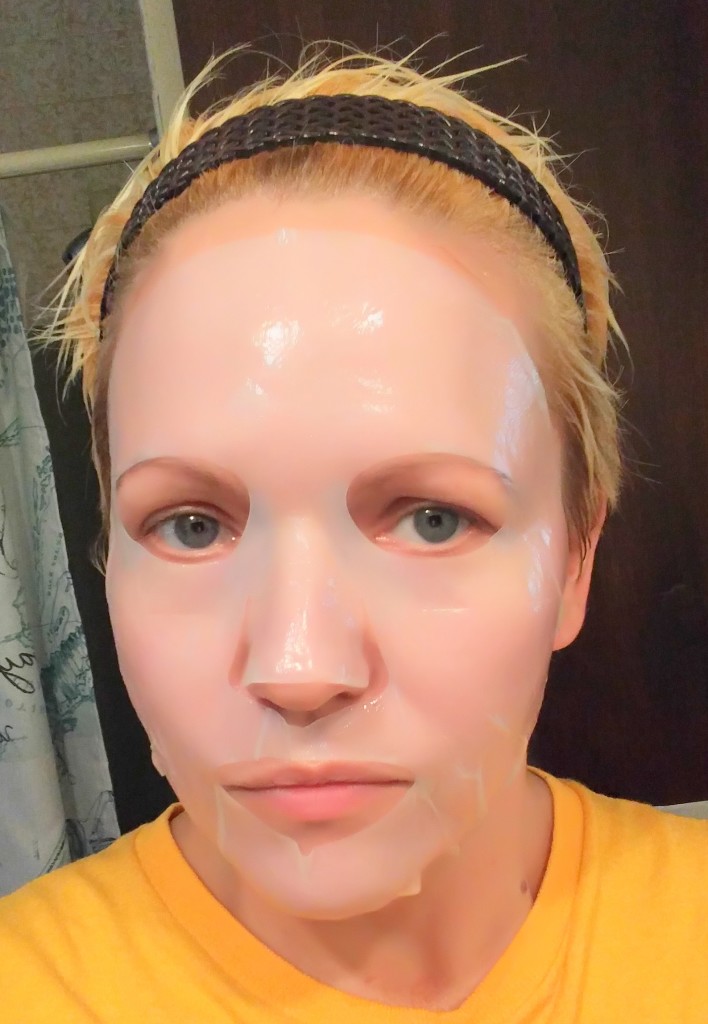 perfectly-placed Farmacy BRIGHTENING mask!
After 25 minutes, I removed the mask and massaged the excess formula into my skin.  What is left on the skin after removing the mask is just enough to massage in for just a moment.  You are not left with globs of sticky gel (like other masks) which can make you feel as if you need to cleanse again.  My face took about 1 minute to dry and felt plump, soft, and healthier than before the mask.  I was totally refreshed!
Product received from PR for editorial consideration, all opinions expressed are my own.
Overall, I am pretty thrilled with everything about Farmacy.  I loved the BRIGHTENING mask I tried, so excited about the whole concept of the brand, and really can't wait to try so many more of their products.  Right now I have my eye on the OIL CONTROL mask and the Apple Rosemary LIP BLOOM!
Find Farmacy at Sephora, QVC, and FarmacyBeauty.com
Which Farmacy beauty product would you like to try soon?