If you haven't heard the Earth Day Exchange is going on at Zoya.com.  Zoya is offering a 50% off code for up to 6 nail polish plus FREE shipping on your order!  The idea is to exchange your old nail polish but your ARE NOT REQUIRED TO SHIP YOUR OLD NAIL POLISH.  They are using the  honor system so you can simply donate any number of old nail polish to your local organization and use the discount code now!  Here's how it works:
Information from Zoya.com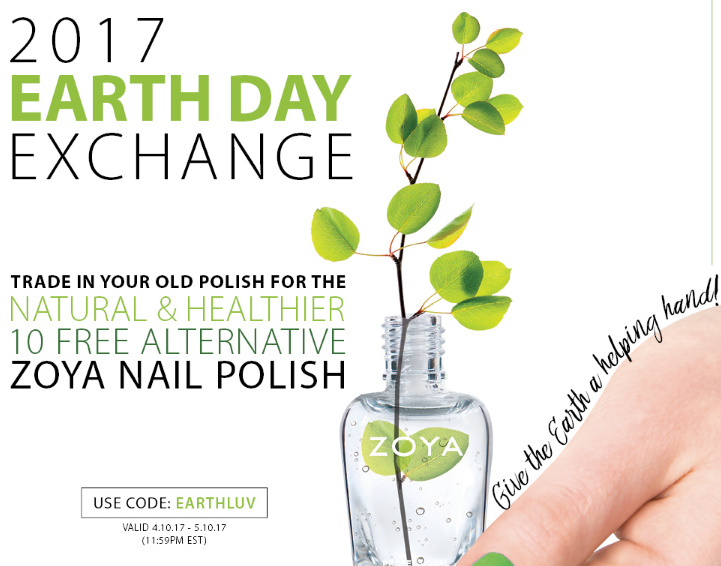 Zoya Earth Day Exchange 2017
With over 300 shades rooted in a healthy philosophy, it's no surprise that we're committed to helping you green your beauty routine! That's why each year we give you the opportunity to exchange any old nail polish bottles (any brand)  that you may have laying around your house collecting dust, or that are not BIG10FREE formulas, for brand new toxin-free Zoya Nail Polish shades to celebrate Earth Day.
Rest assured that your unwanted polishes will be disposed of in an environmentally friendly manner. Make Mother Nature proud by following the instructions below and get started by picking out your NEW Zoya colors at www.zoya.com! Please note this promo excludes Zoya Treatments and Naked Manicure Base and Top Coats.
How The Exchange Works…
1. Visit www.zoya.com and add your desired nail polish colors to your cart.
Consumer Accounts: Minimum 6, maximum 24 bottles
Professional Accounts: Minimum 12, maximum 48 bottles
2. Apply Code: EARTHLUV and a 50% credit will be added to your exchange order – free shipping included! Offer valid 4/10/17- 5/10/17 (11:59pm EST)
3. Complete checkout and you're all set! Please see details below for instructions on sending back your unwanted polish.
USE CODE: EARTHLUV
Offer valid 4/10/17 – 5/10/17 (11:59pm EST)
Returning Your Polish
Once you receive your order, decide if you are going to send in your unwanted polishes or donate them to a local cause. We are using the honor code to make sure you get your Zoya Nail Polish as quickly as possible! Offer is not contingent on customer returning polish. If you do choose to send us your old polish, we promise to properly dispose of it according to environmental guidelines. If you choose to ship back polishes, please include a copy of your invoice with your order and make sure to comply with the shipping guidelines by your carrier of choice. You do not have to send us the exact amount of bottles that you are ordering, there is no limit! Please note: You will need to check with your carrier of choice for guidelines and restrictions on shipping nail polish.
Ship Your Exchange To:
Art of Beauty, Inc.
c/o Polish Exchange
200 Egbert Rd
Bedford, Ohio, 44146, USA