It is back-to-school season and I can tell you that each year it is a challenge to be totally prepared.  With the first day of school approaching, there is so much to be done (and so much to be purchased)!  It can become a little overwhelming at times, right?  I am partnering with Kmart and Nickelodeon who are working together to make back-to-school a breeze!  Getting prepped for the first day of school can be especially challenging for parents and kids just starting kindergarten.  I know the feeling when your child is starting kindergarten and you have no idea what it's going to be like.  Imagine how your kindergartener feels, it's all new to them too!
Kmart is hosting an exciting event at the Addison Kmart (3443 W Addison Street, Chicago) : Nick Jr. Beyond the Backpack. I hope you will join me this Saturday, August 19th, 2017 from 1 p.m. to 5 p.m. CT!   At the event, you can shop Kmart for all your back-to-school necessities (from clothing to classroom supplies and more), AND have tons of fun!  There will be deals galore, FREE interactive games and surprise appearances by some of your kids' favorite Nick Jr. characters, Shimmer and Shine and Dora the Explorer.
If you haven't heard, Nick Jr.'s Beyond the Backpack is a curriculum-based early childhood education initiative that extends the educational properties of Nick Jr. by offering parents, who may wonder where to start, a custom learning plan from experts that will provide a solid foundation for their kids as they prepare them to start kindergarten.  At beyondthebackpack.nickjr.com you can find a ton of resources to aid you and your family in getting ready to start kindergarten.  You can take a short quiz that will tell you how ready your child might be for starting kindergarten.  Readiness includes things like how independent they are, how they perform tasks like writing their name, as well as knowing basic shapes, and being able to take turns. You will also find activities for your child at beyondthebackpack.nickjr.com, subjects range from talking about feelings to arts/crafts, practicing ABCs, and so much more. These are all activities that parents can do with their kids to help them meet milestones before they start class.  Getting ready for the first day of school really does take the involvement of parents and children together.
For our family shopping for back-to-school items like school supplies, clothes, shoes, backpacks, and more is an opportunity to help us prepare mentally for the first day.  While you are out picking out new shoes and new lunch bags, you can get a casual conversation going with your child about how they are feeling.  Some kids are vocal about their fears or worries while others need to be asked.  I personally have one of each kid!  My daughter talks all about her feelings and my son…not so much.  Engaging your kids in these conversations can put your child AND you at ease with the anxiety that can go hand in hand with new experiences.  Also, I really believe that the process of choosing items like first-day-of-school outfits, backpacks, (even notebooks with pretty pictures) are all things that boost a child's confidence.  Being a little more sure of yourself going into a new school year is certainly helpful.  I also don't believe in having to spend a ton of money to do that.  Kmart is the perfect place to shop with the family AND stick to the budget.  I have a few items to pick up for back-to-school, so I will be shopping for lunch storage items and graphic tees while I'm at Kmart on Saturday.
As parents, we all want our kids to be the absolute best they can be.  Make back-to-school season a time to encourage kids, give them confidence, and all the tools they need to be ready to take on the year.  With the help of Kmart and Nick Jr. Beyond the Backpack, I believe we all can get it done together!  
Don't forget:
Join me at the Addison Kmart (3443 W Addison Street, Chicago): Nick Jr. Beyond the Backpack, Saturday, August 19th, 2017 from 1 p.m. to 5 p.m. CT!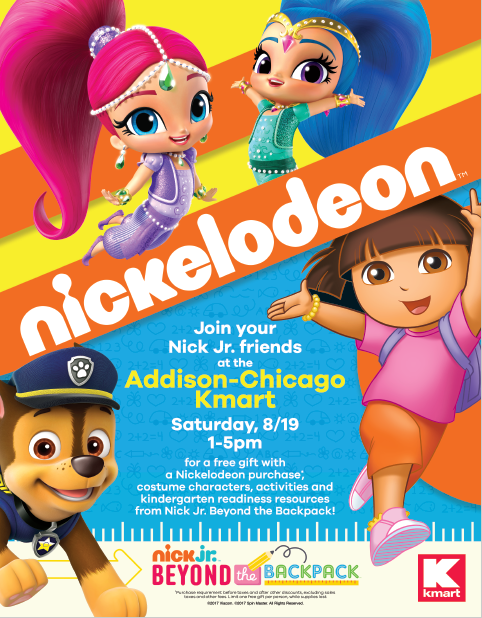 Hope to see you there!