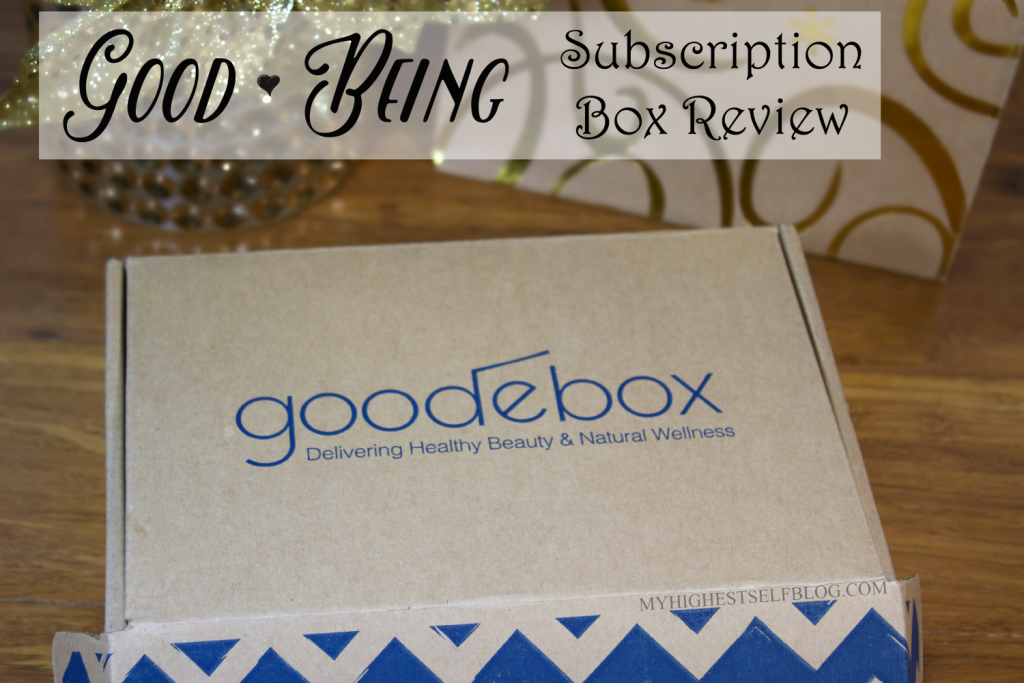 Before getting into this review, I should note that Good Being is formerly known as Goodebox. Still the same box and service, but now they have a different name. If you are a beauty enthusiast, then you probably know there is no shortage of subscription box services out there. However, if you prefer healthy, more natural beauty products the available options are pretty slim for the picking. Enter good being, a premium discovery & trial service providing expertly curated, healthy beauty products, non-toxic cosmetics, natural wellness & sustainable, toxin-free living goods.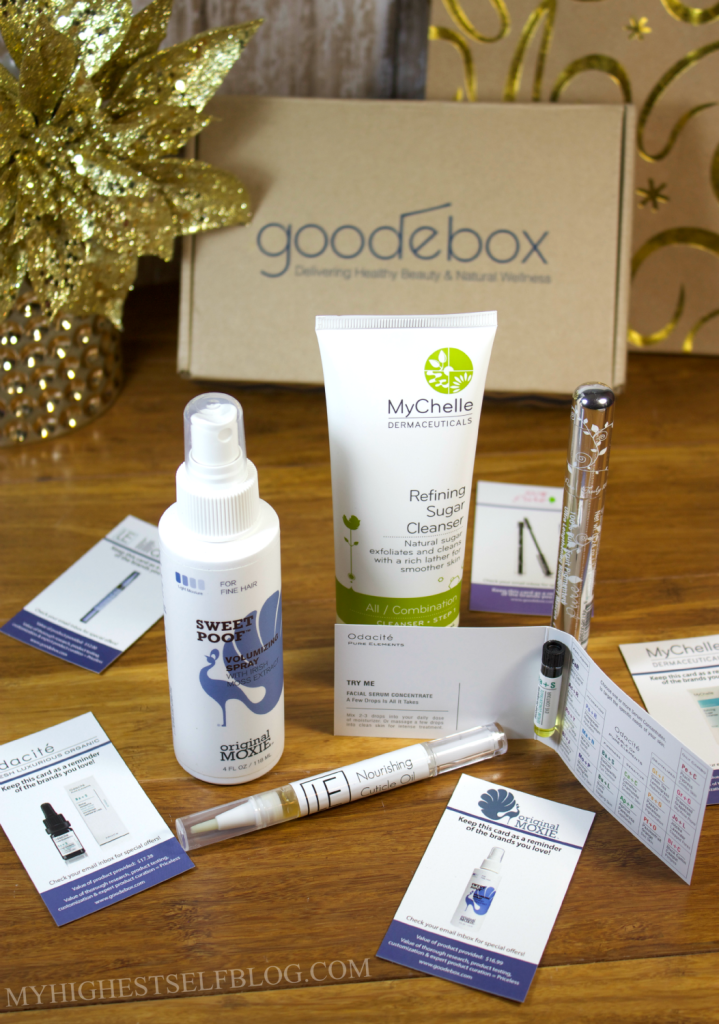 Good being boxes typically contain 4-5 trial sized products that are picked according to your in-depth profile preferences that is filled out prior to receiving a box. All Boxes will contain some type of skin and/or body care products.  Most months will have a color item (makeup), and some will have hair care, fragrance, sun care, personal care, hygiene products, accessories, supplements, health & beauty related food or beverage items or sustainable living products. Boxes cost between $18-$21, depending on which plan you choose. The $18 box is the cost per box if you sign up for a 12 Month Membership for $216/year, but they also offer a month-to-month subscription for $21 a box. (There are also every-other-month, 3 month and 6 month subscription options available.)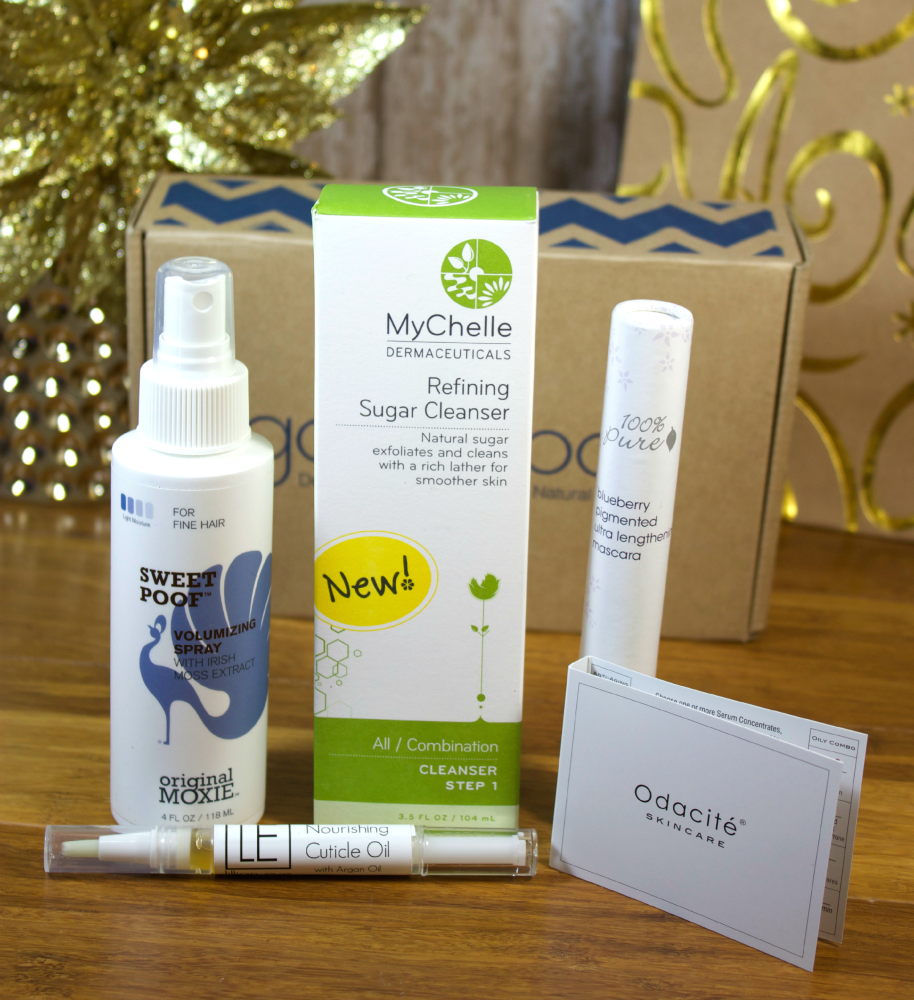 MyChelle Refining Sugar Cleanser

(Full Size)-  This natural exfoliator has a medium consistency and a lightly sweet scent that is so yummy! It can be used on all skin types and you can adjust the roughness of the scrub by using more or less water. It rinses clean, leaving my skin SUPER soft and not too dried out.
Original Moxie Sweet Poof Volumizing Spray

(Full Size)- This spray is made with Irish Moss which builds volume and adds beach-y texture or hold and lift to your everyday style. I want to try this, but I haven't been able to get past the scent… it's very medicinal/herbal.

Odacite (Ba+S) Baobab Sarsaparilla Serum Concentrate

(trial size)- This serum is specifically designed for the thin, delicate skin of the eyes. It targets all signs of aging including wrinkle reduction and relieving puffiness & dark circles.

Lillian Eve Nourishing Cuticle Oil Pen

(Full Size)- Lillian Eve is an Artisan nail polish brand that is 5-free, cruelty free and vegan. This nourishing cuticle oil is really nice, I love the pen style applicator and it absorbs very fast. After using it for about a week, my cuticle and nail area look better than they have in months!

100% Pure Blueberry Mascara

(Full Size)- This mascara is made with fruit & black tea pigments and it conditions lashes with Vitamins B5 and E. I love that it has the very slightest blue tint and it actually smells like blueberries! It does a great job at separating and lengthening my lashes and it's formula can be built up with multiple coats as well.
The box I received contained a nice mix of brands I know and love as well as ones that are new to me. I also really love that the box came with informative product cards so you can learn about each item you received and save the cards of products you particularly loved. My favorite products were definitely the Sugar Scrub, Mascara and the Cuticle Oil!
Product received from PR for editorial consideration, all opinions expressed are my own.
Do you think a good being box is something you would be interested in trying?