I stumbled across Grumpy Girl Candles a while back and knew immediately I was going to be making a purchase.  Grumpy Girl Candles offers candles (duh), body sprays, soaps, shower gels, and a ton more items.  The scent list is incredibly long, the names are hilarious, and the fragrance combos are so unique!  I wanted to buy everything from Thunder Thighs to Green Eyed Monster and back.
What first caught my eye was the Jenny Craig, Say What Body Spray (scent: lemon curd, vanilla bean, custard).  I had to buy it for my sister because that's her name!  I mean, when are you going to find a fragrance with your exact name??  I died.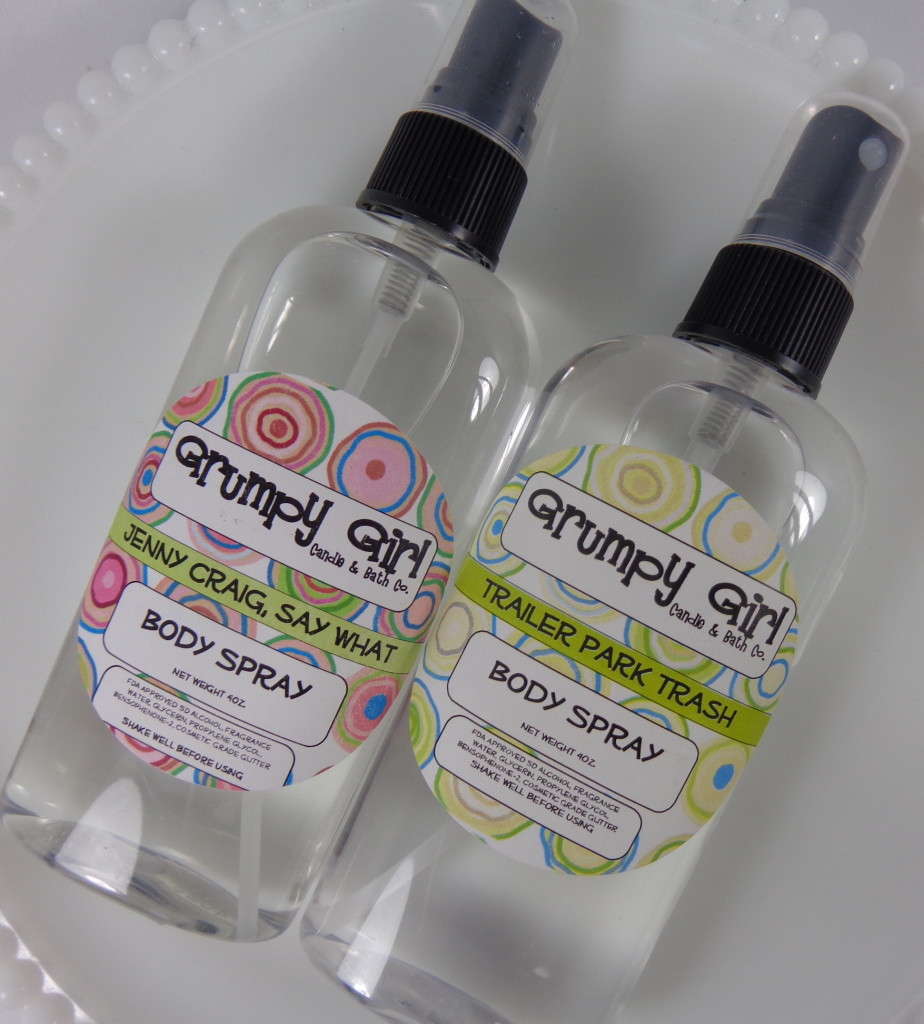 Ohmygosh I spent SO MUCH time browsing this site and trying to decide what I wanted to buy for myself!  After MUCH deliberating I finally decided to get Trailer Park Trash.  Obviously, the name cracks me up!  Just think about when someone says "oh I like what you are wearing, what fragrance is that?"…"Trailer Park Trash" I say.  Priceless!  When I read that the scent description of crisp green cuttings, jasmine petals, eucalyptus, sweet woods and musk I just knew it was the one.  Immediately I thought of the grass scratch 'n sniff stickers I had as a kid.  Man I loved those!  I get such a thrill wearing this body spray.  It makes me smell like I just rolled down a grassy hill covered in flower petals :).
My sister got a big kick out of Jenny Craig, Say What and needless to say I love my Trailer Park Trash!  I know I will be making more purchases from this site in the future.  Currently, I have my eye on I'm Sparkly, Bitch! ;).  Be sure to sign up for the email list to receive discount codes.  GrumpyGirlCandles.com and Etsy, $8.00 each.
I purchased these products.
What do you think of Grumpy Girl, what scent tickles your fancy?