My obsession with coffee is real and Pumpkin Spice Lattes are such a treat during this time of year. While I love Starbucks, I also love finding ways to make my favorite drinks at home.  I have been drinking my Pumpkin Spice Lattes at home just about every day for the past several weeks.  It is just TOO EASY to make, you save tons of money, and I had to share!  You can easily customize this drink according to how you make your coffee, how sweet you like it, etc.  Read on to find out the steps, my tips, and find out what the secret ingredient is!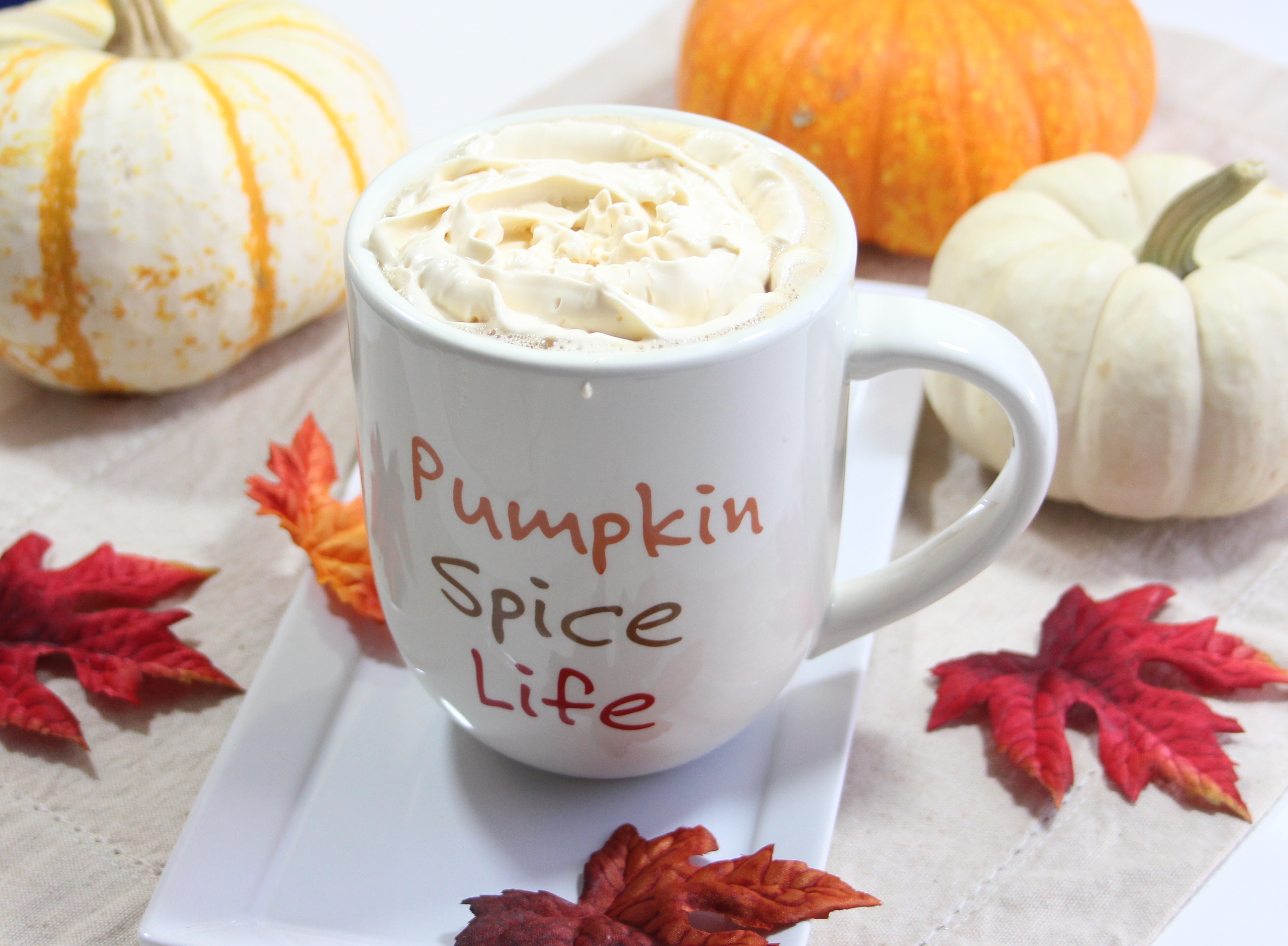 Step 1:  Brew your coffee.  I use an espresso maker but you don't need one for this recipe.  You can use fresh brewed strong coffee.  That's what I did before I got this baby for Christmas a couple of years ago!  I use about 3 oz of espresso as my base.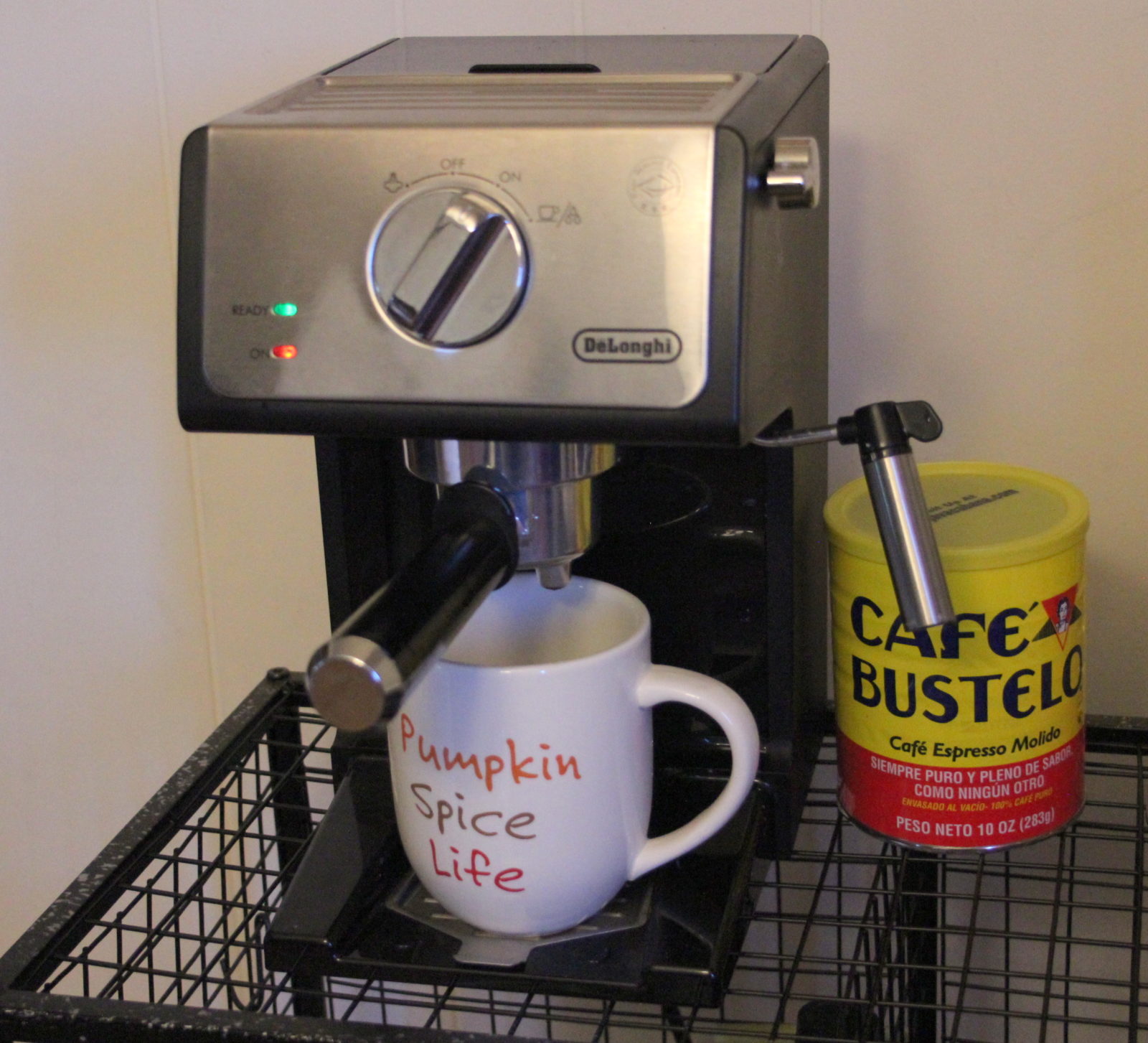 If you do use an espresso machine I HIGHLY recommend Cafe Bustelo Espresso Ground Coffee.  I first purchased it because it was the cheapest (about $4.00).  I quickly discovered it has the best flavor and it is espresso ground so I don't have to grind my own beans.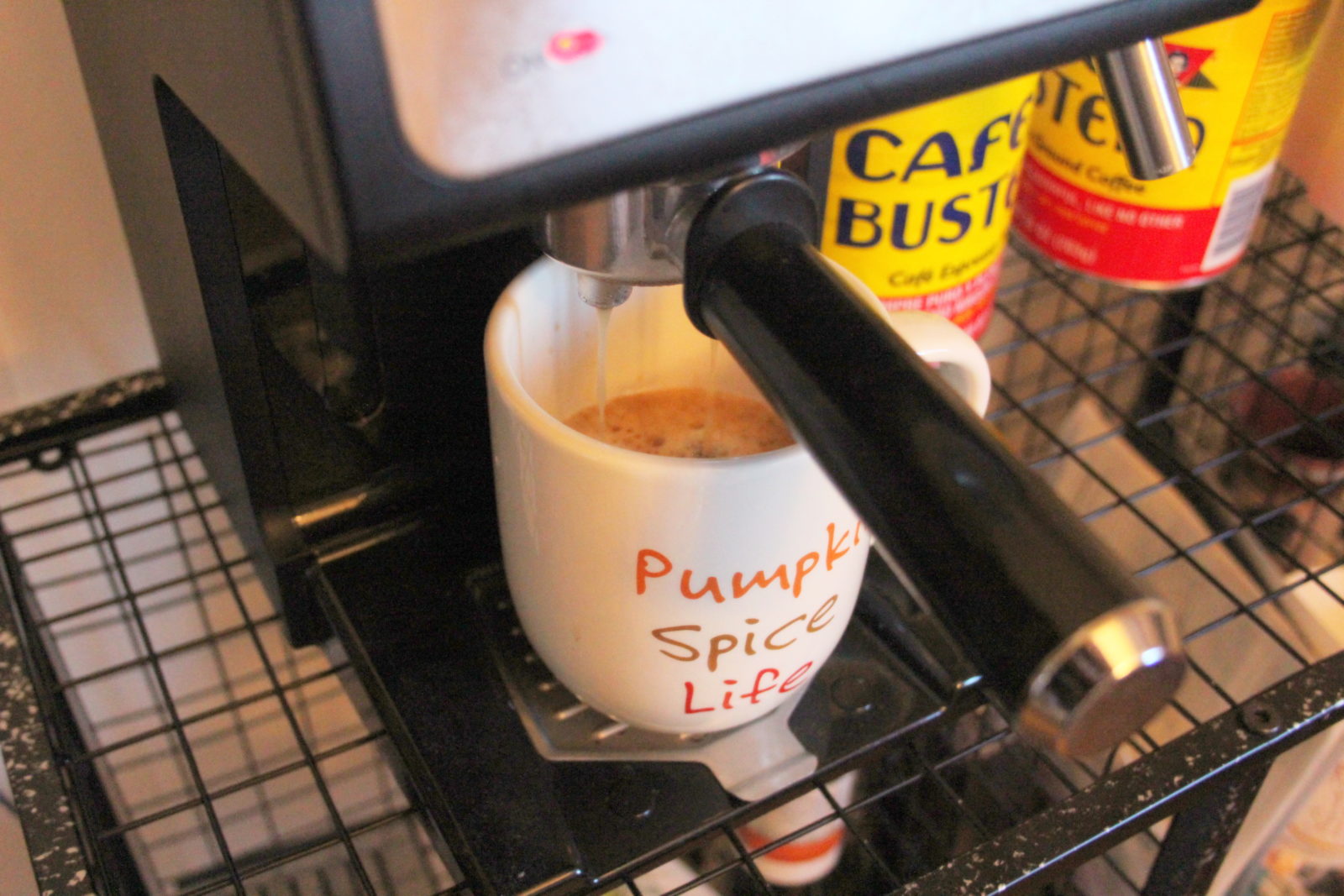 Step 2:  Froth about a 1/2 cup of milk (I use 2% but you can use any kind you like), and add a few pumps of vanilla syrup  to it.  I do 3 pumps, don't judge!  Personally, I think the vanilla syrup is the true "secret ingredient" here.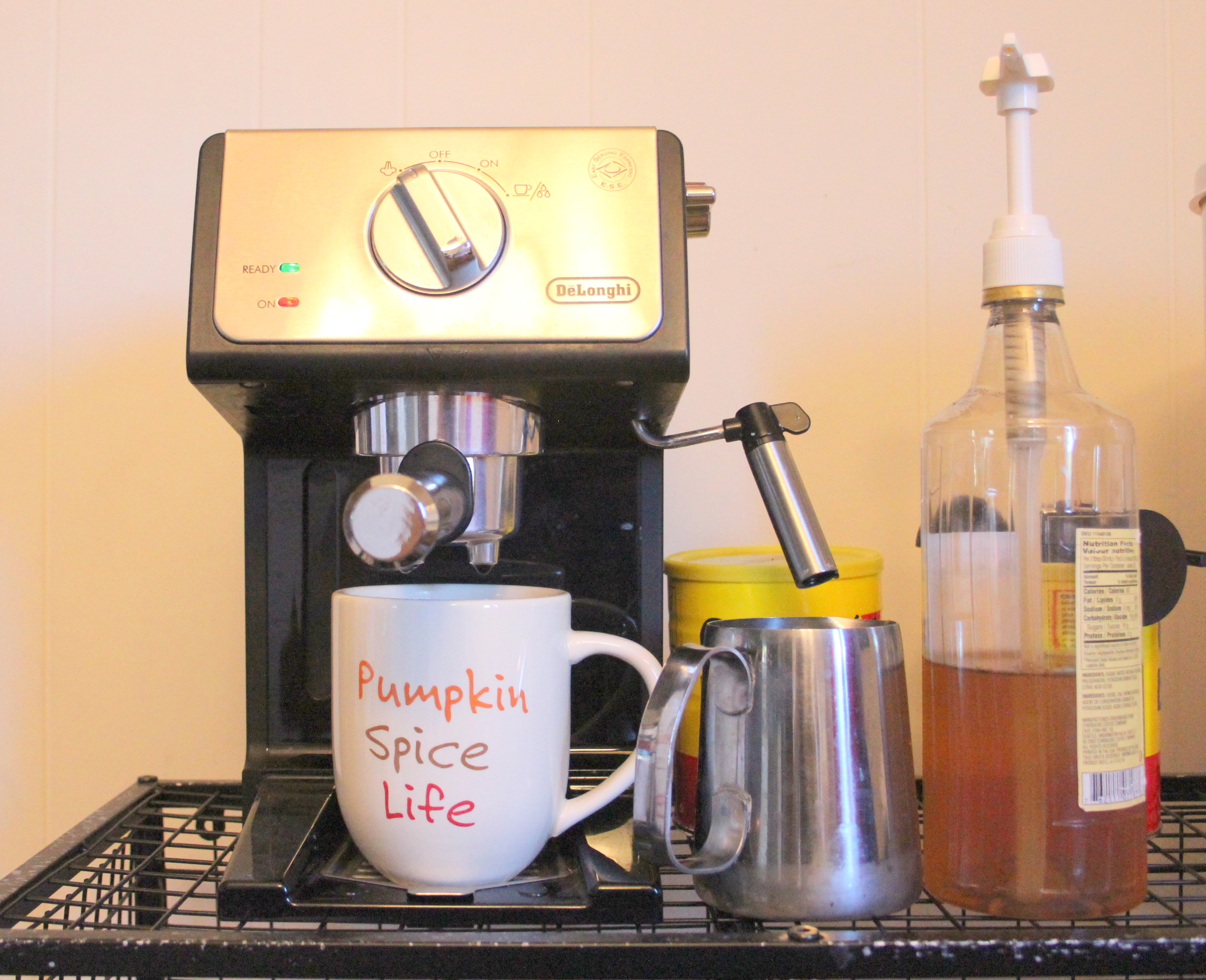 Adding your vanilla syrup to the milk then frothing the two together creates the best flavor.  I find that simply adding vanilla syrup to your coffee directly does not bring the true flavor in.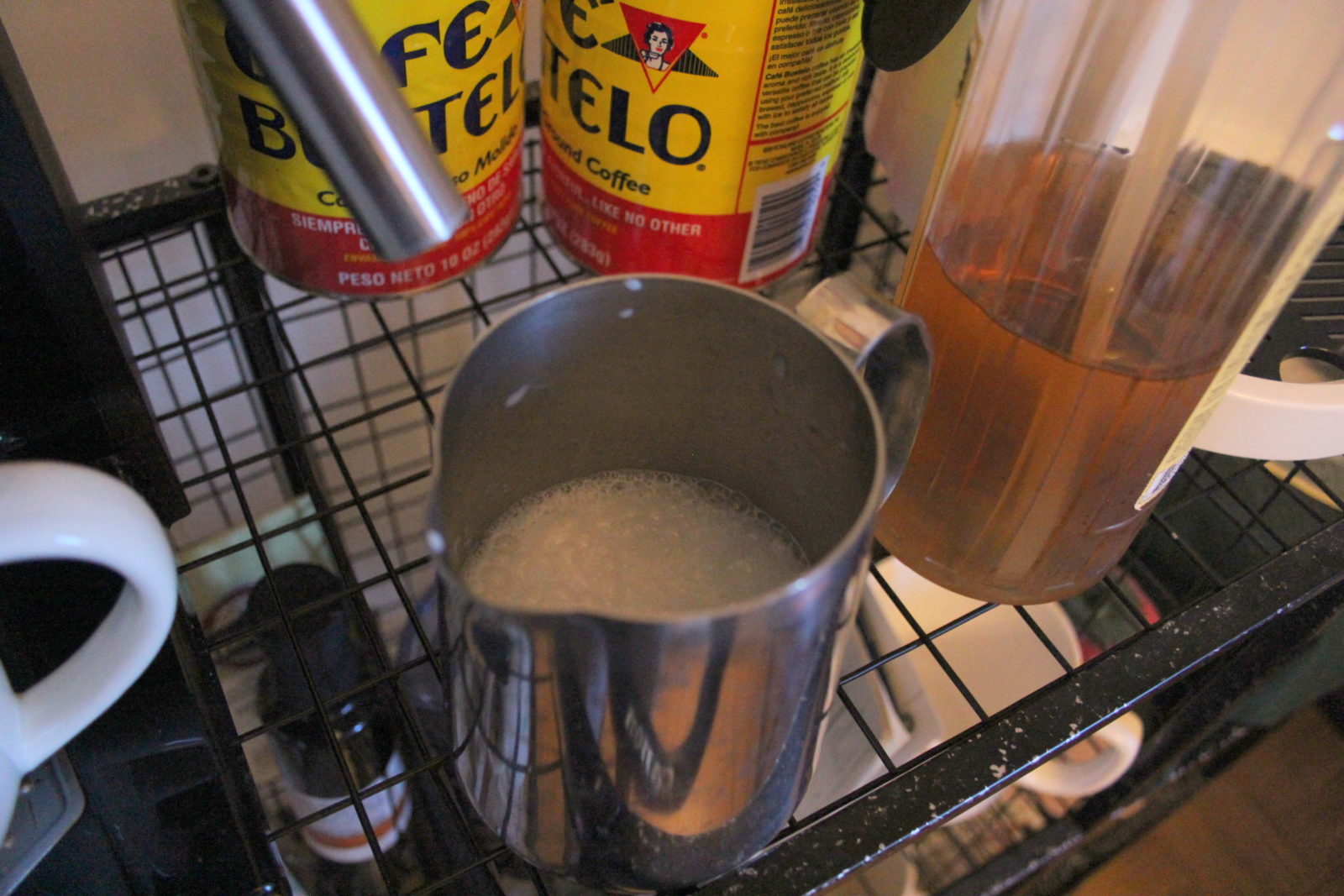 Step 3:  Layer your frothed milk on top of your espresso or brewed coffee.  The swirls are always so pretty!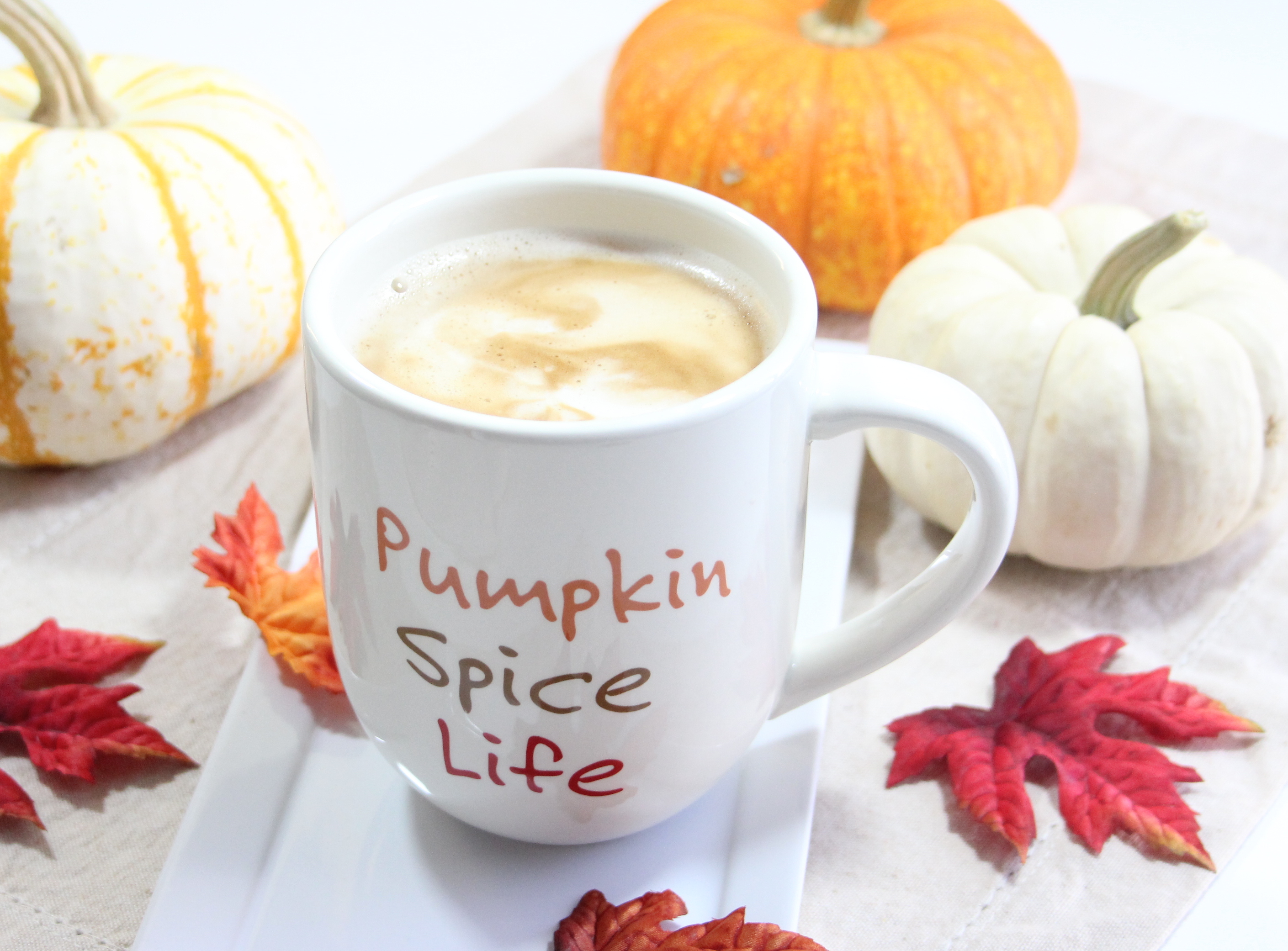 Now, I can tell you that this basic version of a latte at home (as shown above) is absolutely delicious.  I like to add some sweetener and have been using a teaspoon of Madhava Organic Amber Raw in place of granulated sugar for over a year now.  It has such a naturally sweet taste and I actually hate the taste of regular sugar in my coffee now!
The final "secret ingredient" as discussed at the top of this post is Pumpkin Spice Whipped Cream that I found at my neighborhood Jewel store!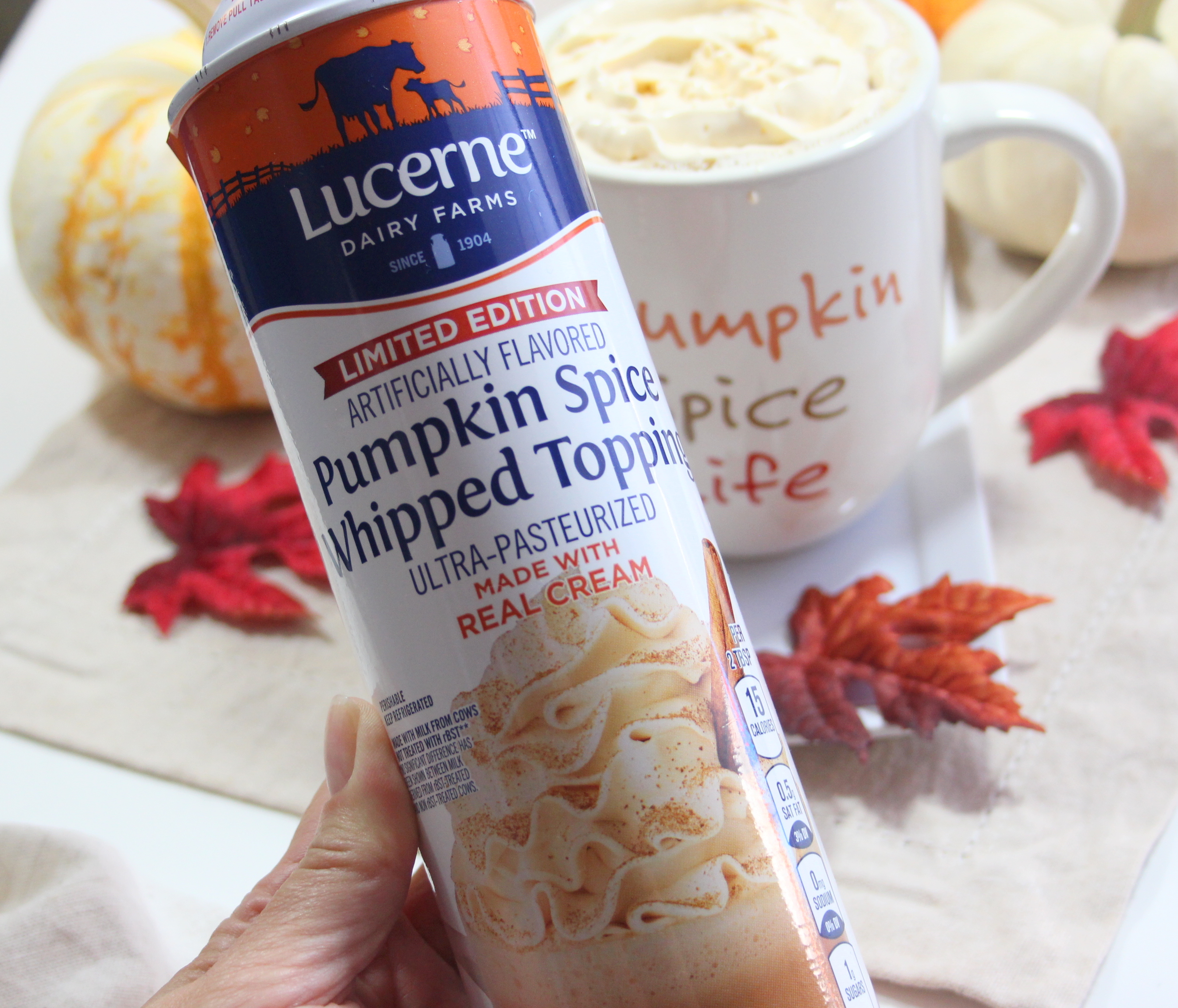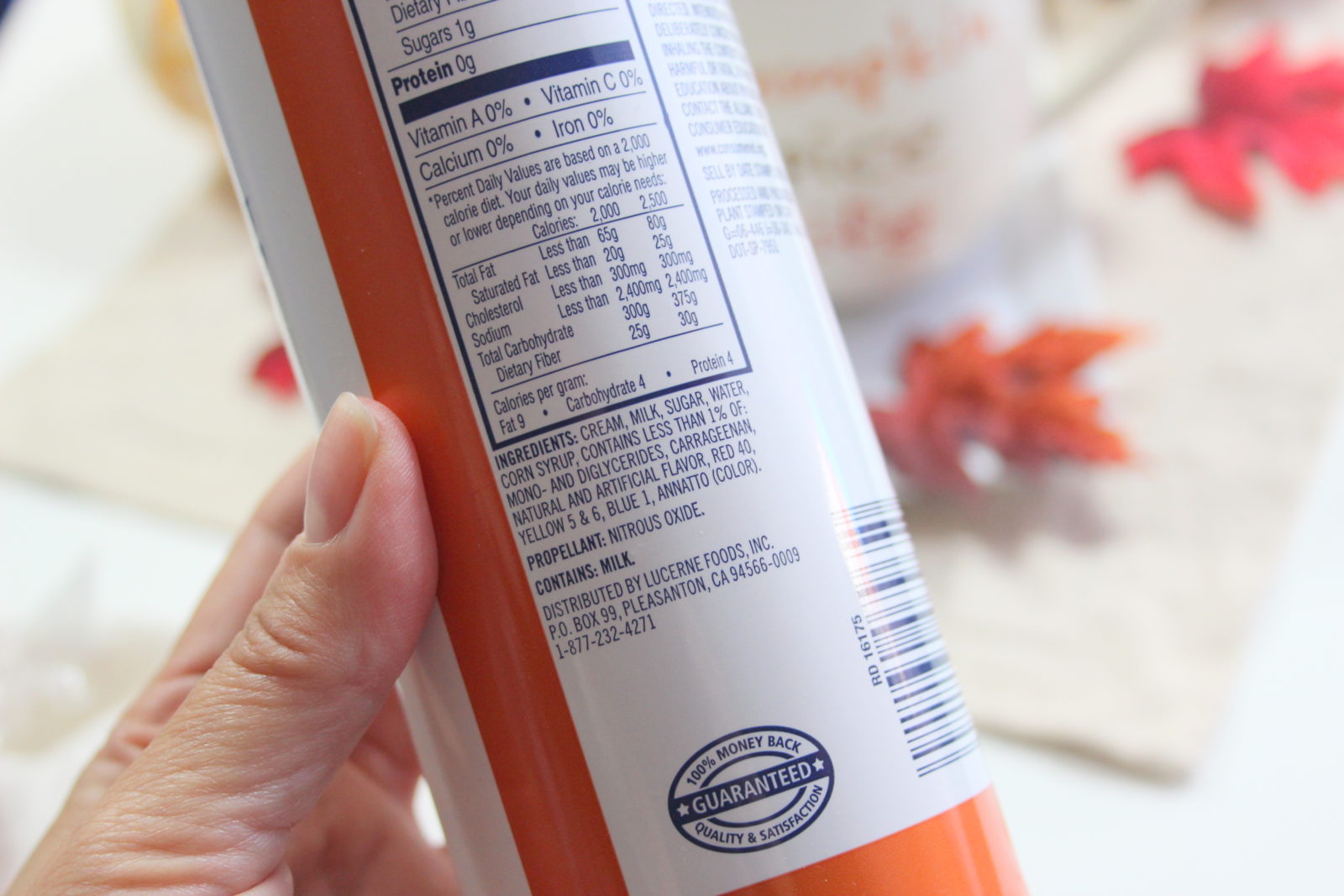 The ingredients aren't too bad – as you can see cream, milk, and sugar are the top ingredients.  Hey, it's whipped cream…and it tastes so damn delicious!
Step 4:  The final step in the DIY Pumpkin Spiced Latte is to add the Pumpkin Spice Whipped Cream…voila!  Totally quick and easy Pumpkin Spice Latte at home.
Now, I know this whipped cream is limited edition and it will not be available soon.  I've already come up with a solution when I can't find it in store.  I can easily change this up with two simple steps:  by adding Pumpkin Pie Spice to my milk before frothing AND adding a dash to regular whipped cream as the finishing touch.  So good!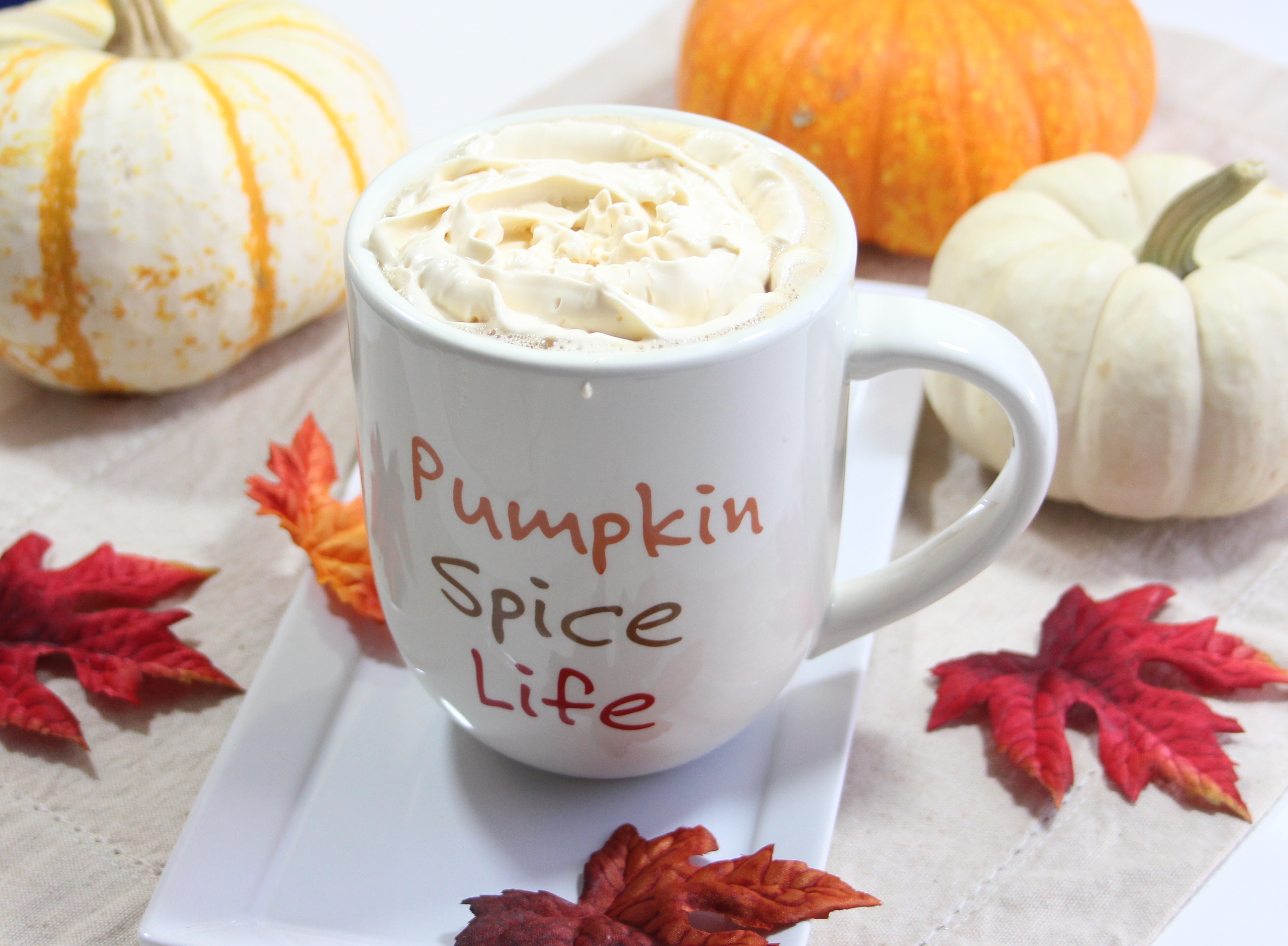 Yessss, it's the most perfect and delicious Pumkin Spice Latte made at home!
Even though this time of year, we typically reach for hot beverages, I still love me an iced coffee drink.  I make iced coffee at home (using my iced coffee maker or a cold brew method) and then add whipped cream with a dash of Pumpkin Pie Spice on top!  You will love it if you are into pumkin spice flavors!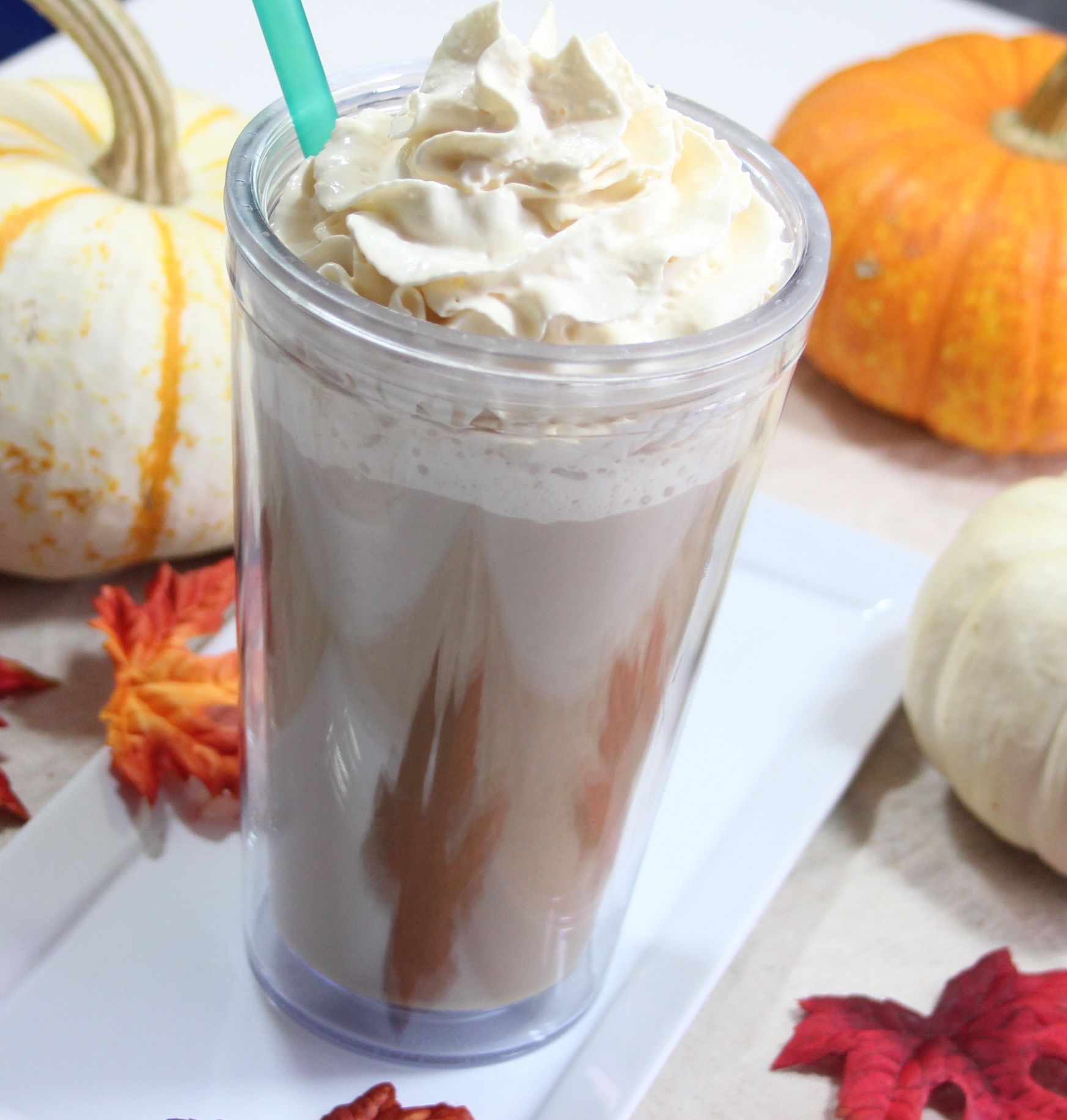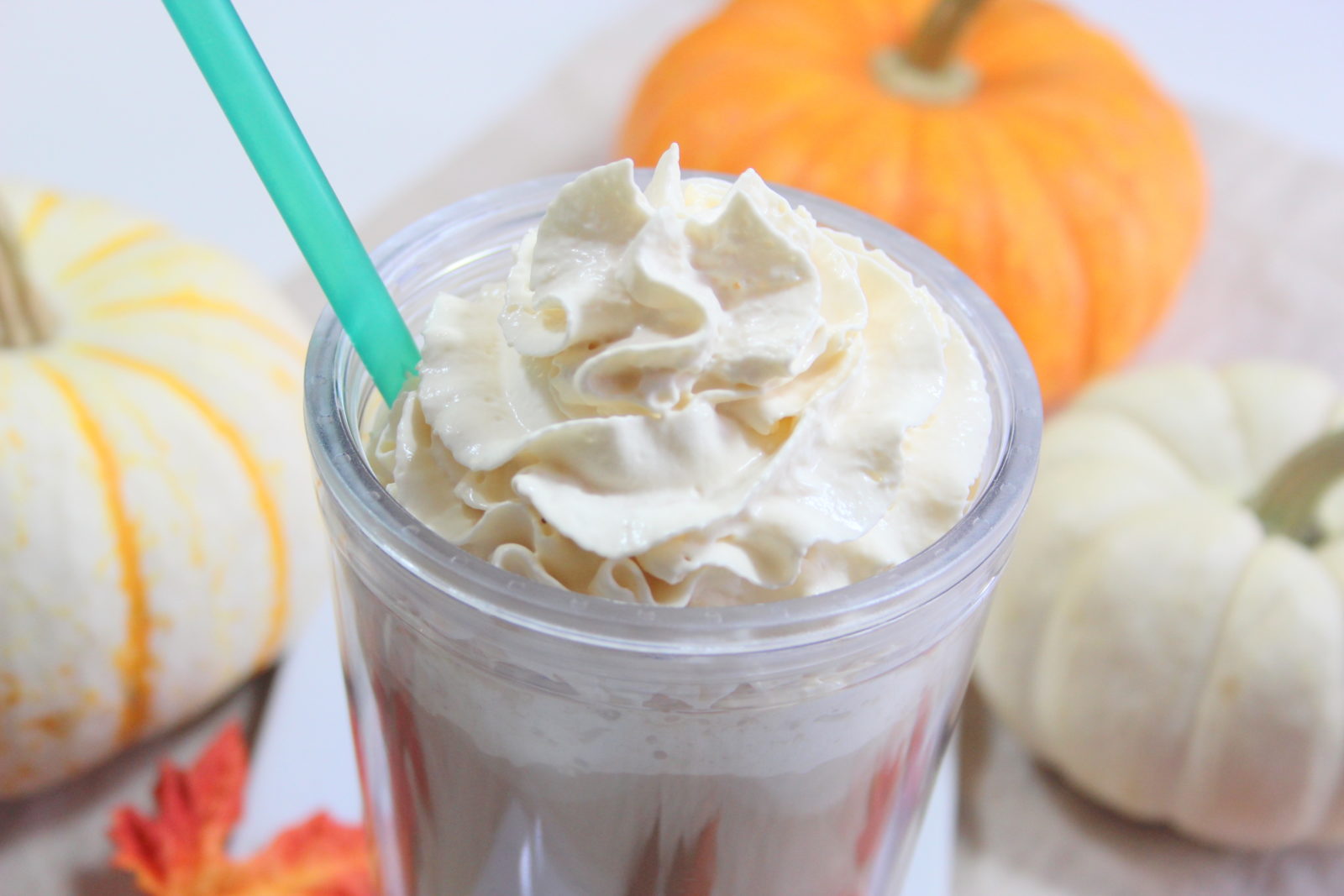 So, whether you are loving a hot beverage or a cold beverage, there are few ways to accomplish these drinks at home.  I hope you enjoyed my tips on making a Pumpkin Spice Latte at home!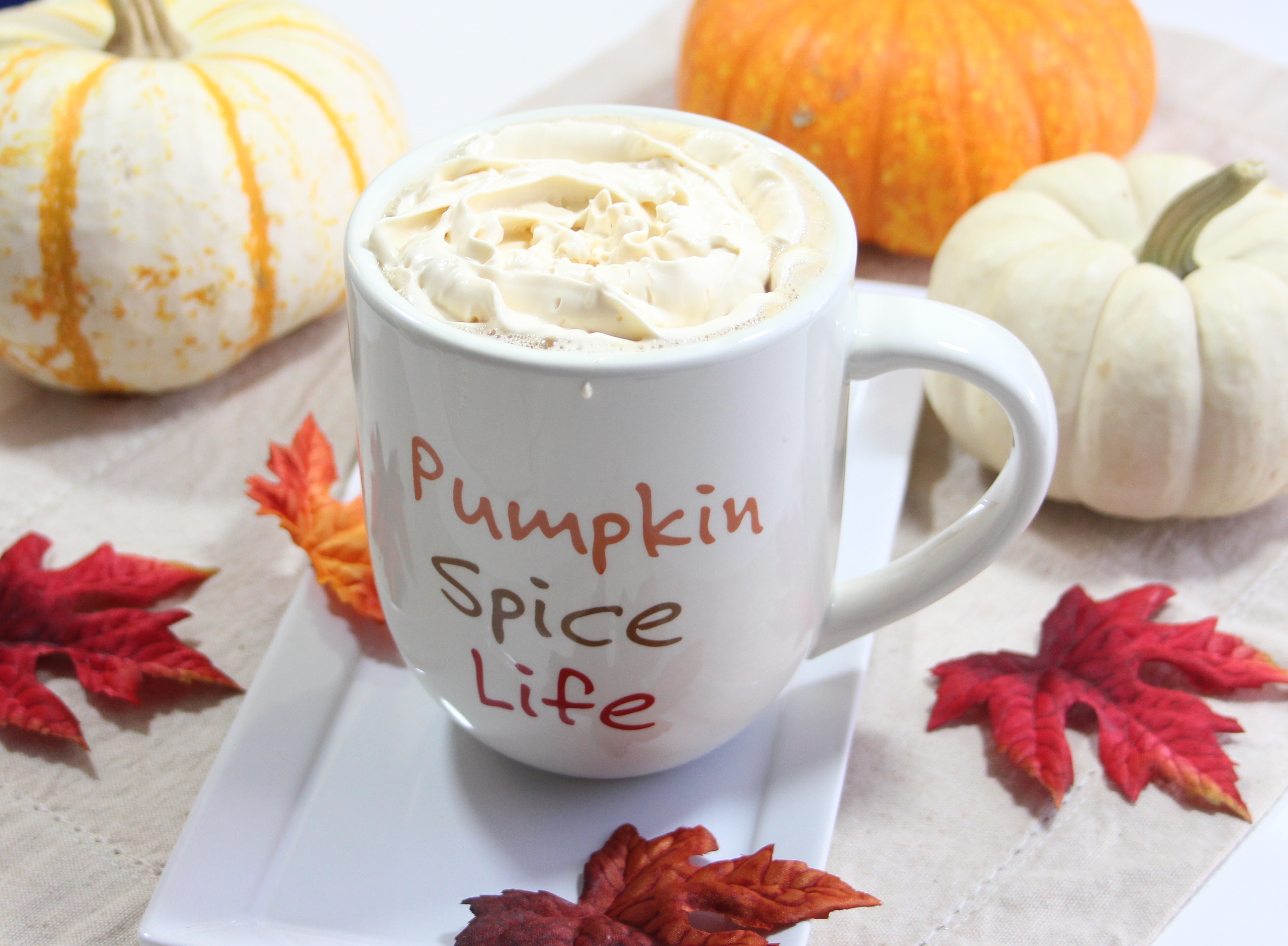 Are you ready to cozy up with your blanket and a PSL right now, or what??
Tell me in the comments below what coffee drinks you enjoy making at home!