Disclosure: Our family received a complimentary overnight stay and waterpark passes from Key Lime Cove. All other expenses (food, drinks, merchandise, etc.) were paid for by us.
With a family of four, it can be pricey to take a vacation even though it always much-needed.  It can also be tough to put together a getaway where all family members have fun no matter what they age.  Our family was invited to experience a weekend at Key Lime Cove in Gurnee, IL and we found it to be a great a budget getaway and a little bit of paradise for the whole family!  
What does Key Lime Cove have to offer?  Key Lime Cove is an island-inspired family vacation destination less than an hour drive from Chicago and Milwaukee. The year-round resort features 414 suites and staterooms and offers a complete family vacation without ever leaving the property. Created to be an American coastal experience just a short drive from home, the resort's entertainment and amenities include a 65,000 square-foot, 84-degree tropical-themed waterpark, 8,000 square-foot arcade, multiple restaurants including D.W. Anderson's Eatery and Ice Cream Parlor and The Crazy Toucan Margarita Grille, Paradise Mist Spa and 6,000 square feet of banquet and meeting space. An abundance of fun is found around every corner, including the uniquely themed interior, arts, crafts, interactive festivities, shops and street vendors.
 We arrived at Key Lime Cove on a Saturday afternoon and checked in.  We were pleased with our room which included 2 beds, a refrigerator and free in-room safe.  It was great to be able to store drinks in our room and lock up our valuables while we were out and about.  We went downstairs to explore the resort and found the cutest shops and restaurants, as well as the arcade.  We were glad to find a shop that sold bathing suits, swim trunks, etc. and we did some shopping.  Ray found a pair of swim trunks he really liked (he hated his old ones) so I'm glad we stopped in.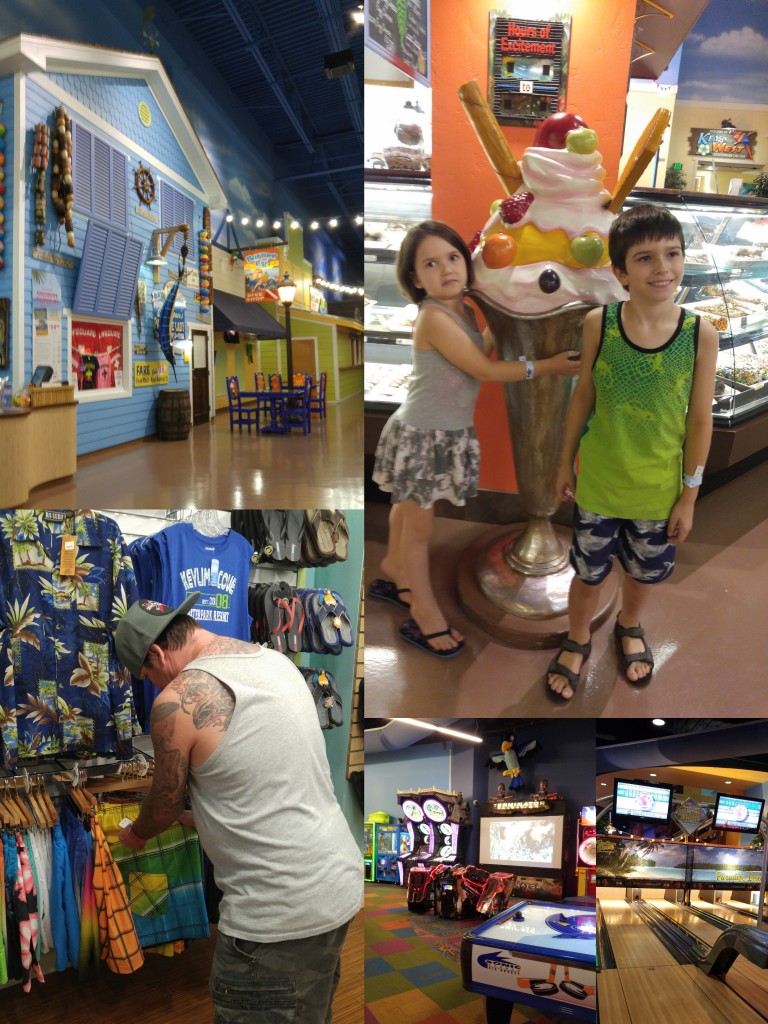 We made our way down to the waterpark and enjoyed hours of fun that included several water slides (some using floating tubes), the wave pool, Key Lime Creek (lazy river), and Toukie's Big Deluge (a massive interactive play structure with smaller water slides).  Of course, I expected the kids to have a blast at their first visit to an indoor water park.  What I didn't expect was that Ray and I totally had a blast!  There are so many options in the waterpark and we were able to go back and forth between the wave pool, Toukie's Big Deluge and the huge water slides so that not a minute went by when we weren't busy laughing and having a ball.  If you want to relax there are spots to purchase drinks and snacks right in the waterpark area.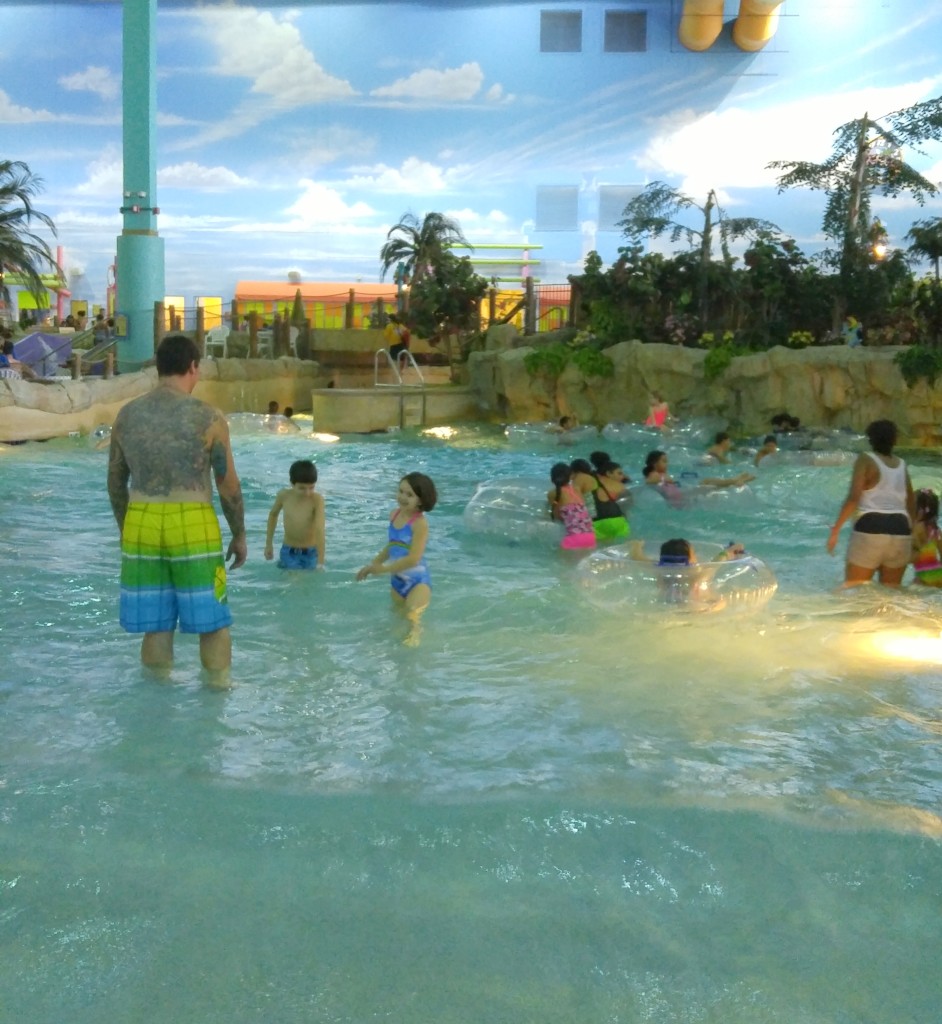 Wave Pool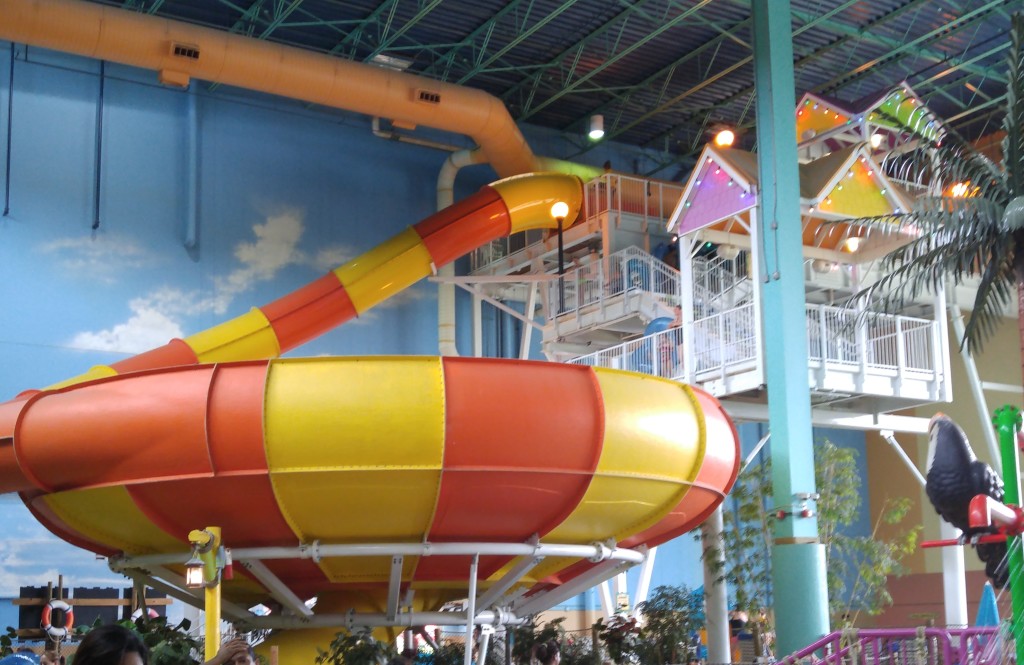 Vortex Water Slide
The only downside is that while there were tons of chairs and tables all around the waterpark, it seemed like everyone just parked their towel there and never came back.  It made it so all the chairs were essentially "taken" but noone was in the them!  It was a little frustrating when you wanted to hang out for a minute.  My solution was to actually just sit down in the low water areas either in the wave pool or near the Big Deluge.  I found that to be pretty relaxing!  The two areas we didn't hit were the adults-only whirlpool spa area and the play pond for little kids. I have to say Toukie's Big Deluge was by far my favorite of the whole waterpark.  I'm not into the massive water slides, so I spent a lot of time going down those smaller water slides with the kids!  Ray ran back and forth with Ollie and Ruby down the big slides and had a blast.  It worked out perfectly!  I love that there are so many lifeguards on duty so I always felt the kids were safe.  Everyone we encountered was so nice and polite and lifeguards are very quick to police any inappropriate behavior at the waterpark so it really made our time there so enjoyable.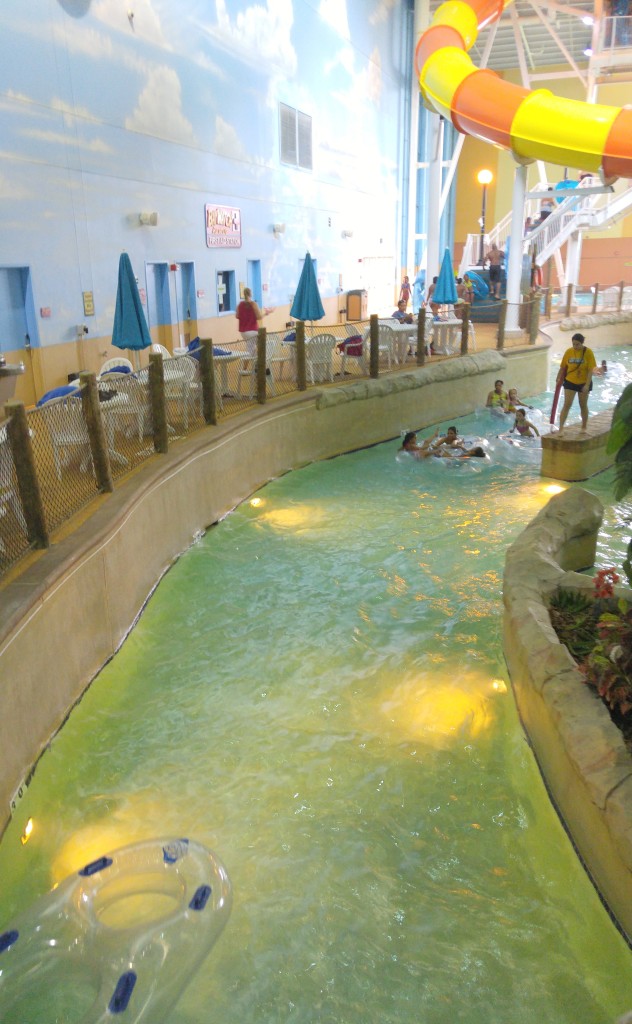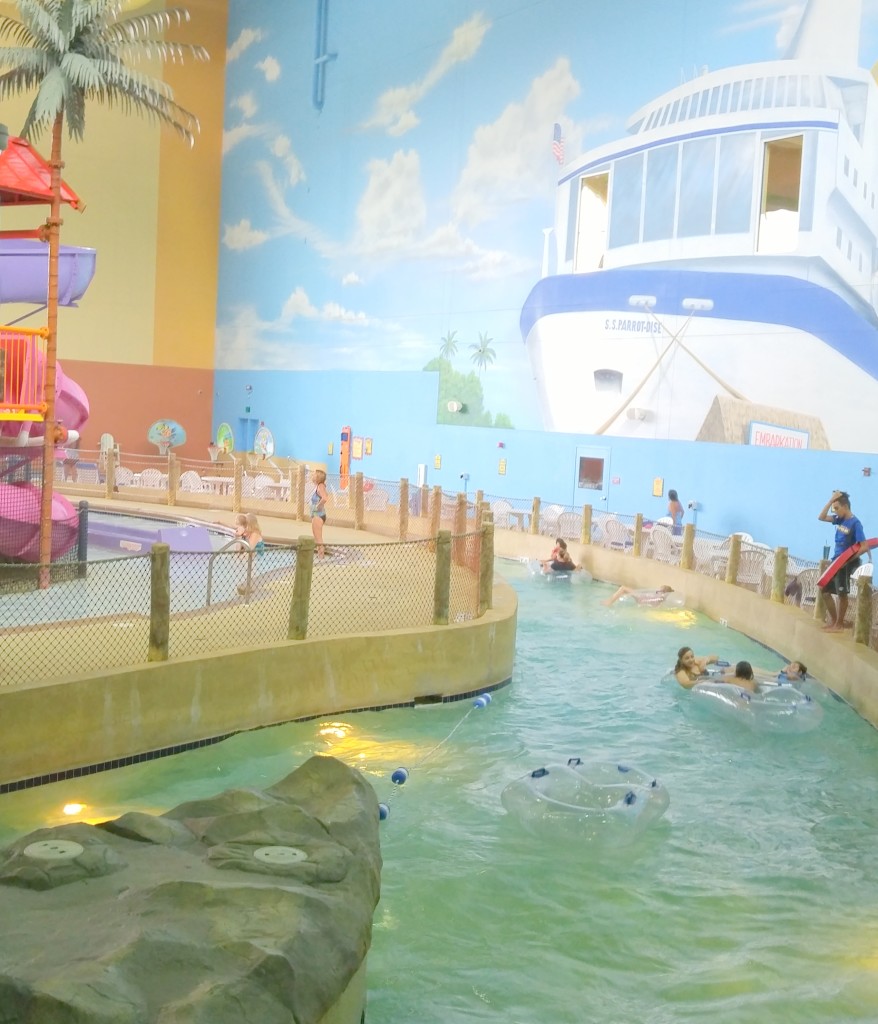 Lazy River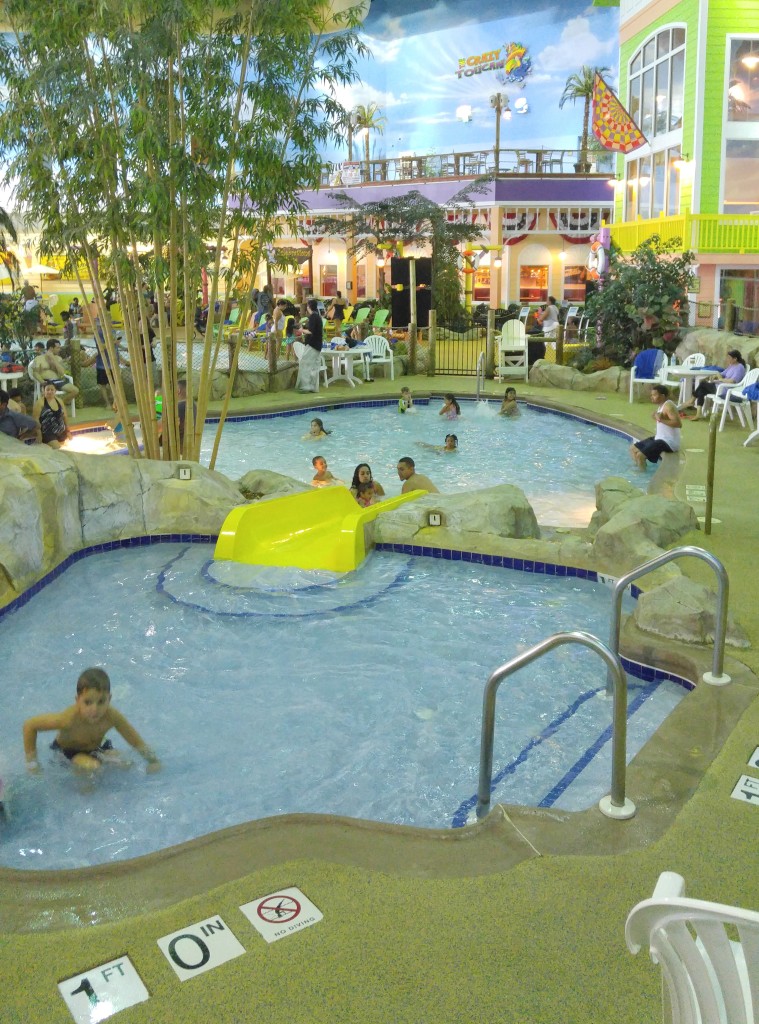 Little Kids Area
Toukie's Big Deluge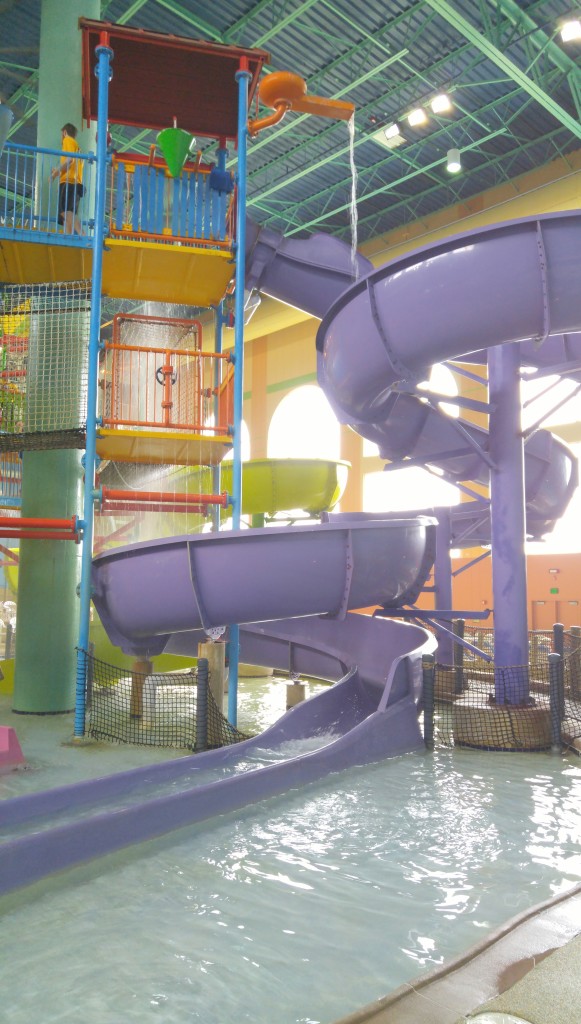 Mom's favorite water slide! – Toukie's Big Deluge
After several hours spent at the waterpark on Saturday, we headed up to the room to change, have a look around, and eat dinner.  Our first stop was Island Temptations Coffee & Confectionary and we indulged in a few VERY sweet treats.  Hey, if you can't have a little dessert before dinner on "vacation" than when can you??  There was so much to choose from and everything was delicious!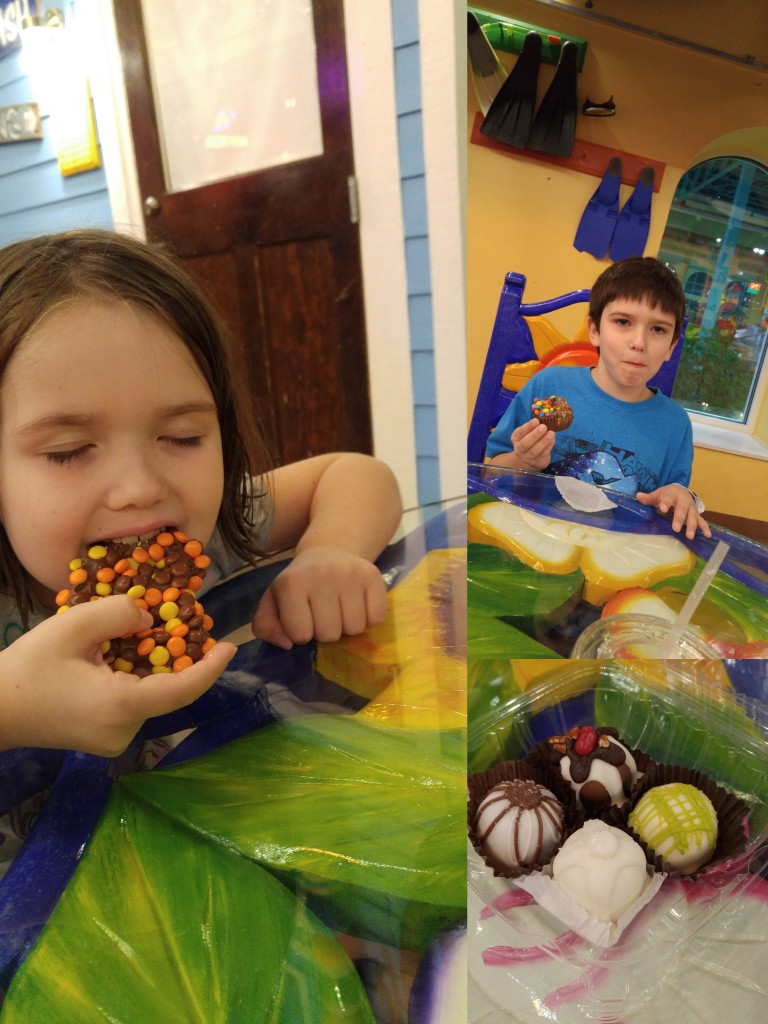 There are a few restaurants that offer dinner and the first two we looked at were quite expensive.  We decided to try D.W. Anderson's Eatery because the prices were right.  We were thrilled to find out that the food was awesome!  The kids loved the atmosphere and the little touches like bringing their sides of fruit or fries in a little car.  So cute!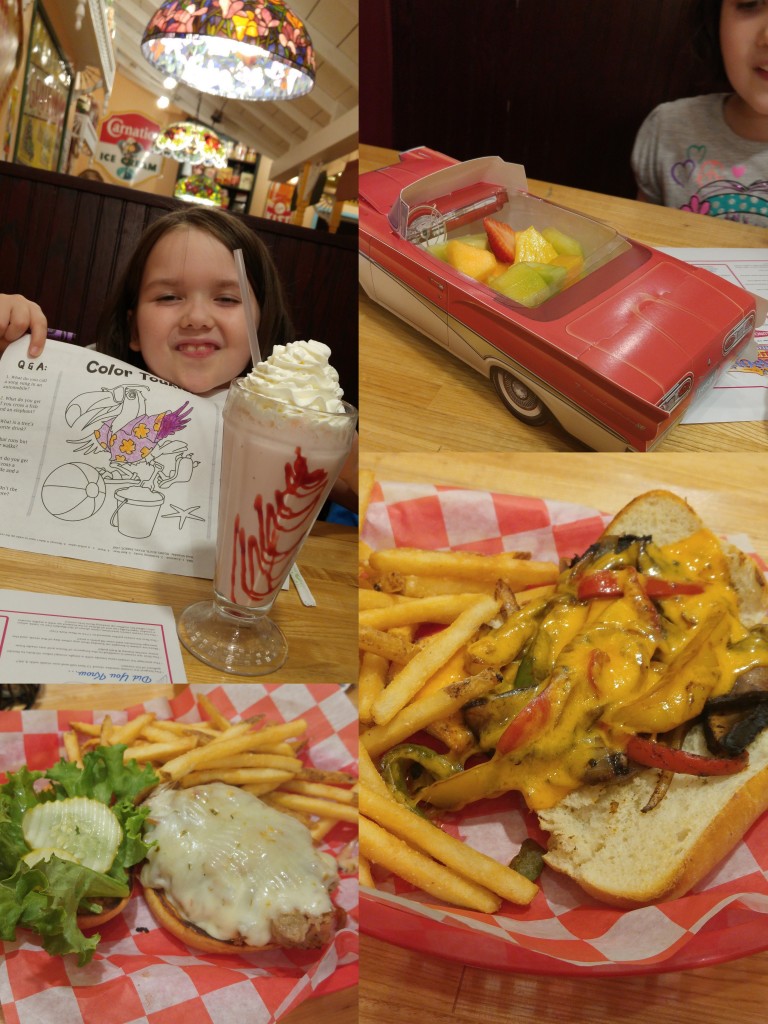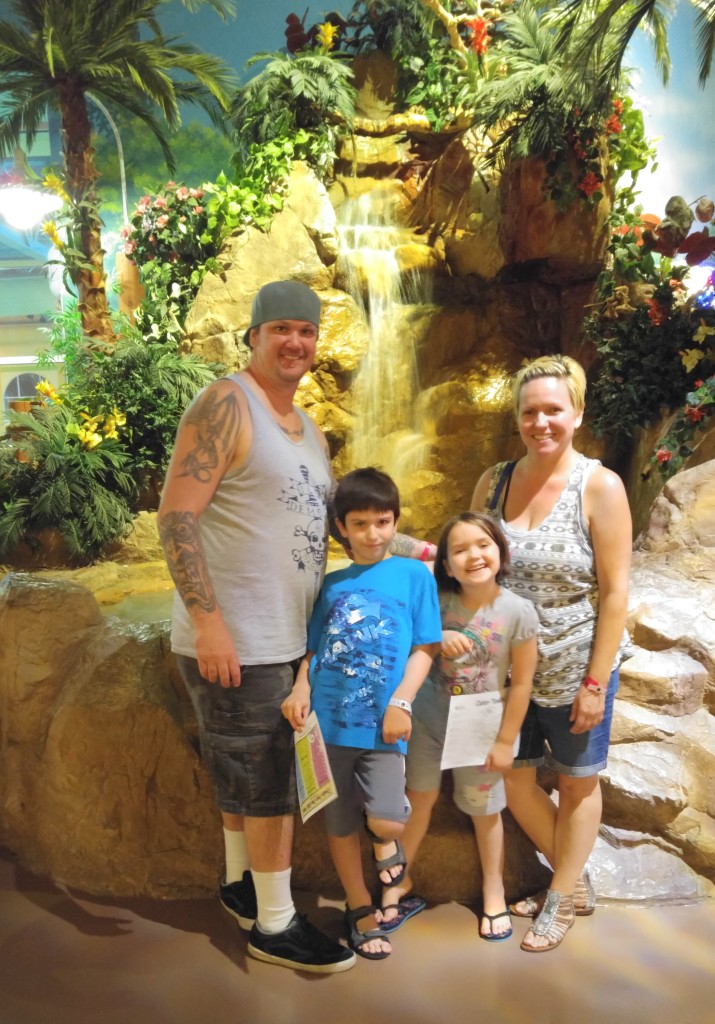 Next we stopped in at The Crazy Toucan Margarita Grille where Ray and I grabbed a cocktail before heading to the arcade.  We played a bunch of games and the kids chose a few small prizes with tickets they won.  After that, I think we were all worn out from the day!  We headed up to our room to get some much-needed sleep.  I have to be honest and tell you that the bed was so uncomfortable I tossed and turned all night.  However, when I woke up in the morning and had my shower it made up for it.  The Kohler shower head (I think it's one of those rain-shower heads?) was so relaxing it felt like a spa.  Key Lime Cove you've redeemed yourself for that bed!  
One of the great benefits of an overnight stay at Key Lime Cove is that even though check-out is at 11 am you can stay and enjoy the waterpark for the entire day.  Ollie woke up on Sunday morning and immediately started making a plan for our day, so funny (and pretty accurate)!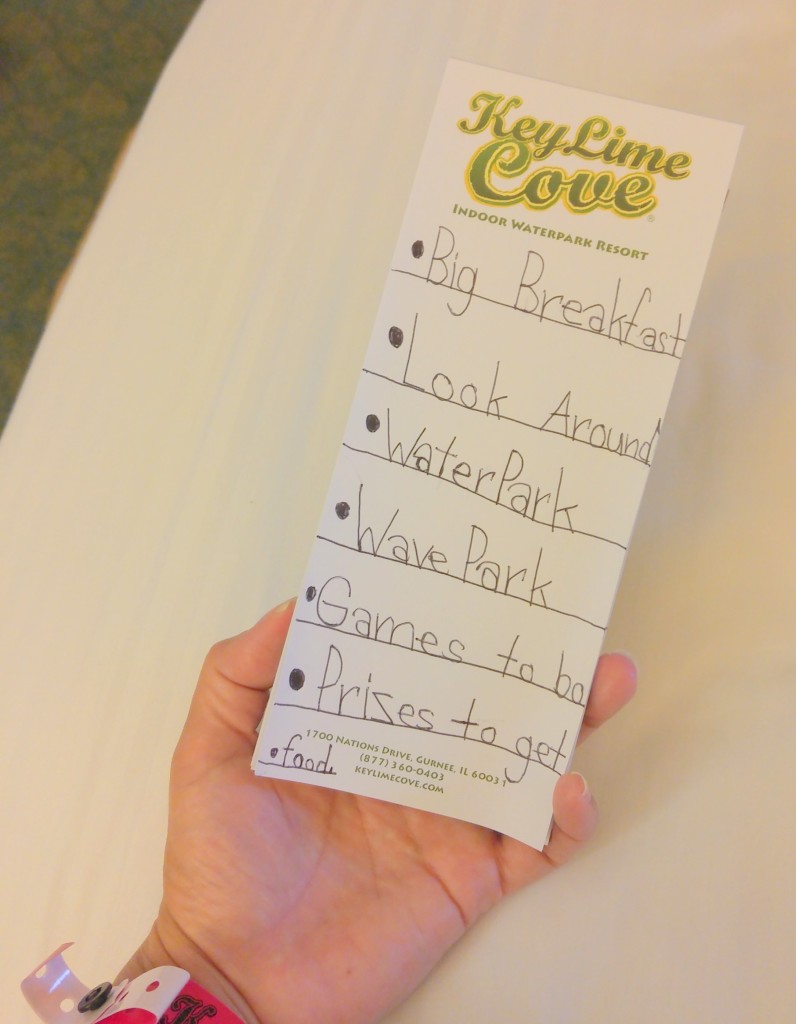 After doing an express check out over the phone, we went downstairs to see where we might eat breakfast.  Since D.W. Anderson's Eatery had a huge breakfast buffet going on, we decided to eat there for breakfast.  Again, we were not disappointed with the quality of the food and the prices.  With tons of options including the build-your-own omelette and waffle bar, we couldn't go wrong.  We all left happy and FULL!  After that, it was time for our second round at the waterpark and spent several more hours there.  Next, we spent a short time playing a few more games in the arcade and by then the whole family was pretty tuckered out.  I have to say that we were all sad to leave Key Lime Cove, it was such a great time for the entire family.  Before we even left the parking lot, the kids were asking when our next trip would be.  Added bonus:  Our Key Lime Cove parking tag offered a 20% discount on our next overnight stay.  We will definitely be booking another trip very soon!
Have you been to Key Lime Cove yet?