The Kiehl's Healthy Skin Essentials: For Night is a 2013 Holiday gift set designed exclusively for Kiehl's by Brooklyn-based artist Eric Haze.  This set is a collection of skincare for women which includes the Midnight Recovery Concentrate 1 fl oz, Powerful Wrinkle Reducing Cream .25 fl oz, Midnight Recovery Eye .5 fl oz, and Powerful-Strength Line-Reducing Concentrate, .17 fl oz PLUS a limited edition travel bag.  The gift set is valued at $95.00, but is sold for just $73.00.  Did you miss my post on the Kiehl's skincare set for men?
Take a look at the limited edition canvas travel bag with this set: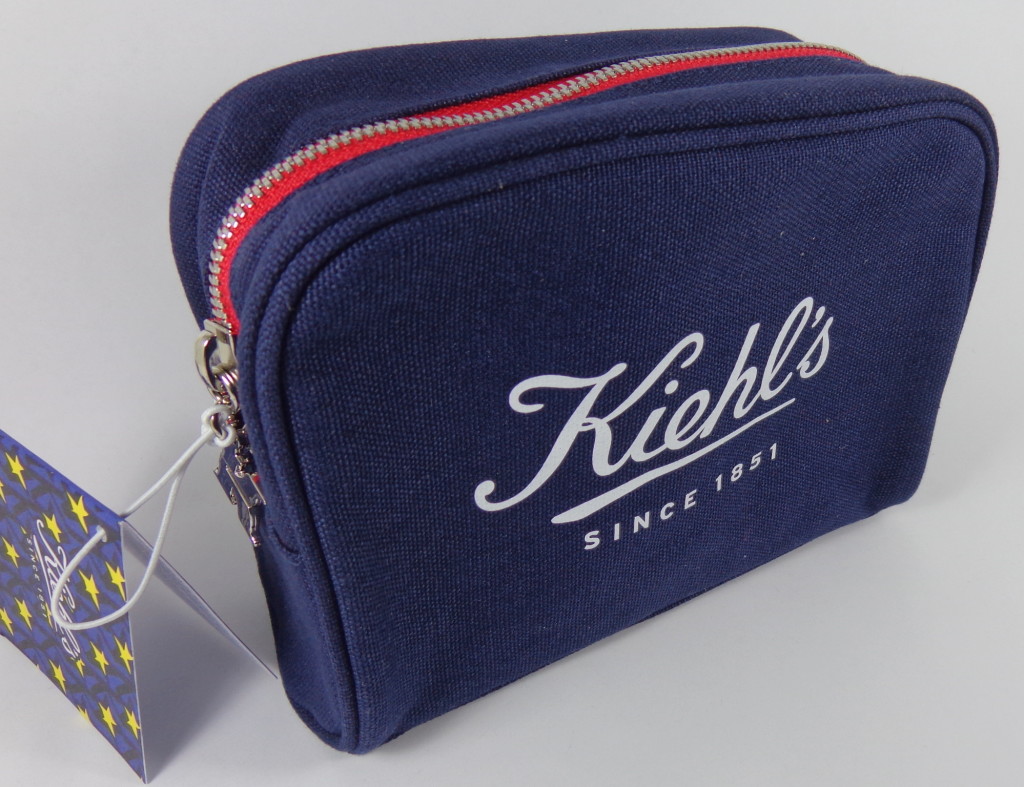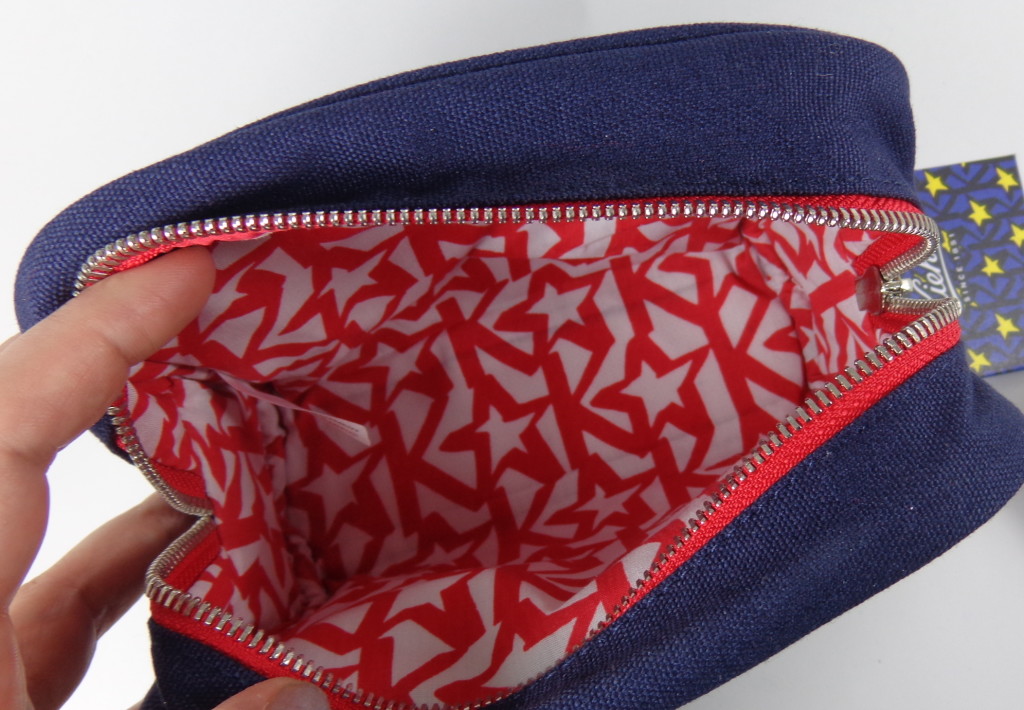 Oh how I love stars and the lining of this Kiehl's bag is so pretty!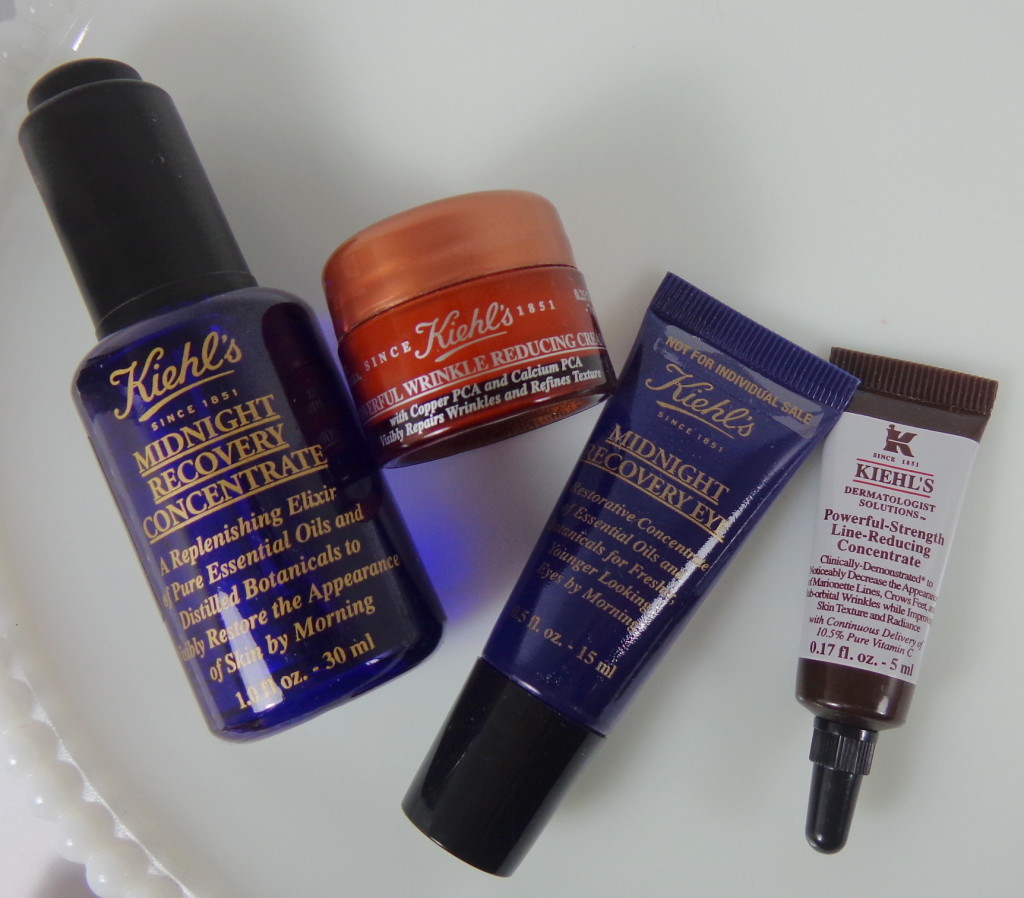 Kiehl's offers tips on how to use the Healthy Skin Essential for Night:
Step 1: Apply Powerful-Strength Line-reducing Concentrate over entire face (avoid eye area).  Step 2: Apply Midnight Recovery Concentrate.  Step 3: Use Midnight Recovery Eye. Step 4: Apply Powerful Wrinkle Reducing Cream if additional hydration is needed.
The Powerful-Strength Line-Reducing Concentrate is a 10.5% Pure Vitamin C concentrate meant to visibly reduce fine lines and wrinkles and improve texture of skin.  It's a thin liquid and only a small amount is needed to cover the face.  Kiehl's advises you may experience a warmth sensation as this concentrate sinks into skin.  The Midnight Recovery Concentrate is housed in a cobalt glass bottle with dropper. The button at the top dispenses each drop.  Made of pure essential oils including Evening Primrose Oil, Coriander Seed Oil, Rosemary Leaf Oil and more, this elixir is meant to restore skin to a more radiant complexion.  Right off the bat, I love the fragrance as I can smell the Rosemary.  Very soothing!  The Midnight Recovery Eye is an eye treatment that sets out to strengthen and replenish under-eye area creating younger-looking eyes.  I'm excited to try this treatment made with a blend of natural oils and Butcher's Bloom Extract.  This extract with such a fun name improves microcirculation and reduces puffiness.  The Powerful Wrinkle Reducing Cream appears solid like a body butter but melts when you apply just a small amount.  It claims to significantly reduce wrinkles, minimize pores, and improve skin texture.
Overall, the Healthy Skin Essentials for Night from Kiehl's is a great "discovery kit". You can try several products at a very nice discount AND get an awesome limited edition bag!
Available at Kiehl's stores and Kiehls.com, $73.00.
All orders on Kiehls.com receive 3 complimentary samples and free shipping when you spend $50 or more!
Product received from PR for editorial consideration, all opinions expressed are my own.
What do you think of this Kiehl's gift set for Holiday 2013?