It's December and the time of year to be thinking about holiday gifts for the kids.  Just like most, my two already have a list of what they hope Santa may bring.  Christmas came a bit early for us this year as we received a fab package of toys to review!  See what arrived on our doorstep:  Monster 500 Toxic Terror Trap, Monster 500 Graveyard Gauntlet, Vehicles: Lead Foot, Zoom Zombie, Drac Attack.  The concept behind Monster 500 is pretty awesome:  Cool and creepy characters racing cars on fun tracks that come equipped with crazy features!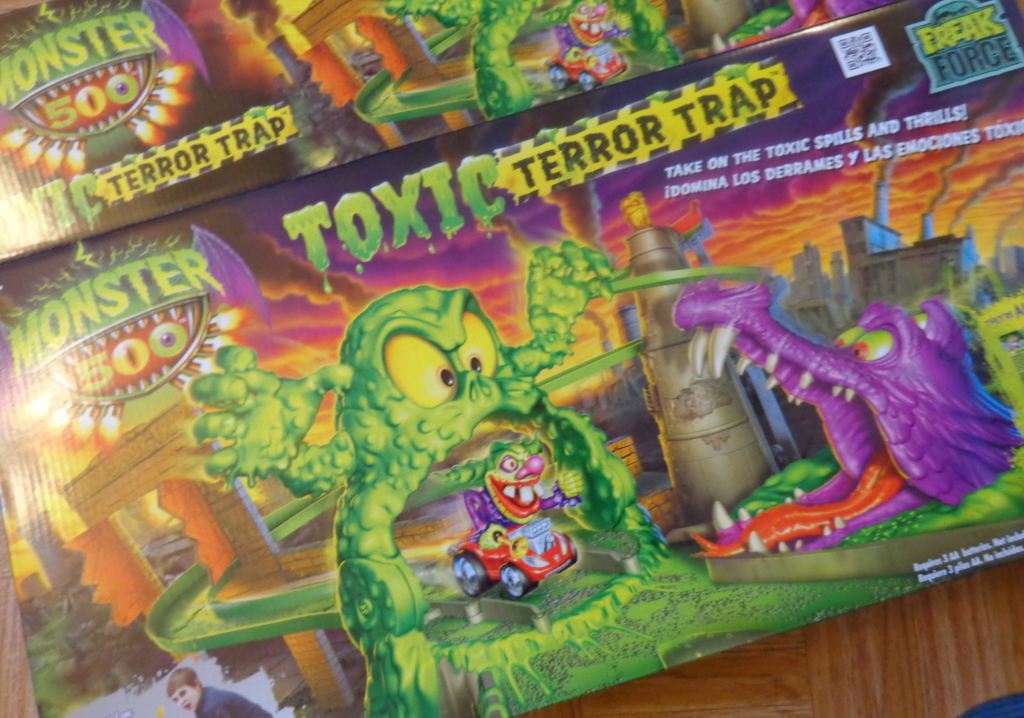 The Monster 500 Toxic Terror Trap is a circular track where you can race your vehicle from the top after riding up through the elevator, then blasting through the door, through a twisting toxic monster that makes scary sounds.  The goal is to avoid getting eaten by the mutant gator at the bottom!  Both my kids found it hilarious and loads of fun.
The vehicles and characters are very creative and the big kid in the family (hubby) really took to Monster 500 as well.  He is a toy collector and Monster 500 reminds him of a favorite artist who also combined crazy characters with hot rods.  He mentioned he wouldn't mind having a set of these for his collection, so I will most likely be picking up the vehicles for him as a Christmas present!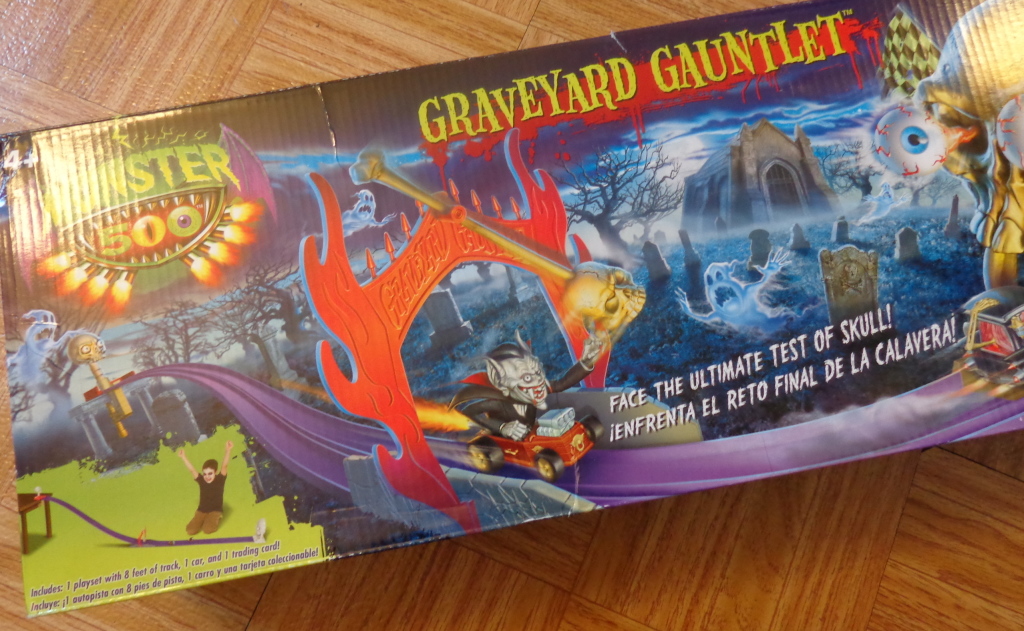 The Monster 500 Graveyard Gauntlet was my personal favorite and is an 8 foot long track that starts with a scary skull launcher, through a pendulum in the middle, down to a crazy skull with checkered flags.  I love that the Monster 500 sets appealed to both my kids!  My son loves anything with cars and my daughter really got into the creativity of the monsters AND the competition with her brother ;).
Each track set came with one vehicle and both the tracks and vehicles come with a trading card equipped with a Monster 500 code.  You can use the codes to unlock a monster car in the FREE Monster 500 Racing App available in the App Store and Google Play.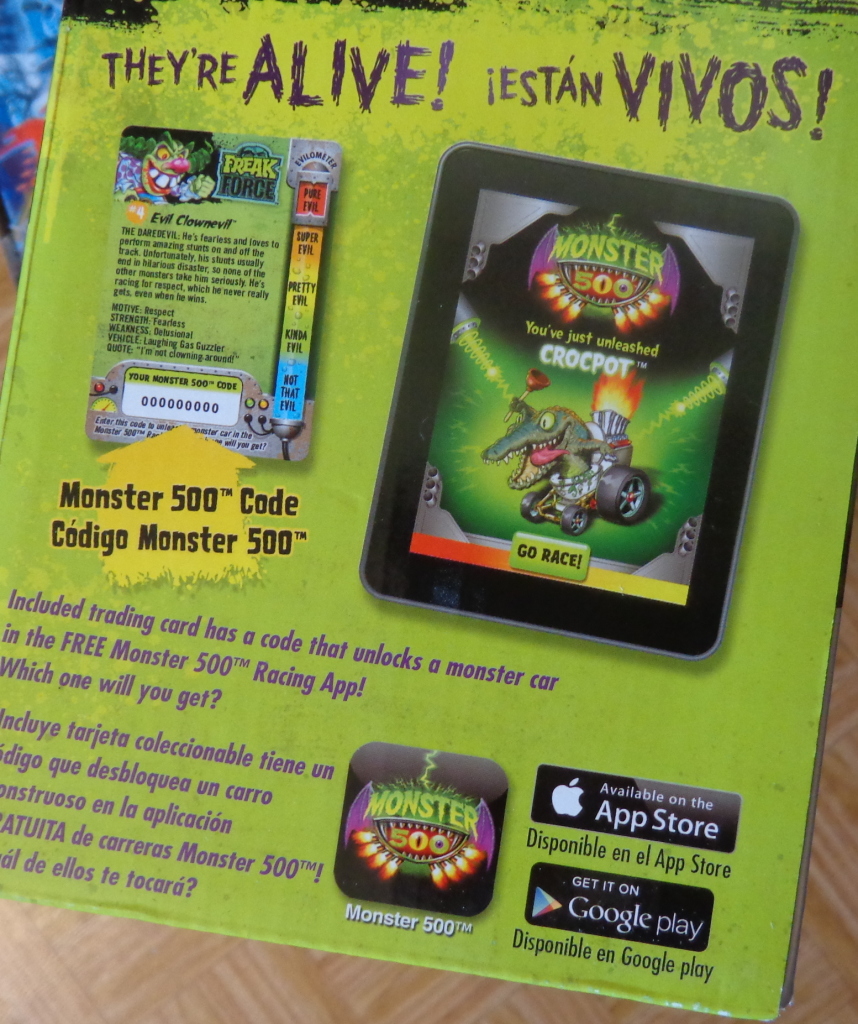 There are 10 small vehicles available and 4 large vehicles like our Lead Foot who lights up and makes cool scary sounds: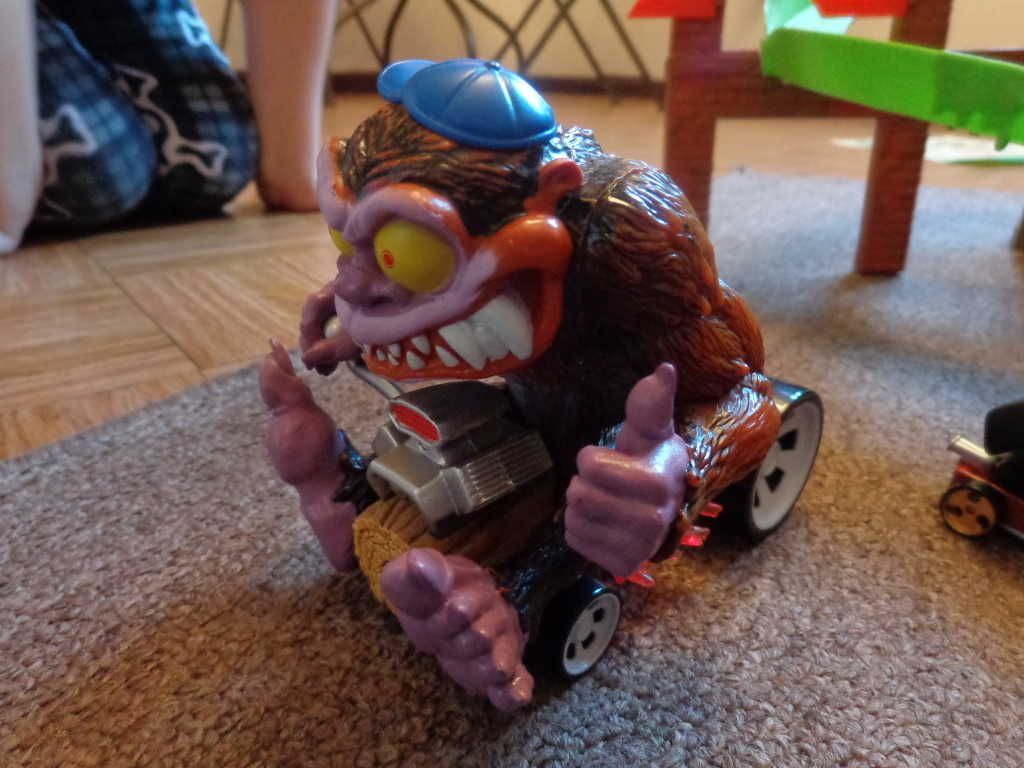 Overall, our family was thrilled with the Monster 500 toys that we received.  The tracks and vehicles were a hit with the little kids AND the grown ups who are still kids at heart :).  If you are in search of something new and different for any kids on your list, check out Monster 500 for crazy fun!  We will be on the look-out for the Chaser Cars, rare versions of the small vehicles!
Disclosure:  I am a Monster 500 Blogger Ambassador. This post is part of a sponsored campaign. I received compensation for my participation, but my review and opinions are my own.
What do you think of the Monster 500 playsets and vehicles?