At our house, we are big on movies.  Finding new movies to share with the kids is always a fun time.  We received three family movies to review from Phase 4 Films and my kids had a blast these past couple of weeks watching these!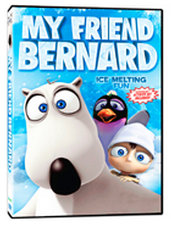 My Friend Bernard is based on a popular international animated series.  The film centers around Sam, a shy boy who's afraid of almost everything!  One day, a mysterious man gives him a magic pendant with a solution to his problems:  a polar bear sidekick named Bernard who helps him lose all of his fears and enables Sam to face up to even the worst monsters with comedy and humor.  70 minutes. Rated: PG
Both my son and daughter (ages 5 and 4) were (literally) falling off the couch laughing at My Friend Bernard, this was by far their favorite!  I think this one was just perfect for their age group.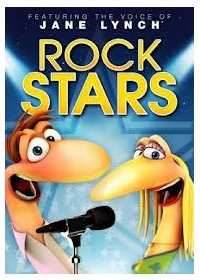 Rockstars features the voice of Glee's Jane Lynch and is nominated for the Robert Award for Best Children/Family Film of 2012. In the film, viewers learn that it's not easy being a lowly earthworm.  Gloria and Barry live at the bottom of the food chain.  But one day an old disco record turns Barry's life upside down as he decides to make the world's greatest disco band.  Gloria joins in on the fun and rises to stardom as a singing sensation!  They have no arms and no rhythm, but earthworms can boogie too!  78 minutes.  Rated: PG
The kids really enjoyed Rockstars too, I think this one was my daughter's favorite as she is so into music!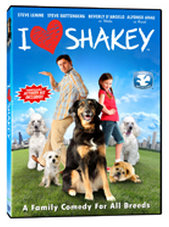 I Heart Shakey follows a single father, J.T., and his precocious daughter, Chandler, as they move from a small town to Chicago with their lovable family mutt Shakey.  After missing the fine print in their rental contract, J.T. is forced to find Shakey a new home.  Chandler hatches a plan to keep Shakey and teach J.T. a valuable lesson about loyalty and the importance of keeping family together.  102 minutes. Rated: PG
I Heart Shakey lost the attention of my kids at times but I thought it was cute.  They haven't mastered the art of watching a non-animated movie yet!  I giggled a bit at the over-the-top characters and the "Chicago" accents of some characters.  Living here, I know that not all Chicagoans speak like a parody of Mike Ditka.  Da Bears! 🙂
All three movies from Phase 4 Films are available at Redbox locations, Target, Walmart, and Amazon.com.
* I received these products from PR for review, all opinions expressed are my own. *
Have you watched any good family movies lately?