Being just 2 months away from turning 40, my skin certainly has aging issues.  I deal with deep forehead wrinkles, fine lines around my eyes and mouth and rough texture/wrinkles on my neck and down my neckline.  Since I also deal with oily, acne-prone skin, I'll admit I typically go for skincare that deals with breakouts over wrinkles.  It's about time I started diligently working on my anti-aging skincare routine.  I have heard a lot of talk about the Neutrogena Rapid Wrinkle Repair line.  It lays a pretty bold claim that you can "see results in just 1 week".  The product line sets out to "fade the look of stubborn wrinkles, brighten skin tone, and smooth fine lines and texture".  There are four products in the line and I received the Neutrogena Rapid Wrinkle Repair Night Moisturizer and the Eye Cream from the brand to test out.  When I started my trial I was hopeful but pretty skeptical.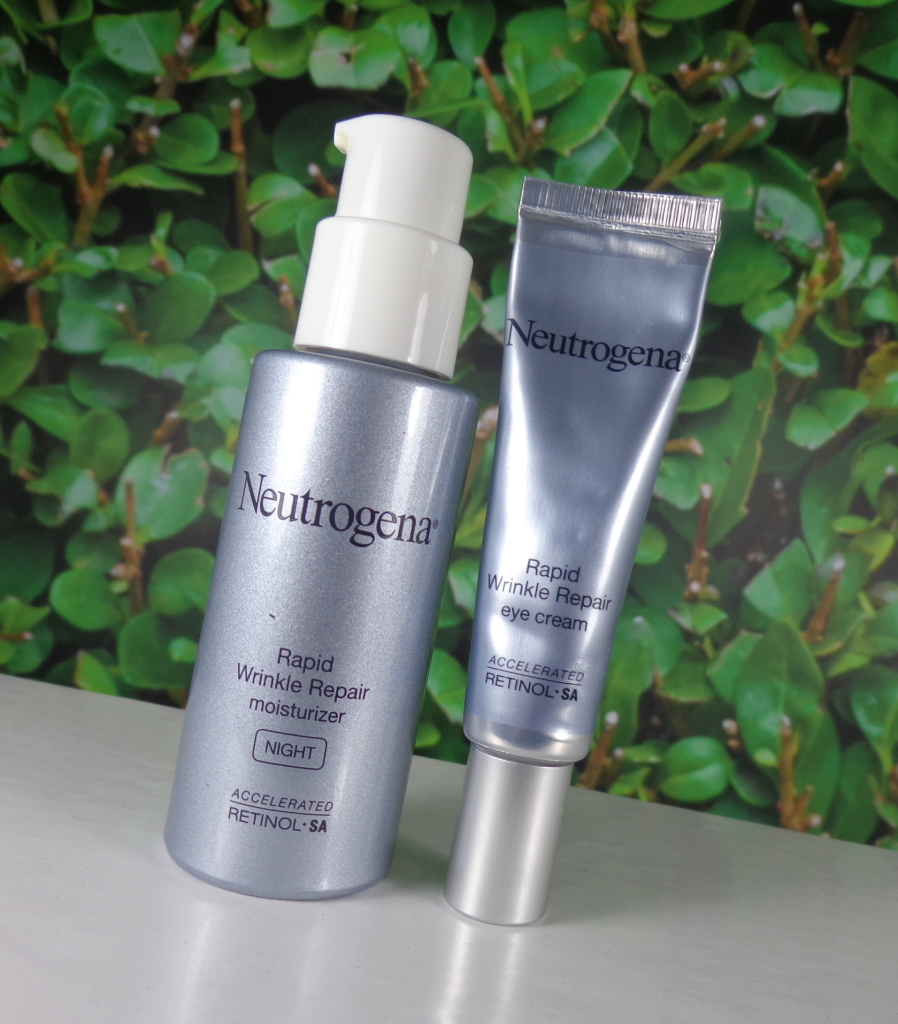 At night after cleansing, I applied a thin layer of the Neutrogena Rapid Wrinkle Repair Night Moisturizer all over my face, neck and just below the neckline.  I can definitely say that within that first week, I saw and felt the "rapid results" the brand claims.  While I didn't see anything earth-shattering happen to my face in just one week, my neck and décolletage is a WHOLE different story.  The skin on my neck and upper chest have been rough-textured for the last several years.  I contribute it to years of intense outdoor and indoor tanning during my 20s (it does catch up to you).  Within the first week of use, my neck and décolletage felt 200% smoother.  I was pretty impressed right away.  I feel like it took about 2 weeks to really notice results on my face.  Let's be honest, skincare results in 2 weeks is PRETTY awesome.  I noticed that my facial skin is smoother and my fine lines are certainly less noticeable.  My complexion seems less dull.  All of these things together really make a great canvas to apply foundation.  After 4 weeks of use, the results I saw after week 2 have continued and only gotten better.  I am constantly running my hands over my neck to feel how smooth the skin is.  I just can't believe the difference, no rough skin…the look and feel is simply astonishing!  At the 4 week mark, my deep forehead wrinkles are just now starting to look a bit less prominent.  Those lines are much deeper than any other lines on my face.  For that reason, I really didn't expect any results at all in that area.  I am quite pleased that even those deep wrinkles are showing improvement.  Overall, I am pretty thrilled with the Night Moisturizer and will definitely continue use!
I started using the Neutrogena Rapid Wrinkle Repair Eye Cream the same night as the moisturizer. I applied it around my eyes every night for the first week and didn't really see much of anything.  After one week, I discovered that this cream is for use both night AND day.  Whoops!  For some reason, I'm still not good at applying the eye cream every morning.  I just can't seem to get into the habit of adding it to my a.m. routine.  After 4 weeks of using the eye cream every night (and a few times in the a.m), I can tell you that I have noticed my undereye area has become more taut and smooth.  The product has reduced the look of fine lines and even brightened up my undereye area.  I really need to get into the habit of using it twice daily so I can see what that would do!
Product received from PR for editorial consideration, all opinions expressed are my own.
Find the Neutrogena Rapid Repair line at Walgreens, CVS, Target and many other retailers.
Have you tried this line of products yet? Did you have similar results?