One of my favorite flavor combinations is pineapple with coconut.  It all started with my first Pina Colada way back in the day…and snowballed from there!  As someone who is not a pro at baking, I still wanted to try my hand at these Pineapple Coconut Muffins with Coconut Glaze.  The recipe is actually very easy and I have made these two times already.  They were a big hit with the family!  They are great for breakfast, snack, dessert or any time.  The flavors are so good together, the muffins turned out very moist, and the glaze is (literally) the icing on the cake!  If you are not into glaze (what??), I'm sure these muffins would still be great without it.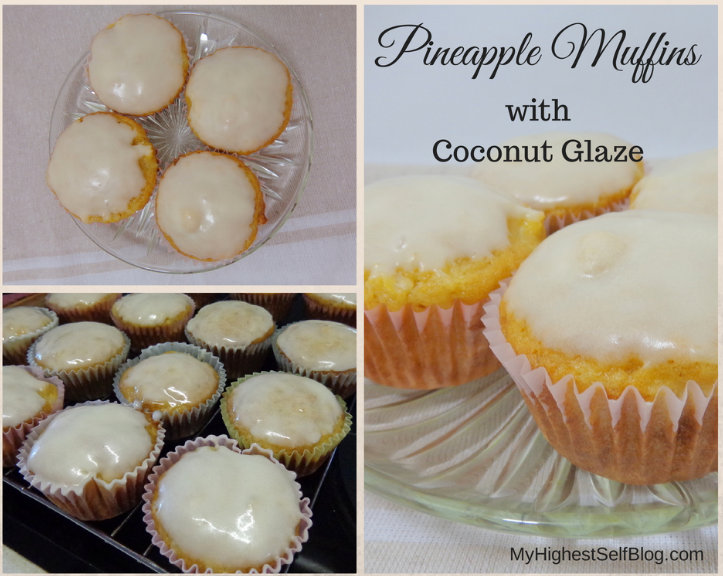 Pineapple Coconut Muffins
Yield: 18 muffins
Ingredients:
2 cups all-purpose flour
3/4 tsp baking powder
3/4 tsp baking soda
1/2 tsp salt
1 cup packed light brown sugar
1/3 cup canola oil
1 tsp vanilla extract
1/4 tsp coconut extract
3/4 cup buttermilk
2 eggs
1 1/4 cup drained crushed pineapple
1/2 cup shredded coconut
Directions:
1.  Preheat oven to 350 degrees, prepare 18 muffin cups with nonstick spray or paper liners.
2.  In a large bowl, sift flour, baking powder, baking soda, salt. Then whisk in brown sugar until mixed evenly.
3.  In a separate bowl add the oil, vanilla, coconut extract, buttermilk, eggs. Whisk until well combined.
4.  Make a well in the center of dry ingredients, pour in the wet ingredients. With a spatula, gently fold the mixture until just combined, approx. 10 strokes. Do not overmix! Add pineapple and coconut into the batter, fold evenly, approx. 3-4 strokes.
5.  Divide the batter eventy between the prepared muffin cups. Bake for 18-20 minutes, or until muffins spring back when pressed in the center and tops are golden brown. Cool in the pan for 4 minutes, remove the muffins from the pan to cool on a wire rack after that.
6.  Once muffins have cooled, prepare the Coconut Glaze.
Coconut Glaze
Yield: Glaze for 18 muffins
Ingredients:
1 cup powdered sugar
2 tbsp butter, melted & cooled
3 tbsp coconut milk
1 tsp vanilla extract
Directions:
1.  In a medium bowl, combine powdered sugar, butter & 2 tbsp of coconut milk.
2.  Whisk while adding the final tbsp of coconut milk just one drop at a time until glaze is consistency of corn syrup.
3.  Add the vanilla, whisk well.
4.  Use right away.  Dip the tops of muffins into the warm glaze, allowing excess to drip off.  Put muffins on a cooling rack to allow glaze to set, approx. 1 hour.
5.  Enjoy!
Adapted from recipes found in Moufflet by Kelly Jaggers.
What do you think about this flavor combination, is it a favorite of yours too?