As a busy mom and blogger, I love an easy, one-pot meal.  However, I'm not a fan of the "let's throw any old thing together in a pot and call it dinner" type of meal.  I hated that growing up.  If I'm going to make a one-pot meal, it's going to be full of flavor and include a few of my favorite ingredients.  I put together the perfect rustic meal for fall that includes red potatoes, fresh herbs and Johnsonville Naturals Mild Italian Sausage.  These sausages are 100% natural with no fillers, zero trans fat, no msg added, and gluten-free.  The simple ingredients list: Pork, water and less than 2% of the following: salt, natural sugar, spice, paprika, natural flavors.  The Johnsonville Naturals line includes italian sausage, brats, and even breakfast sausages.  What a great way to make a healthier meal for the family!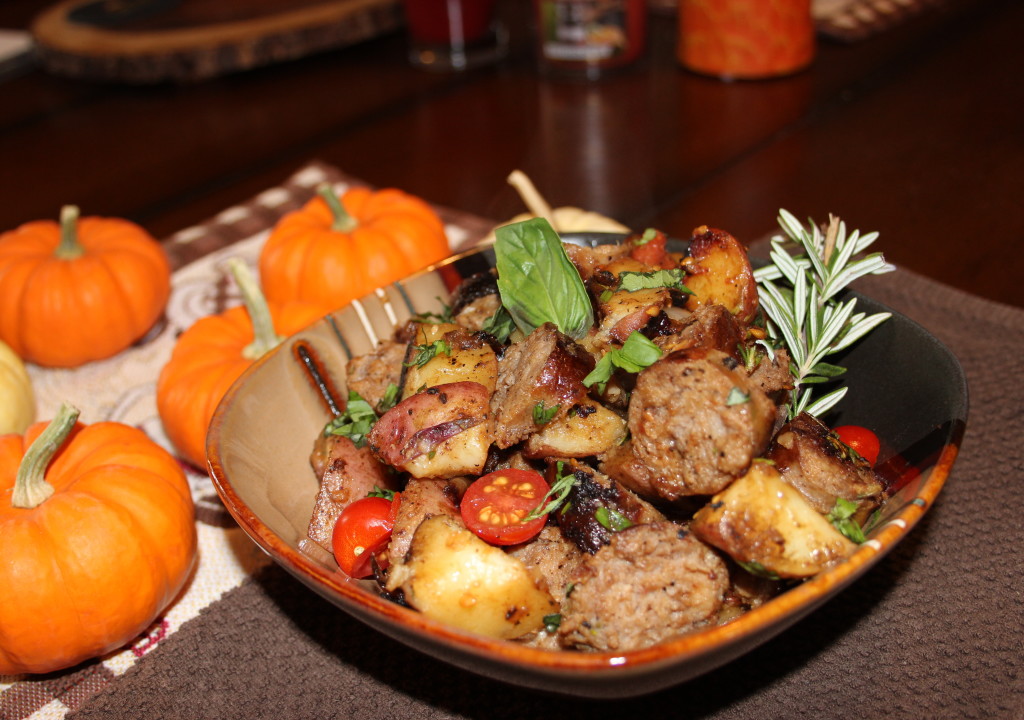 This recipe for Rustic Italian Sausage and Potatoes will have dinner on the table in just about 30 minutes.  I love it because the potatoes, fresh rosemary, fresh basil mix well with the flavor of Johnsonville Naturals Mild Italian Sausage.  Our family was already a fan of the Johnsonville brand and after testing the Naturals line, it is now a true favorite.  The taste is fresh and reminds me of the sausages that you might pick up at your local Italian deli.  
I hope you enjoy this easy and hearty meal for Fall!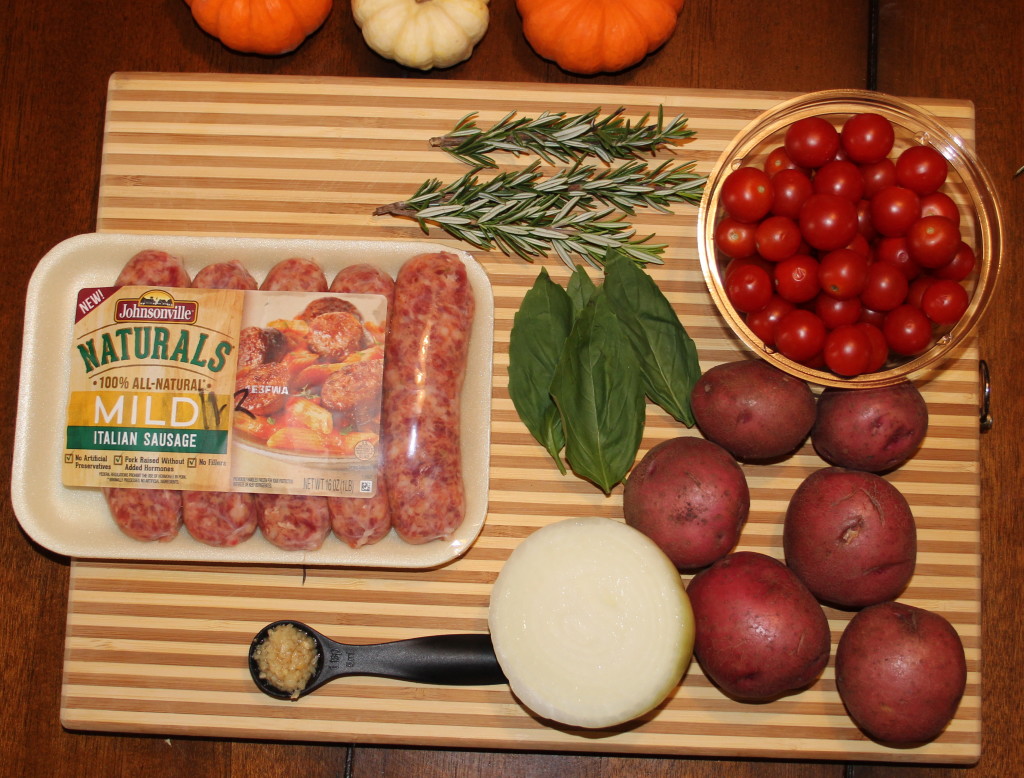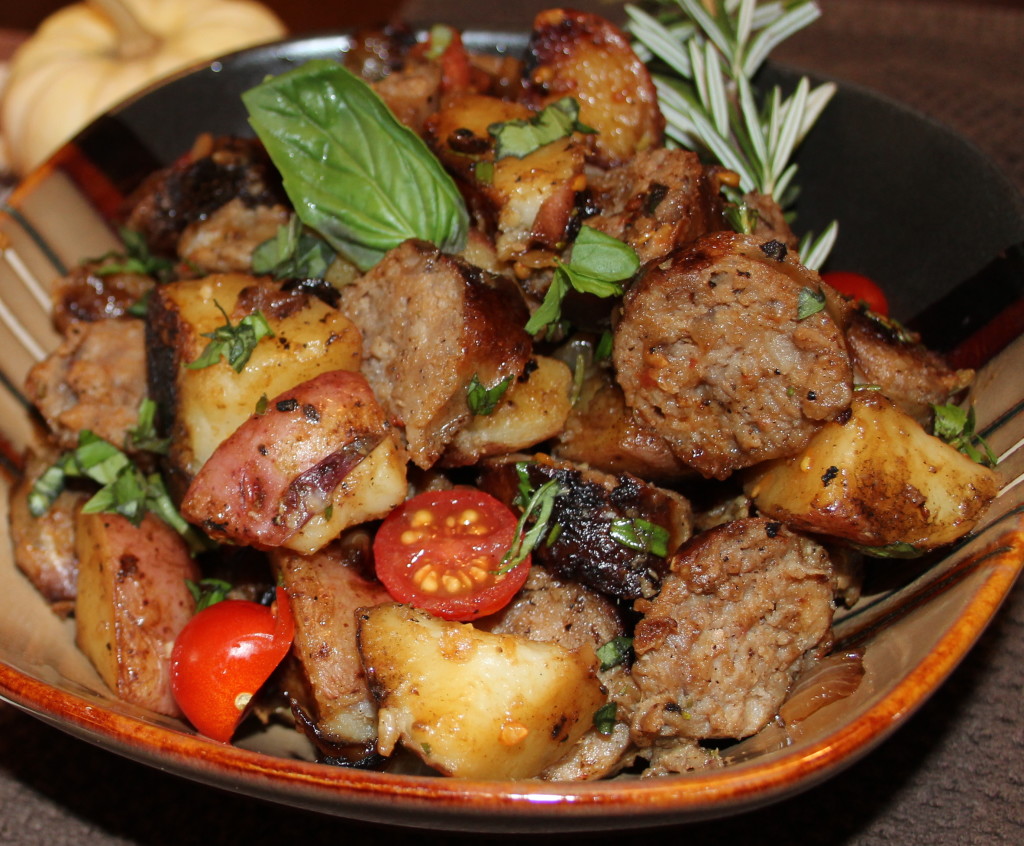 Rustic Italian Sausage and Potatoes
Ingredients:
1 Tbsp extra virgin olive oil

1 pkg Johnsonville Naturals Mild Italian Sausage

1 lb red potatoes, chopped into ½-inch pieces

½ sweet onion, chopped into ½-inch pieces

1 Tbsp minced garlic

1 pint grape tomatoes, sliced in half and divided

1 Tbsp chopped fresh rosemary

1 Tbsp chopped fresh basil

½ tsp kosher salt

½ tsp fresh ground black pepper
Directions:
Heat oil in a large skillet over medium-high heat, add sausage and cover. Cook until browned, turning once. When sausages are browned (about 4 minutes on each side) add potatoes, onion, salt and pepper. Cover and stir often.
Remove the sausages once they are mostly cooked through. Stir potato mixture across your skillet and cook for about 10 minutes, stir occasionally.
Slice sausage into ½ inch pieces and return to pan. Add rosemary, garlic and ½ of tomatoes. Cook for 5 minutes or until tomatoes are cooked. Add basil, remaining tomatoes and stir to combine. Enjoy!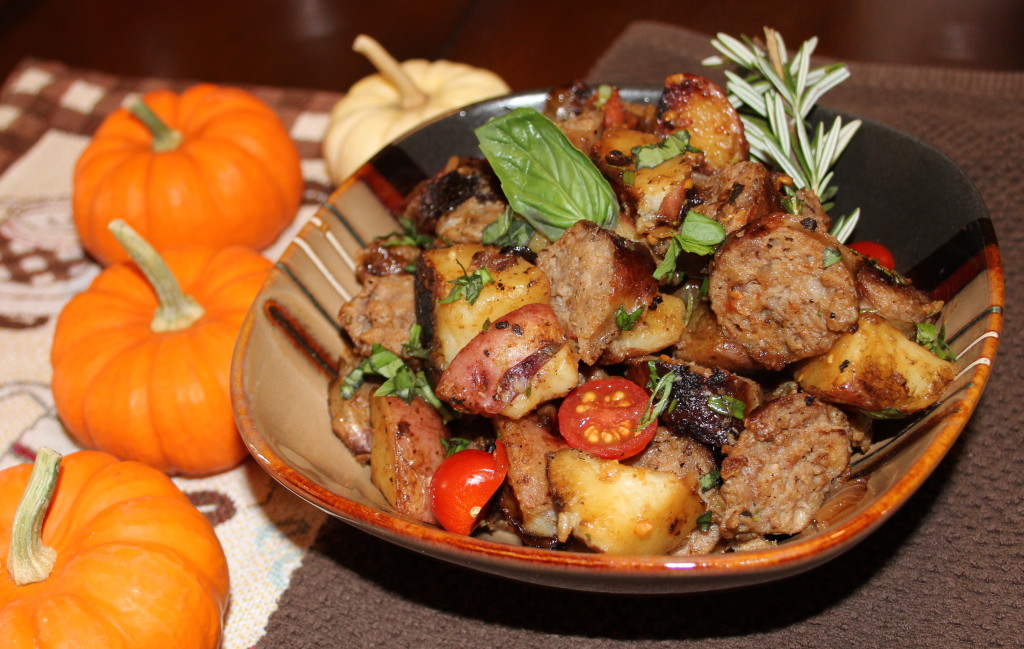 Disclosure: I received free product coupons and a promotional item from Johnsonville to facilitate this post. All opinions are my own.
Have you tried Johnsonville Naturals yet?