I received a REACH product for free in order to facilitate this review, but all opinions are my own.
Do you consider oral hygiene part of your beauty routine?  I certainly do.  My smile is a favorite feature that I'm always trying to preserve.  Because of that, brushing and rinsing regularly are steps that I never skip over.  Even when I'm as tired as a tired mom/blogger could be, I always get my butt over to the bathroom to brush my teeth and rinse with mouthwash.  I'm not alone, because (according to a new survey by Kelton Global) 82% of moms never skip brushing every night!  The new REACH® Complete Care™ Rinse and REACH® Complete Care™ CURVE Toothbrush have both been working together to make my busy routine go a little smoother.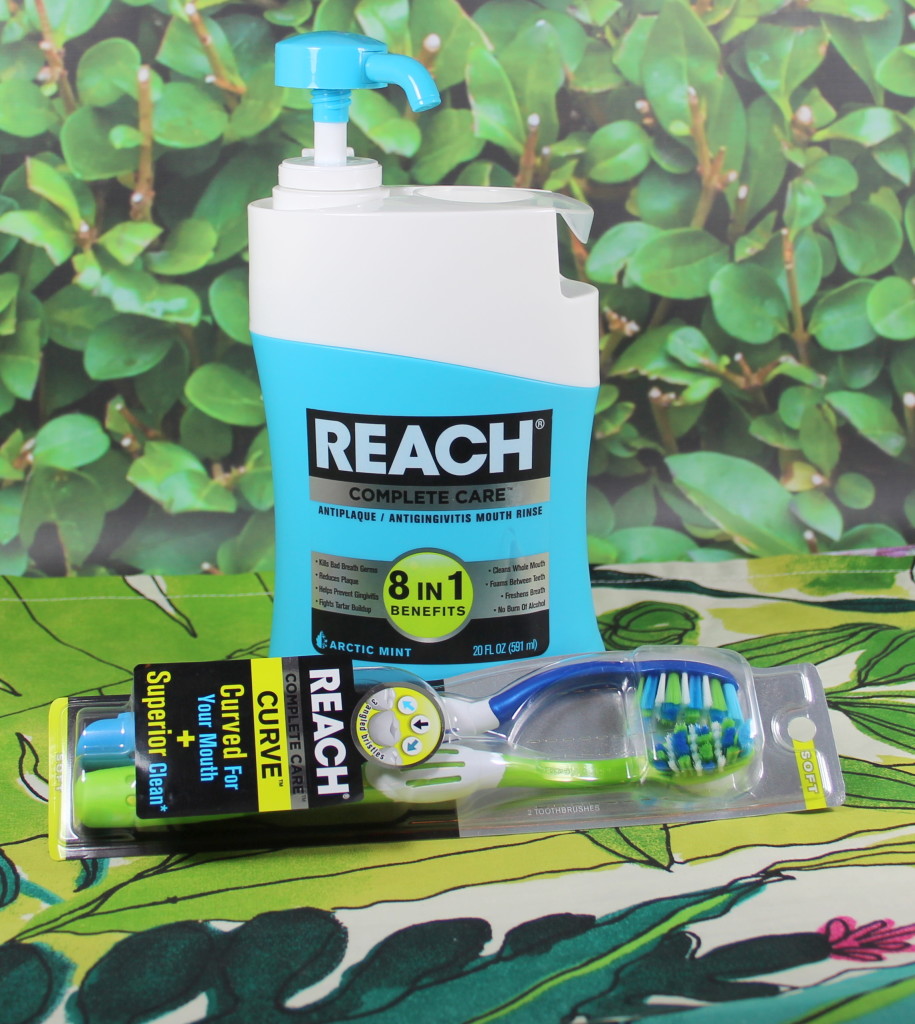 REACH® Complete Care™ Rinse boasts 8 benefits in 1:  reduces plaque, kills bad breath germs, fights tartar buildup, helps prevent gingivitis, foams between teeth, cleans the whole mouth, freshens breath, and no burn of alcohol.  Phew, that's a lot of benefits!  The first thing I noticed about this new mouth rinse is the TASTE:  it's really good!  I've tried a number of mouth rinse products with no alcohol and that taste could be a turn-off.  Not the case here at all.  I'll be honest, taste is probably in the top 3 factors in how I choose my mouth rinse.  I want it to be effective, of course, but if it tastes terrible, I'm not going to want to use it.  That foaming action is kinda cool, too.  Did I mention that it has an awesome pump dispenser, cup on top, and you can save even more space and hang your toothbrush on it?  Love that.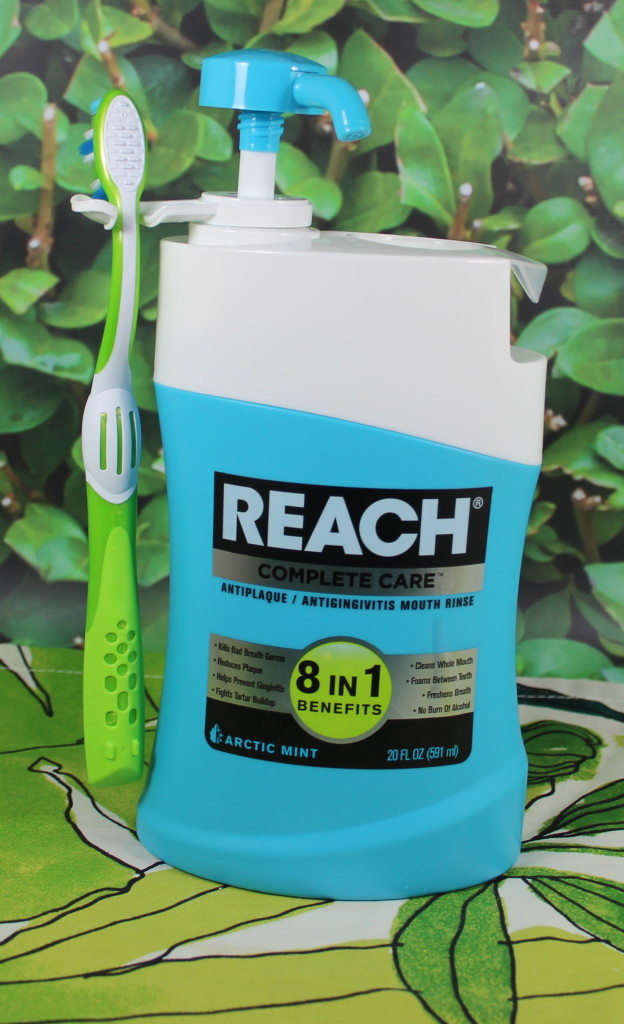 hang your toothbrush on the side!
The REACH® Complete Care™ CURVE Toothbrush has these triple angled bristles that feel SO GOOD on my teeth.  I don't know if you've ever experienced a brand new toothbrush that just hits those spots that may have been missed before?  Yeah, it's like that!  The 13″ angled, flexible neck helps to get all the way in the back where it can be difficult to reach.  I still have all of my wisdom teeth and reaching all the way back and behind those teeth can be a real pain.  I'm loving the CURVE toothbrush for that especially.
Overall, REACH® Complete Care™ has my back!  This mom/blogger is a new fan of all the awesome features in this duo.
Have you tried new REACH® Complete Care™ yet?  Will you be picking these up soon?