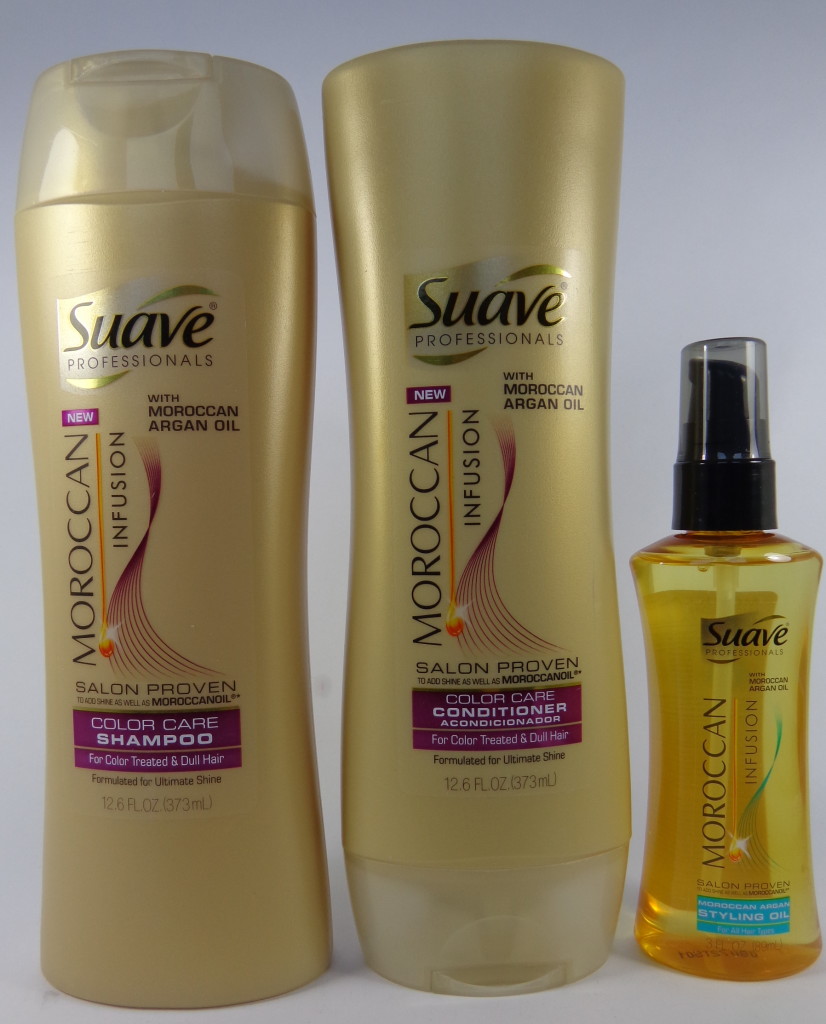 For the past two weeks I have been happily testing the new Suave Professionals Moroccan Infusion Color Care Shampoo, Conditioner, and Moroccan Argan Styling Oil.  I have been absolutely blown away by the results of this new (and very inexpensive) line by Suave!
This line sets out to provide "long-lasting conditioning and noticeable shine and is infused with authentic Moroccan argan oil.  The shampoo will gently cleanse, keeping color vibrant.  The conditioner will smooth and seal the cuticle to keep color vibrant while enhancing shine"
After my very first shampoo, I could feel a complete difference in my hair.  While rinsing, running my fingers through my hair, it felt smooth as butter.  After the conditioner, running my fingers through my wet hair was like super-silky butter.  So smooth!
After towel drying my hair, I dispensed 4 pumps of the Moroccan Argan Styling Oil, rubbed my palms together, and ran it through my hair from mid-shaft to ends.  I combed it through, blow dried, then styled.  My hair has never felt silkier and more manageable after blow drying!  I am going to love using these products after my hair color appointment on Saturday.  I am all for color care products to save color from fading.
I love that this amazing state of smooth and conditioned hair can last for a full 24 hours or more.  My hair did not look or feel greasy after 24 hours, another major plus.  The scent of all three products is very warm and inviting and actually lasts throughout the day.
Overall, I am so impressed with the results of Suave Professionals Moroccan Infusion products!  I highly recommend all three products for maximum results.  At the very least, you MUST try the Moroccan Argan Styling Oil, it absolutely rivals the expensive brands.
Find the full line of Suave Professionals Moroccan Infusion products at drugstores and mass retailers.  Shampoo ($2.87), Conditioner ($2.87), Styling Oil ($5.98)
Products provided for editorial consideration, all opinions expressed are my own.
Have you tried this new line yet?