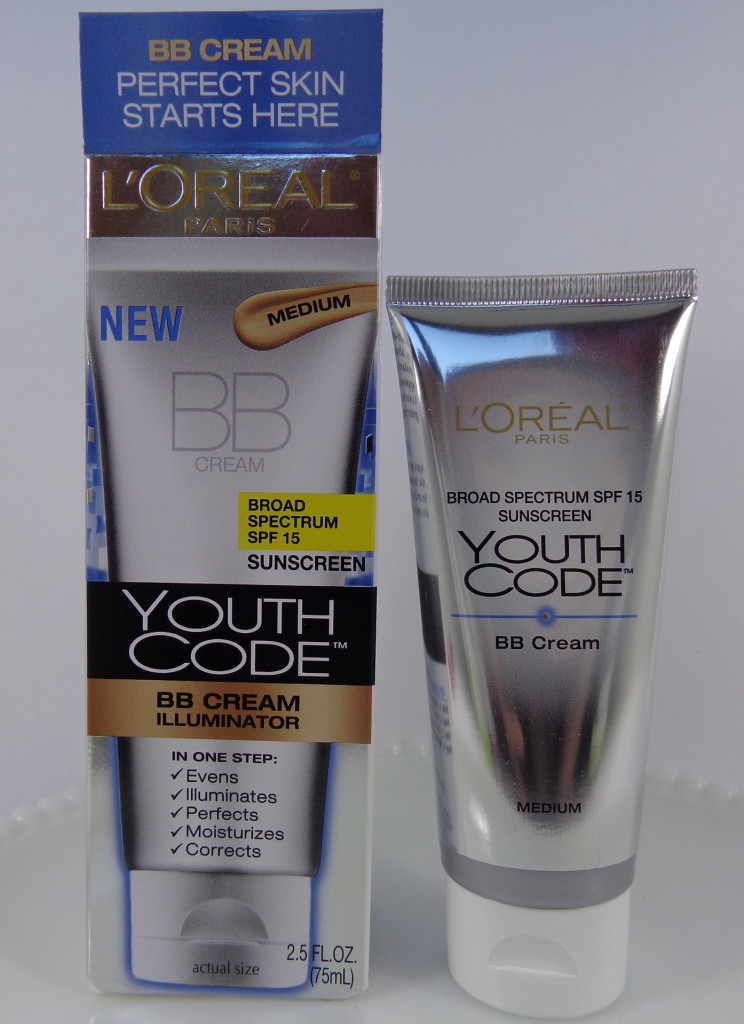 Over the past couple of weeks, I have been testing out the L'Oreal Youth Code BB Cream Illuminator in Medium.  I purchased it after a comment from Shelley at Polarbelle, she mentioned she loved it.  I had to try it!
The L'Oreal Youth Code BB Cream Illuminator UVA/UVB SPF 15 sunscreen and sets out to "even, illuminate, perfect, moisturize, and correct in one step".  It is non-greasy and non-comedogenic.
Below you can see a skin swatch of the L'Oreal Youth Code BB Cream Illuminator (Medium).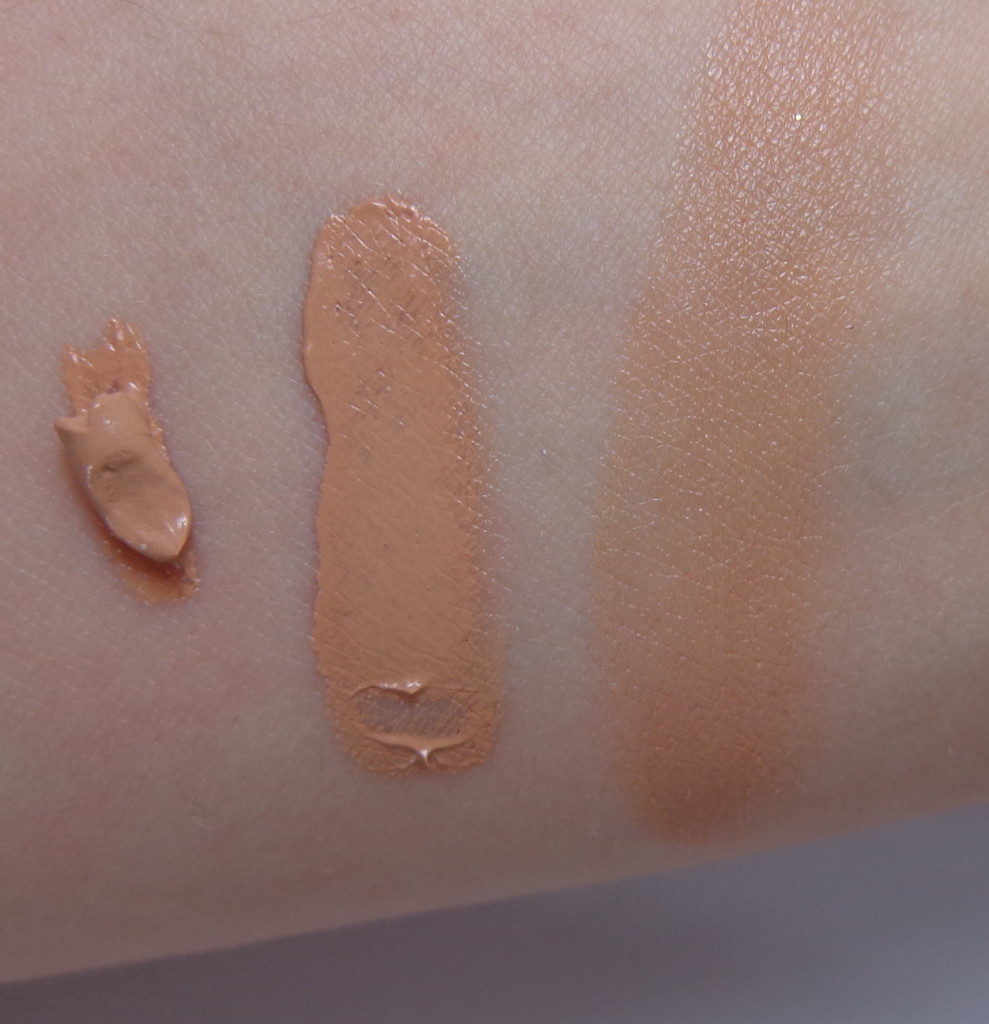 The BB Cream has a fresh scent (which I like but some may hate) that you only smell for a minute or so and is of a thicker consistency.  It has the loveliest, smoothest feel as I applied and blends beautifully with my skin tone.  I used my Eco Tools Bamboo Foundation brush to apply.
Below you can see my BEFORE and AFTER photos.  The first photo is me without any makeup at all (obviously), clearly showing all my imperfections and discolorations.  In the second photo, all I have on my face is the L'Oreal Youth Code BB Cream Illuminator.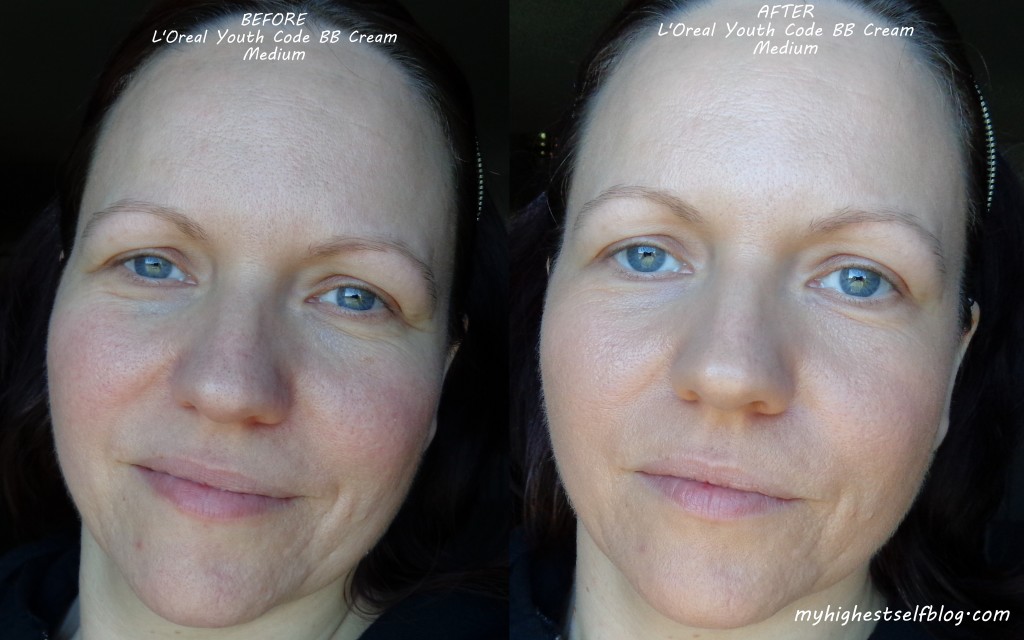 First, what I liked about this BB Cream is that I feel like the shade blended seamlessly with my skin tone.  Second, I feel that it does a great job to "instantly even skin tone and give a luminous appearance".  It also feel moisturizing without being greasy at all.  I could easily add an extra light layer on the cheeks to cover extra redness also.  Third, it is incredibly comfortable to wear.  I have tried others (like the Olay CC Cream) that were lightweight in consistency but very uncomfortable on the skin.  I literally forget that I am wearing this BB Cream!
What do I really love about L'Oreal Youth Code BB Cream Illuminator?  It wears extremely well throughout the day on my oily skin!  After one hour with other BB creams, I have been seeing a ton of oil shine through, making them useless for me.  With the L'Oreal, I start to see just a bit of oil shine through on my nose and forehead at the 2 hour mark.  Outstanding!  I blotted those areas and went about my day.  After 8 hours of wear I did not find that it transferred, shifted, or settled into my pores and fine lines.  I wore it several times with and without a full face of makeup (bronzer, blush, powder, etc) and truly loved it.  See a Face of the Day with L'Oreal Youth Code here.
Overall, I feel that L'Oreal Youth Code BB Cream Illuminator does deliver on all of its claims and more!  This BB Cream has been truly wonderful for my oily skin.  I am very happy that an effective and inexpensive alternative to my favorite foundation, Liz Earle Sheer Skin Tint.
Available at Walmart
, $13.87.
Product purchased by me.
More before and after photos:  Hourglass Vanish Foundation Stick, IT Cosmetics CC Cream, Olay CC Cream, Garnier BB Cream, Maybelline Dream Fresh BB Cream, Aveeno BB Cream, L'Oreal Paris Magic BB Cream, L'Oreal Paris Magic Nude Liquid Powder, Maybelline Fit Me! Stick Foundation
Have you tried any BB creams lately?