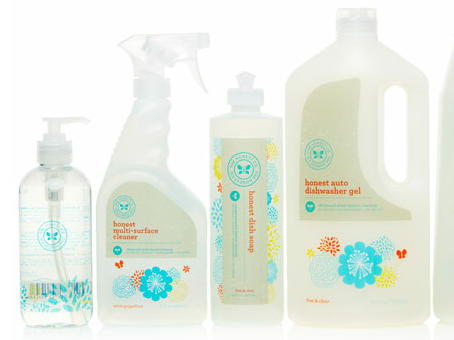 We all have families and always try to do what's best for them, right?  Today, I have an offer that may interest you if you strive to be more eco-friendly in your home!
Founded by Jessica Alba and Christopher Gavigan, the Honest Company was created to help moms give their families safer products.  The Honest Co. makes eco-friendy products for the home (detergent, dish soap, etc.) and for children (diapers, wipes, lotion, etc.).
Sign up here to get a free trial of The Honest Co. products.  Get Started by giving a bit of information about you and your family then choose a free discovery kit of Family Essentials or Diapers and Wipes.  Pay only $4.95 for shipping and handling.  This is a great way to check out the products to see if you like them. You'll be automatically enrolled in the monthly service* – cancel the service at any time.
 *With your free Discovery Kit you will become enrolled as a MEMBER of The Honest Company. You have 7 days following receipt of your Discovery Kit to cancel your membership at any time, for any reason. We will remind you several times about your membership options. If you choose to not cancel your membership, you will be charged $35.95 plus $3.95 shipping and handling for your monthly supply of Family Essentials, or $79.95 plus $4.95 shipping and handling for your monthly supply of Diapers.
* Disclosure:  This post contains affiliate links, I can earn money if you make a purchase. *