I participated in an Ambassador Program on behalf of Influence Central for SoCozy. I received Target gift cards to facilitate my review and a promotional item to thank me for my participation.
A short while ago, I introduced you to SoCozy hair products by Cozy Friedman.  Now available at Target, the SoCozy line of salon formula hair products is made just for kids.  The products are completely non-toxic and made with the finest ingredients.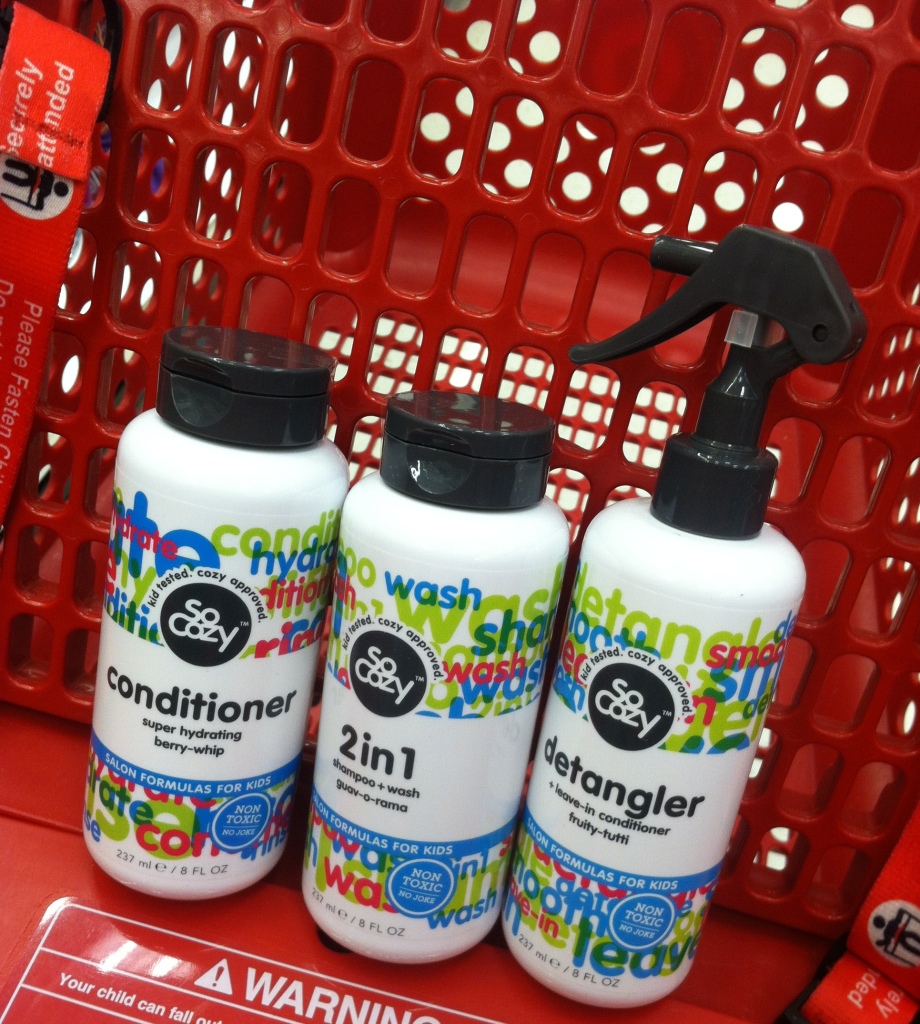 We have been using three products consistently for several weeks:  SoCozy 2 in 1 Shampoo + Wash in guav-o-rama, Sozy Cozy Super Hydrating Conditioner in berry whip, and SoCozy Detangler + Leave-in Conditioner in fruity-tutti.
My daughter had very long, thick hair when we first started using SoCozy.  She has gotten a major hair cut since then (more on that in a bit).  Anyway, her long hair was extremely tangly and required a lot of extra care to maintain.  With the SoCozy hair routine (2 in 1 Shampoo, Super Hydrating Conditioner, followed by the Detangler)  it literally cut down on combing out tangles by more than 75%!  I would often spend several minutes sectioning her hair and carefully combing out the monstrous tangles.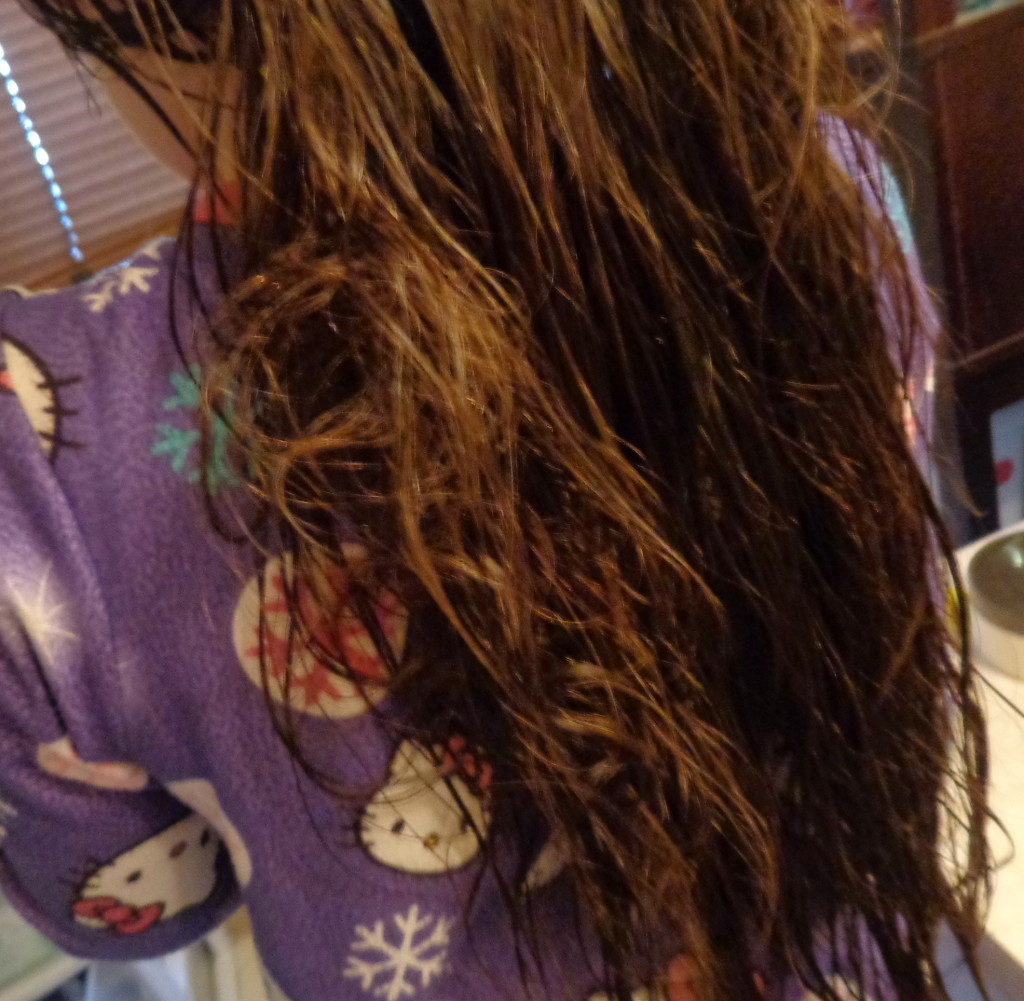 Before SoCozy: Ruby's long, tangly hair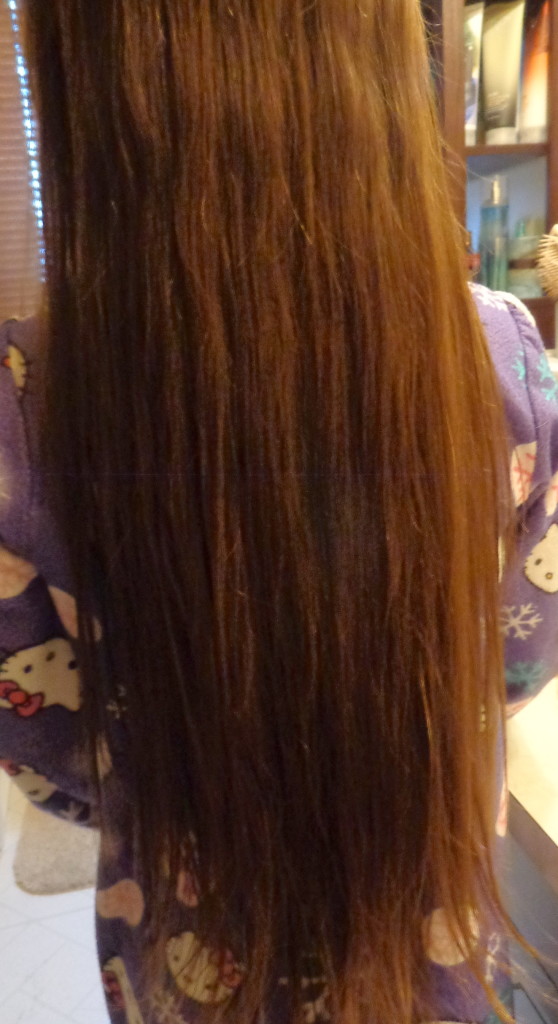 After SoCozy: Smooth, tangle-free hair
With the SoCozy routine, Ruby's hair was clean, soft, easy to manage, and (almost) tangle-free.  We only needed to comb through her hair once to get any small tangles out.  For anyone looking to manage kids hair, I would recommend never skipping the conditioner and detangler step.  It really makes all the difference in the look and feel of hair.  Bonus:  We love the 2 in 1 Shampoo + Wash as a body wash, too.  I also want to mention that my son also uses it.  So the dual uses cuts down on the number of products in the shower/bath, yay!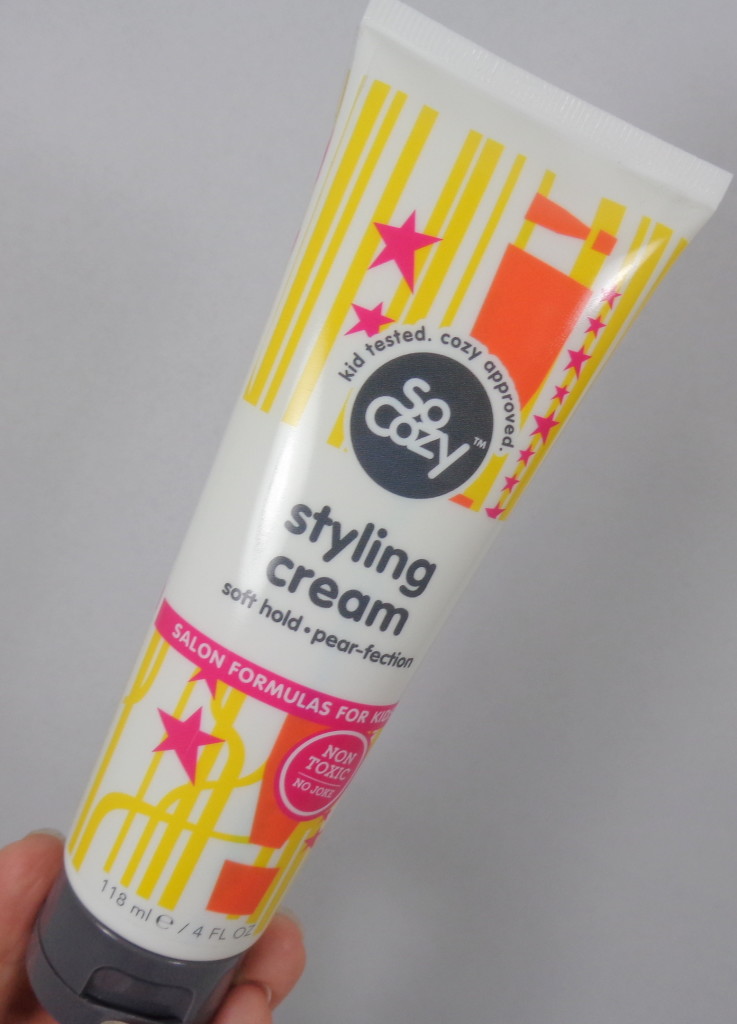 After Ruby cut off more than 12 inches of her hair (and was able to donate it), she had a fresh new look!  I headed back to Target to pick up the SoCozy Styling Cream and I will use that before I blow dry to keep the volume down on her thick hair.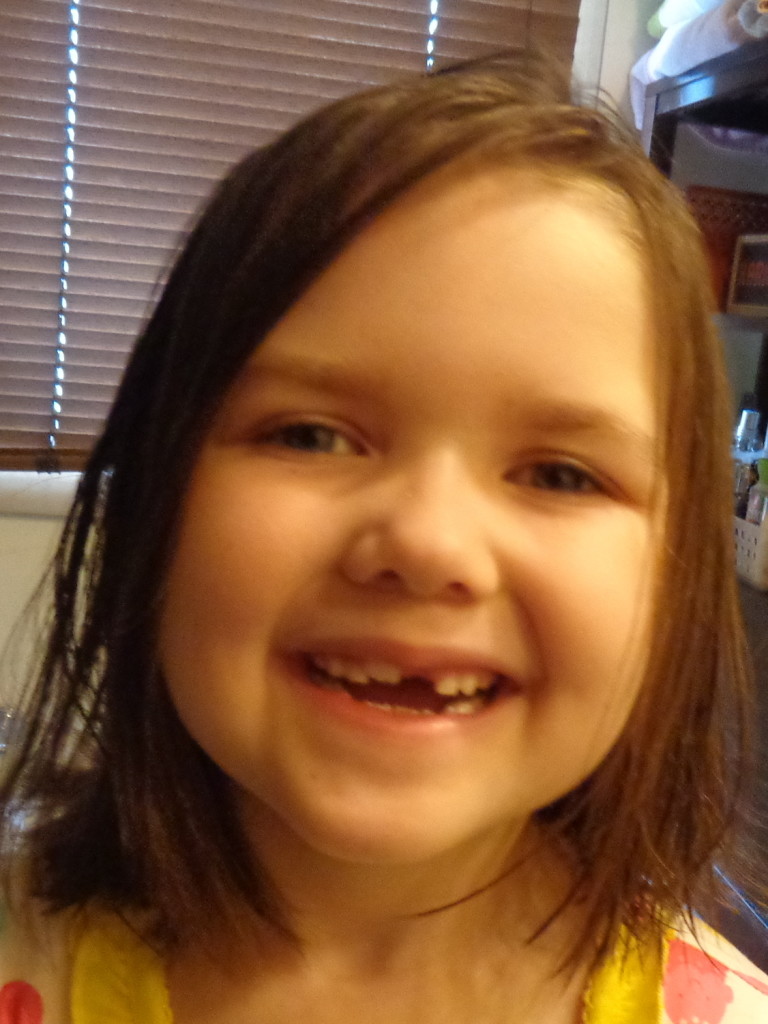 Ruby's new short hair cut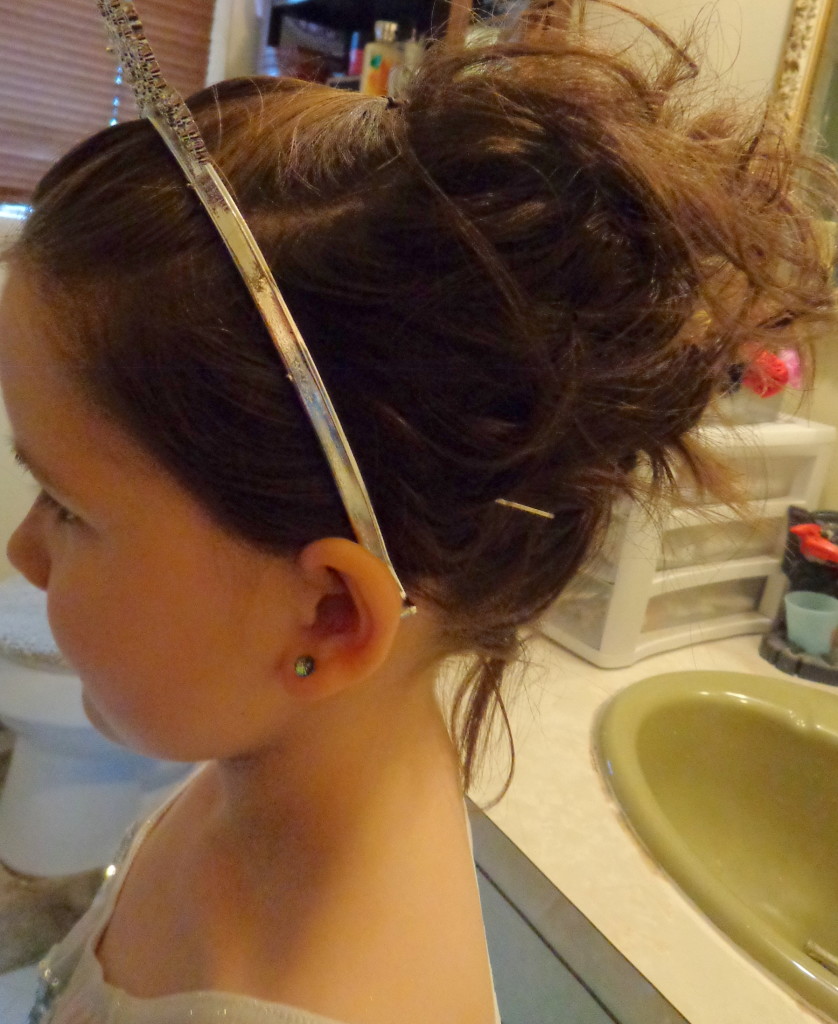 messy up-do for dance recital
I also used it recently to aid in styling a cute up-do for her dance recital!  I love that the SoCozy products are specially made for kids with non-toxic ingredients.  SoCozy in one word: Perfection.
Above is one of my favorite SoCozy videos on how to do The Single Twisty.  I will have to try this on Ruby this week.  I think she will really love it!
SoCozy motto: "Red hair, short hair, pink, curly hair. Being you is SoCozy's idea of cool. Be you!"  Promoting confidence in being yourself is just the right thing for kids.  As a mom, I am thrilled that there are salon-quality products available with good ingredients that streamline the hair routine.
The SoCozy product lineup includes the Cinch line of basic hair care, the Behave line of styling products, and the Boo! line to repel lice.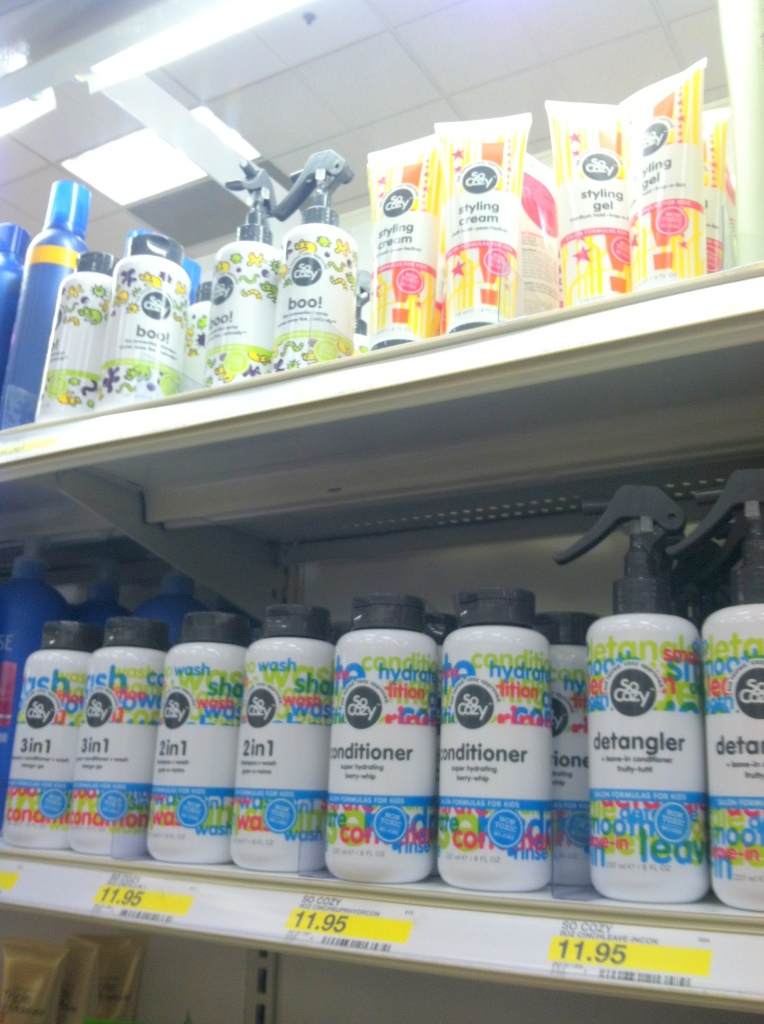 SHOP:  Find SoCozy products at Target stores and Target.com
Have you tried the SoCozy product line yet?  What challenges do you face with your kids' hair routine?