If you have been a regular reader of my blog (thank you!), you probably know that I dye my own hair.  If you missed my post on my FAVORITE hair color and shade, check it out here.  I have tested and reviewed a few other at-home hair color kits in the past, find more on those here.  After I saw the commercial for the NEW Vidal Sassoon Pro Series London Luxe Collection, I knew I had to find the Deep Velvet Violet (3VR) shade !  I love my burgundy red shades but this particular shade had more of a purple tint which I was pretty excited about.  Read on to get full details with before and after photos!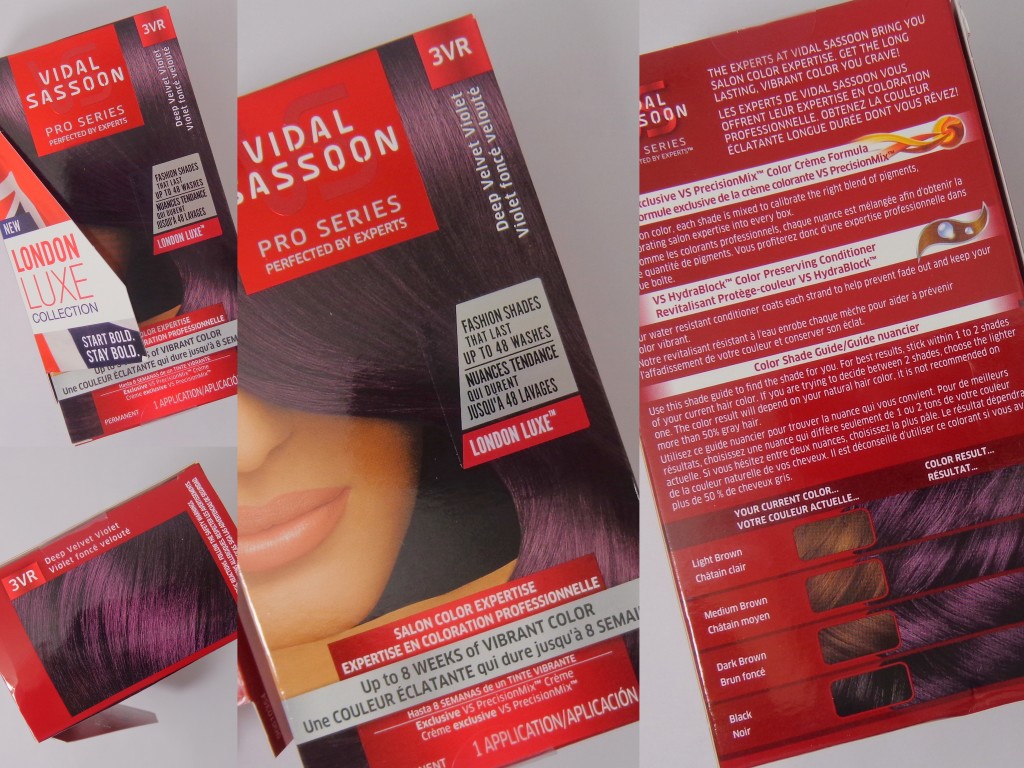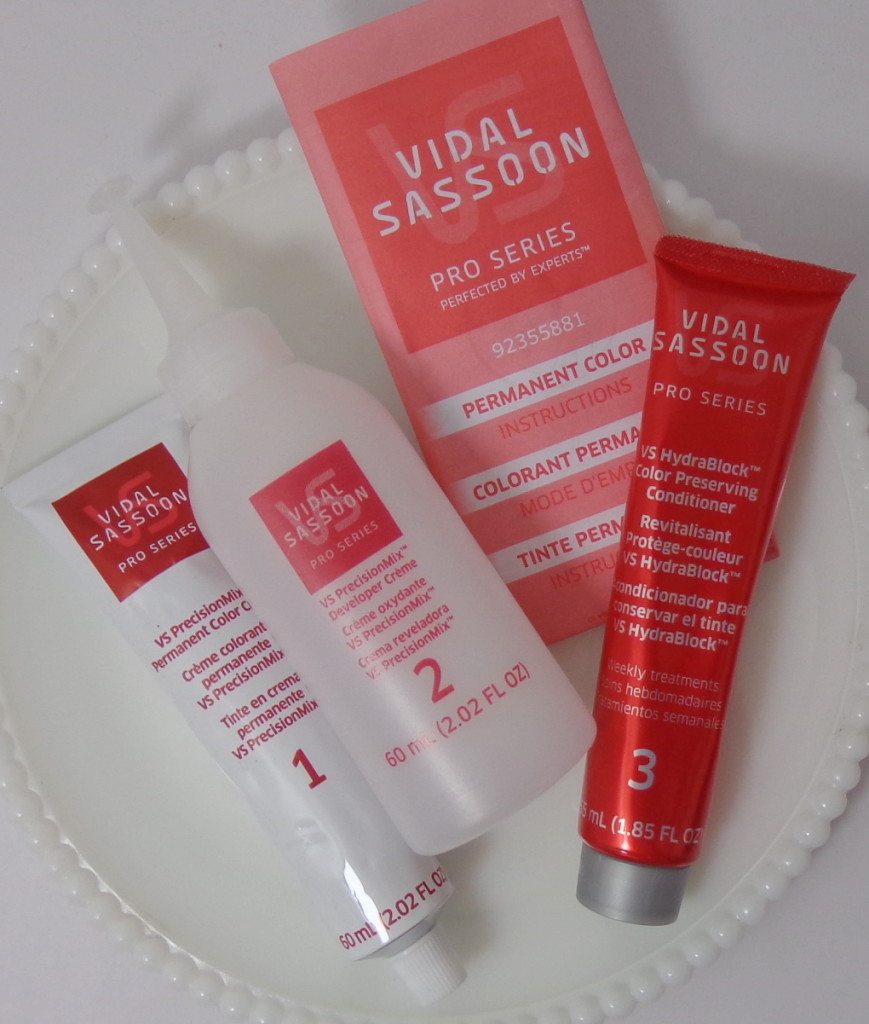 In the Vidal Sassoon box, you will find the VSPrecisionMix Permanent Color Creme, VS PrecisionMix Developer Creme, VS HydraBlock Color Preserving Conditioner and instructions/gloves.
As with any at-home color, you mix the hair color with the developer.  The first thing I noticed was that after mixing, the solution was quite thick.  This made it difficult to squeeze out of the bottle and on to my hair.  I also feel like I did not have as much color to put on as with most color kits.  It was impossible to get the last bits out of the bottle.  Needless to say, I wish the hair color solution was thinner in consistency!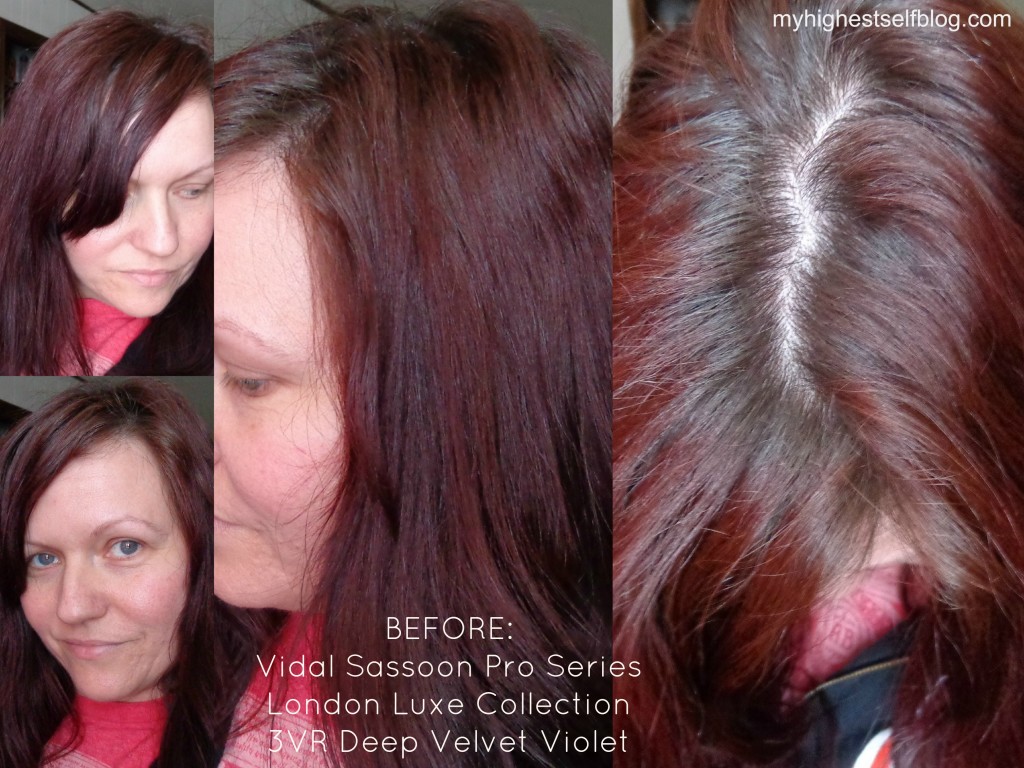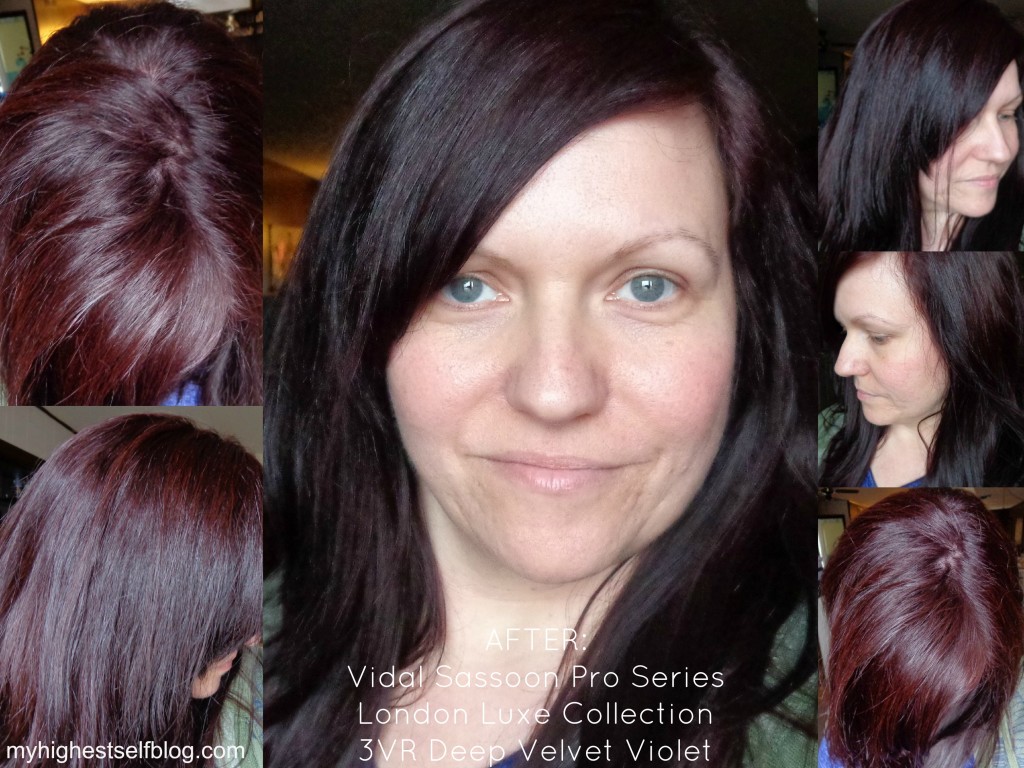 THE GOOD:
I really fell in love with the color result of Vidal Sassoon 3VR Deep Velvet Violet!  You can see that it covered my grays and blends my natural-color roots with my previous box color.  My hair had a nice shine and vibrant color.  I do think the color result matches the photo on the box, but certainly not the color they show on the commercial!  I'm sure I would have to bleach my hair and then color to get the bright violet shown on TV.  I should know better :).
THE BAD:
Since I have thick and stubborn hair (and plenty of grays) I always leave the hair color on for the maximum time, sometimes longer.  I DO NOT RECOMMEND THIS FOR OTHERS.  I know my hair.  From many years of home hair color I know what it takes for my very best color result.  That being said, I made a mistake leaving this particular hair color on for longer than the suggested 30 minutes.  I definitely felt scalp irritation after washing out the color and the worst part…I feel like it damaged my hair from roots to ends.  I wasn't sure at the time, but after using several different shampoos and conditioners over the course of about 2 weeks, I can confirm that it was the hair color.  At times my hair feels like straw, especially after shampoo, I can't run my fingers through it. After blow-drying, there is a definite change in the way my ends look.  There is a "fried" quality to my hair, if that makes sense?  I fully realize this is my own fault for leaving the color on too long.  However, I have never had these results with any other at-home hair color I have used over the past several years.  For that reason, I personally would not buy Vidal Sasson hair color again.  
Overall, Vidal Sassoon Pro Series London Luxe Collection in Deep Velvet Violet delivered a very nice color result but (due to my error) left my hair damaged.  I ALWAYS recommend that you follow the directions in the kit and never stray from that to avoid what happened to me.  As for claims on how long the hair color lasts, the box boasts "up to 8 weeks of vibrant color".  With any hair color, that will depend on how you take care of your hair: what shampoo and conditioner you use, how often you shampoo, etc.  Some of my favorite products for color-treated hair (reviews): Aveeno, L'Oreal, Marc Anthony.  Get some ideas for dark burgundy hair.
Available at Walmart
, $8.84.
More hair color before and afters: L'Oreal Feria Chocolate Cherry, Revlon Buttercream, Nice N Easy Dark Warm Brown, John Frieda Foam Colour, Redken Hair Color, Hair Cuttery.
I purchased this product. Affiliate link.
Have you tried Vidal Sassoon yet?  Have you had a similar experience with hair color before?