Ladies, there's a new fragrance to add to your Valentine's Day wish list! Viva la Juicy Rosé Eau de Parfum just launched in December and aims to speak to your playful side.  Get out your rose-colored glasses, spritz it on and #RoseEveryday with this fresh and feminine scent!
The latest interpretation of the original best-selling Viva La Juicy fragrance, Viva la Juicy Rosé brings together the opening notes of Italian Mandarin, William Pear, and Jasmine Petals with the heart notes of garden florals Rose Centifolia, White Peony, Jasmine Sambac, end notes include Ambrox (described as perfectly abstract) and altogether the scent leaves folks wondering "what IS that fragrance you're wearing??".  In all honesty, that is the effect I always look for when wearing any perfume.  I want to love it  AND I want everyone else to be as intoxicated by it as I am.  How about you?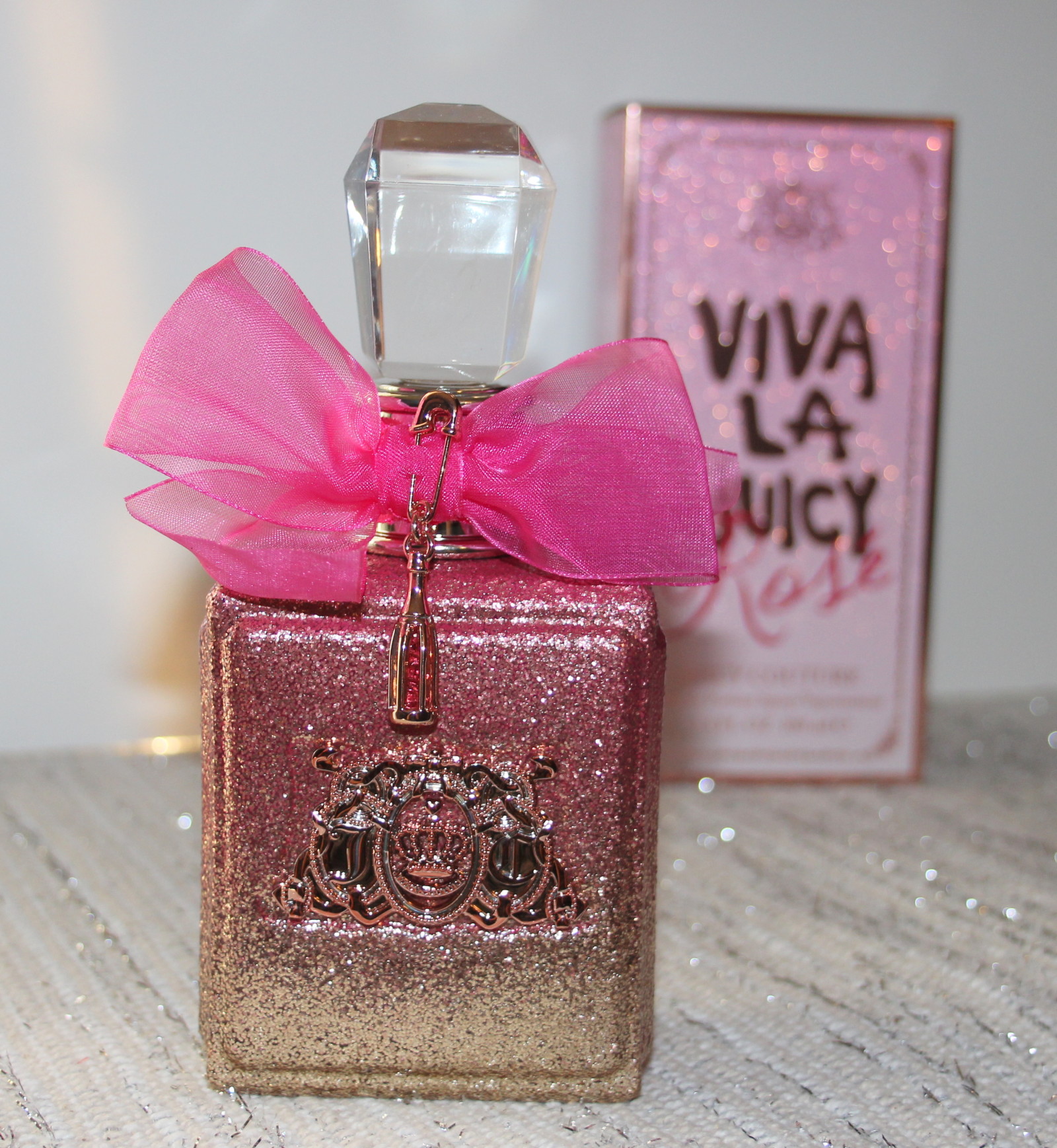 Viva la Juicy Rosé has the iconic bottle style, with an ombre glitter design that goes from pink to gold.  The pink bow and rose-gold champagne bottle charm are the icing on the cake.  This fragrance will look so gorgeous on your vanity!
When I wear this, it starts off with a bit of citrus and floral and then hints at warmth, drying down to fragrance perfection.  I totally adore Viva la Juicy Rosé.  I think all of the Viva La Juicy scents have that "special something" that grabs your attention in the best way possible.  Did you miss my Viva La Juicy Noir review, or my Viva La Juicy Gold Couture review? Viva la Juicy Rosé does not disappoint and is the perfect fresh and sparkling addition to your collection.
Typical with an eau de parfum, this scent lasts a good while on me.  A little spritz goes a long way with a quality fragrance so there's no need to go overboard with application.  I find myself giving my wrist a sniff every hour or so when I wear Viva la Juicy Rosé, it's that good!  What a fabulous Valentine's Day gift this would make.  Why not treat yourself if you can't wait to be gifted?  You deserve it!
SHOP: Viva la Juicy Rosé Eau de Parfum, $54-$94; Eau de Parfum Rollerball Duo, $25 – available at JuicyCouture.com, ULTA, Macy's and more.  
Product received from PR for editorial consideration, all opinions expressed are my own.
Will you be looking to add Viva la Juicy Rosé to your fragrance collection soon?