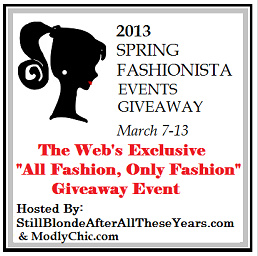 The Spring Fashionista Events Giveaway starts NOW! This event runs March 7 through March 13, 2013.  The Spring Fashionista Giveaway Event is hosted by The Chief Blonde at Still Blonde After All These Years and Katy from ModlyChic, K Squared Glamour is our co-host!  This is a HUGE giveaway event with over 100 blogs giving away fashion prizes of at least $125 each.  There will be a total of over $20,000 in prizes across all blogs!
For every giveaway in the Spring Fashionista Event that an entrant enters, they gain one entry toward the Spring Fashionista Events Main Event Prizes.  Go here to enter Main Event==> $1200 in Main Event Prizes.
The Main Event Prizes total $1200 and Include:
$600 White Gold and Citrene Stone Necklace from Emma Parker Diamonds (Diamond engagment Rings) (WOrldwide)
$100 Amazon Gift Card (WorldWide)
$250 Gift Card from  Midnight Velvet (clothing, accessories and home decor) (US ONLY)
$250 in Shoes from  Bobbi-Toad (adorable children's Shoes) Worldwide
My first sponsor for this event is Toteteca Bag Works, where you can choose and completely customize a bag just the way you like it.  You can choose your own colors from the inside to the outside, choose your own hardware, even your own monogram.
From Toteteca
Our goal is to create a " bag library " of sorts where people can select bags in any color and combination to create a bag that is truly unique.  We do not use real leather of any kind. High quality "faux leather" mimics the look, feel and durability of real leather without harming any animals. We don't use Rexene or other poor synthetics that chip or peel. We feel it is our duty to encourage positive alternatives that sidestep animal cruelty. We also try to maintain the smallest possible carbon footprint. We source all our high quality materials locally. Maintaining a low waste, centralized manufacturing method is very important for a company looking to the future.
Toteteca has the Large Pocketed Tote (totally customized by YOU), valued at $88: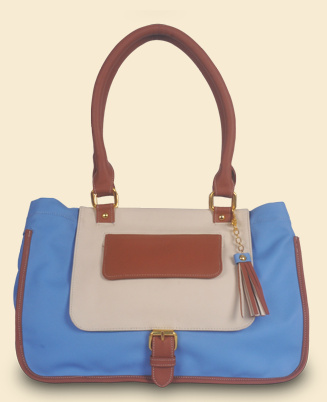 My second sponsor for this event is Dots, where you can find clothing,  accessories, shoes and more all at very affordable prices.  I love that Dots offers both contemporary sizes and plus sizes.  You can shop for casual pieces and clothing to wear to work.  You can find wardrobe staples as well as all the trendy pieces that you may be looking for.
Dots has provided a $50 gift card to our prize pack !
GIVEAWAY
This giveaway is US Only.  (Each blog has their own rules, some are worldwide). Giveaway runs from March 7 to March 13, 11:59 PM
WHAT YOU CAN WIN
ONE winner will receive the Toteteca Large Pocketed Tote (totally customized by YOU) ($88 value) AND a $50 Dots gift card.
HOW TO ENTER
Enter using the Rafflecopter below:
a Rafflecopter giveaway
Keep hopping to all the other Spring Fashionista Events blogs and $20,000+ in prizes!
LEGAL STUFF: 18 years of age or older to enter. US Only! Read Instructions carefully, rules vary from contest to contest. Make sure to provide a correct email address so we can reach you if you win. You have 48 hours to respond once contacted. Still Blonde after all these YEARS , Fall Fashionista Giveaway Events or the Spring Fashionista Giveaway Event bloggers are not responsible for sponsors that do not fulfill their prizes. In most cases, shipping of prizes is the responsibility of the sponsors who will be sending prizes to you directly. Your prize should arrive within 30 days, let us know if it doesn't and we will TRY TO HELP OUT!  Compensation was not provided. Opinions expressed are the blog's own. This Giveaway is not affiliated with, associated with or promoted by Facebook. Happy Entering!