Over the past couple of months, I have been exclusively wearing the Aveeno Clear Complexion BB Cream Broad Spectrum SPF 30 in Fair to Light.  After using it just a couple of times, it became the foundation/BB cream that I reached for every single time I wore makeup!  I am happy to share my review with before and after photos below.
It's no secret that I am a fan of a many Aveeno products, especially the Clear Complexion line of skin care.  As an Aveeno Ambassador, I received this BB cream for review and was so looking forward to trying it out.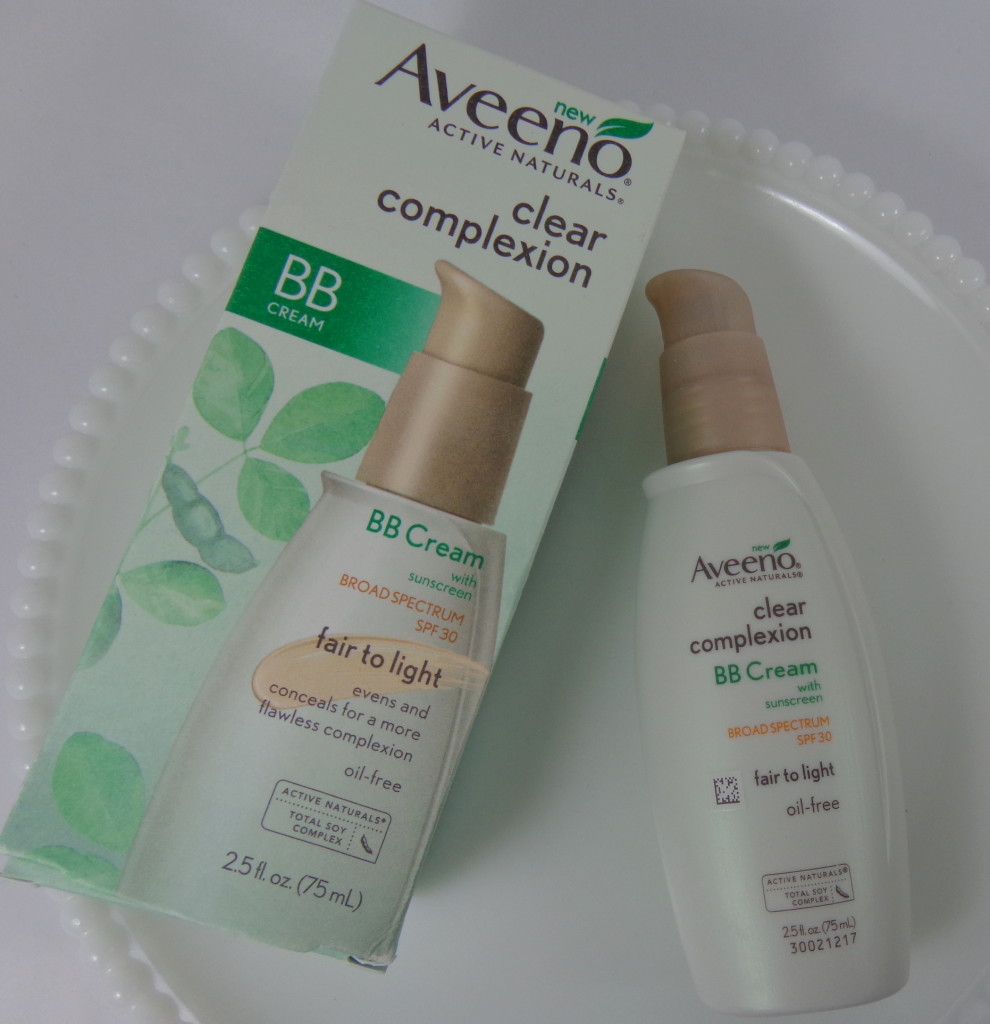 The Aveeno Clear Complexion BB Cream Broad Spectrum SPF 30 sets out to "instantly even and brighten complexion, help blend away imperfections from breakouts, help fade the look of marks from past breakouts, moisturize and nourish, and help protect skin from future damage".  It is oil-free, hypoallergenic and non-comedogenic.
Below you can see a skin swatch of the Aveeno Clear Complexion BB Cream (Fair to Light).  You can see that swatch #3 is blended completely into my skin.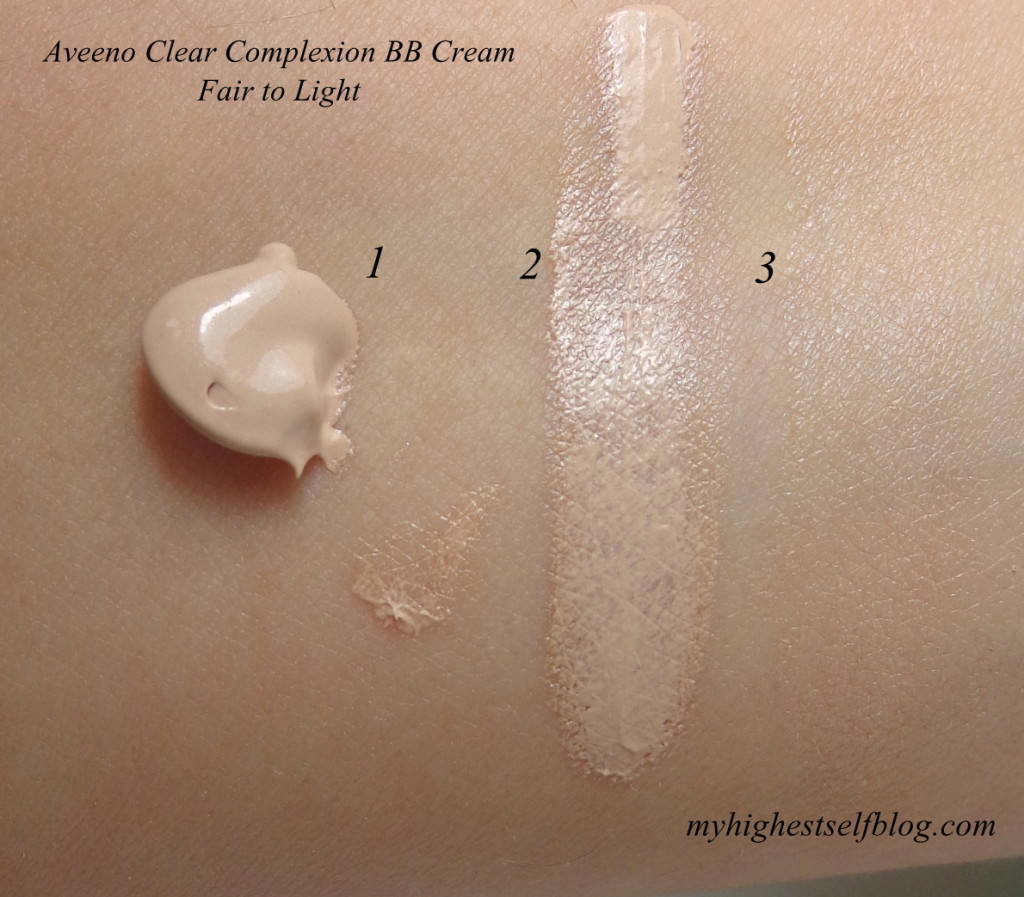 The BB Cream has a lovely fresh scent which does not linger on, and is of a medium consistency.  It has the smoothest feel as I applied and blends incredibly well with my skin tone.  Normally, I need a Medium shade and was very surprised that the Fair to Light shade did not go on pale and truly adjusted to my skin.  I always use my Eco Tools Bamboo Foundation brush to apply.  This product does have a bit of a sheen to it (it is not matte) but that helps to brighten my complexion.
Below you can see my BEFORE and AFTER photos.  The first photo is me without any makeup at all, clearly showing all my imperfections, redness and discolorations.  In the second photo, all I have on my face is the Aveeno Clear Complexion BB Cream.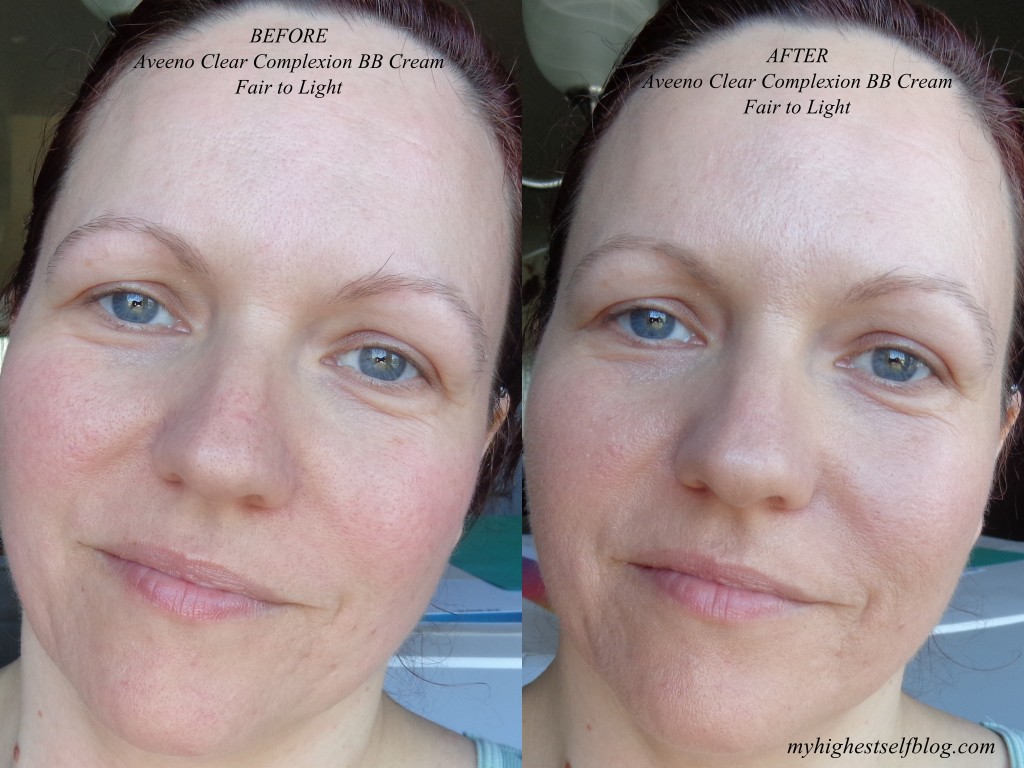 First, what I liked about this BB Cream is that I feel like the shade blended absolutely seamlessly with my skin tone.  Second, I feel that it does a great job to "instantly even and brighten complexion".  Since I have been using the Aveeno BB Cream for a few months now I do feel like it has improved my complexion.  The ACTIVE NATURALS Total Soy Complex works to reveal great skin.  I have not once experienced a breakout on my oily acne-prone skin with this effective oil-free BB cream.  I love the fact that it has SPF 30, my previous favorite only had SPF 15.
This BB cream is moisturizing and I feel quite comfortable wearing it alone or with bronzer, blush, etc.  It is easy to add an extra light layer on my cheeks where I have the most redness without feeling or looking caked on.  This BB cream is ultra comfortable to wear, which is extremely important to me.  You can  literally forget that you are wearing it.  The only downside is that it does not control oil and is not a matte finish, if that is something you need in a BB cream.  I do have oily skin and wish it was a bit more oil-controlling.  Due to it's skin-improving qualities, I can live with blotting oil every 2 hours or so.  Please see my review on my previous favorite if you are looking for great shine control in a BB cream.
Overall, I feel that the Aveeno Clear Complexion BB Cream does deliver on all of its claims and more!  This BB Cream has been great to wear this Summer, very comfortable and I believe it has actually improved the look of my skin over these past few months.
Available at Walmart
, $14.97.
More before and after photos:  Hourglass Vanish Foundation Stick, Garnier BB Cream, Maybelline Dream Fresh BB Cream, Olay Total Effects CC Cream, L'Oreal Youth Code BB Cream, L'Oreal Paris Magic BB Cream, L'Oreal Paris Magic Nude Liquid Powder, Maybelline Fit Me! Stick Foundation, IT Cosmetics CC Cream
Products received from PR for editorial consideration, all opinions expressed are my own. Affiliate link.
Have you tried any BB creams lately?  Do you have a favorite you would like to share in the comments below?