Lately I have been testing out the L'Oreal Paris Magic Nude Liquid Powder in 314 Creamy Natural.  I received this makeup from SheSpeaks for review and I have to say I was excited to try a "buzzed about" new product.  Reviews have been popping up on blogs and YouTube and the few I looked at were not very happy with this makeup.  My experience has been quite the opposite!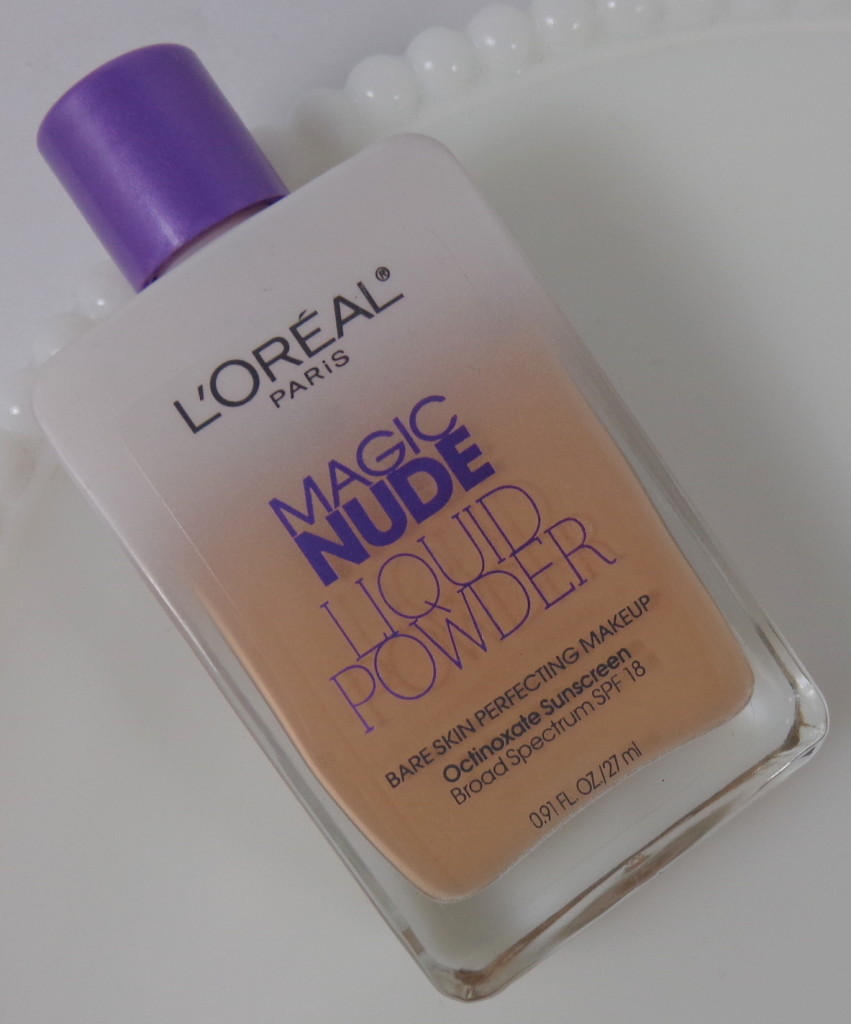 The L'Oreal Paris Magic Nude Liquid Powder is a "bare skin perfecting makeup" with broad spectrum SPF 18 sunscreen and sets out to "provide a no-makeup look and transforms from liquid to powder for the perfect bare skin finish".  It comes in a glass bottle.

Below you can see a skin swatch of the L'Oreal Paris Magic Nude Liquid Powder (314 Creamy Natural):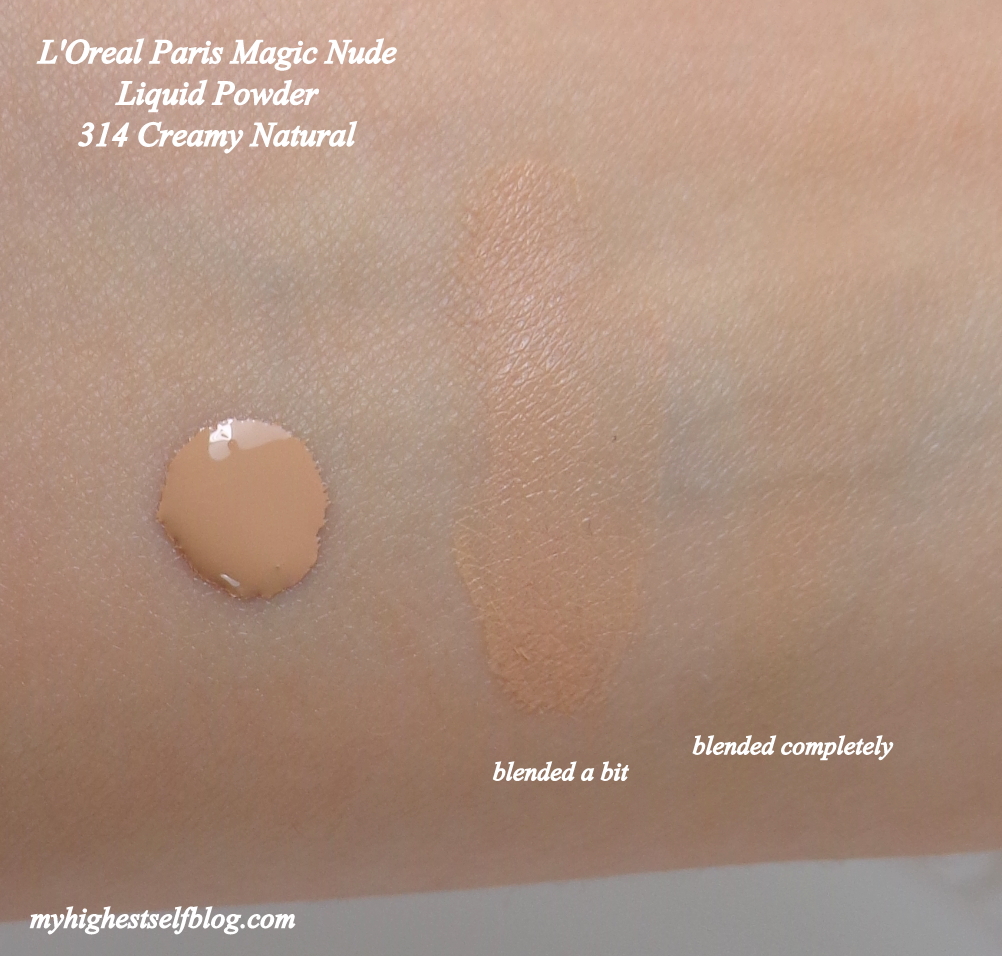 This makeup has a floral scent that I personally did not care for and thankfully it does not linger.  The consistency is very watery and the directions advise to "shake well and for best results pour just a few drops onto fingers and apply directly onto skin.  Not recommended for use with sponge or brush."  Normally I would ignore the directions on not using a brush since I ALWAYS use my Eco Tools Bamboo Foundation brush to apply my makeup.  This time, I assumed that I needed to follow these directions to get the best results on a "liquid to powder".  I am so glad I did!

I poured just a bit on the back of my hand and used my fingers to dab and then blend out the product.  L'Oreal Paris Magic Nude Liquid Powder has THE most divine feel as I blended!  If you have used a good face primer like Smashbox you'll recognize the feel, it's almost identical.  After dotting on the foundation, the liquid immediately transforms to a powder feel, gliding over your skin with ease.

Below you can see my BEFORE and AFTER photos.  The first photo is me without any makeup at all (duh!), showing all of my imperfections and discolorations.  In the second photo, all I have on my face is the L'Oreal Paris Magic Nude Liquid Powder in 314 Creamy Natural.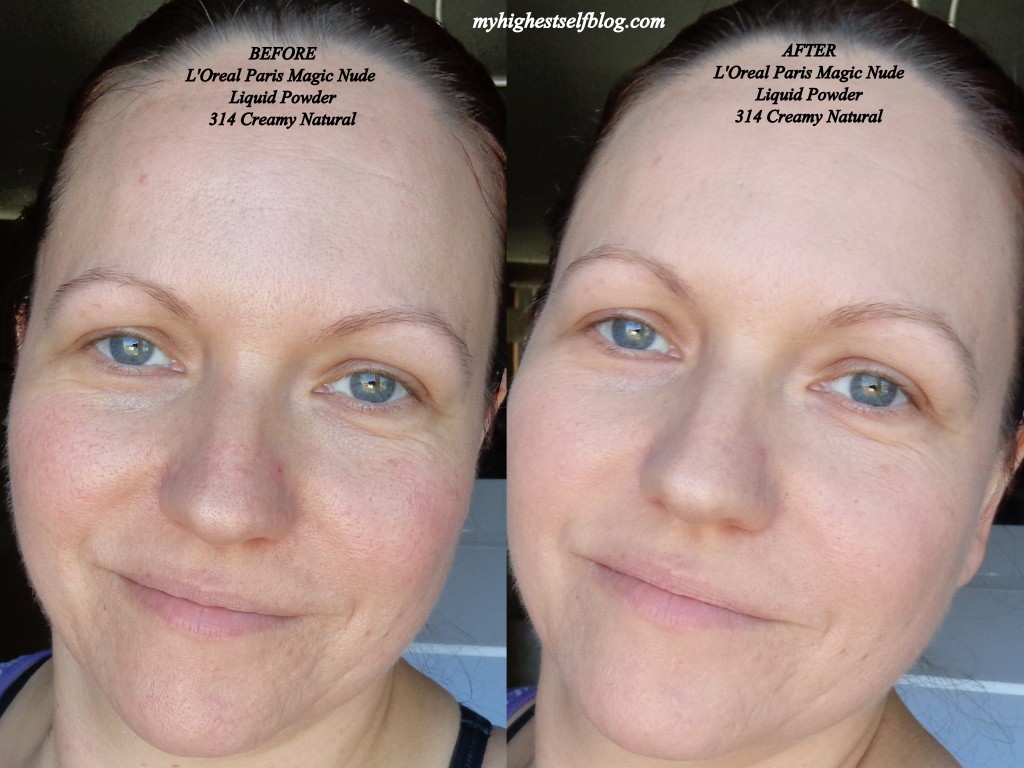 First, what I liked about this makeup is that it feels wonderful during application and after.  The liquid to powder feel is instantaneous and I love it!   Second, I feel that it does a nice job of covering redness and flaws.  It was also easy for me to add a second light layer to my cheeks where I have the most redness.  I think most would call this light coverage but it I feel it really works for me.  I thought the shade 314 Creamy Natural was a nice match for my (zero tan) skin tone these days.  Third, it is amazingly comfortable to wear and I absolutely forgot I was wearing makeup, just as the product claimed.
What I really loved about L'Oreal Paris Magic Nude Liquid Powder is that it plays nice with my oily skin!   After one hour with other foundations/BB creams/makeup, I typically see plenty of oil shine through, making them basically useless for me.  With this makeup, I start to see just a teensy bit of oil coming through on my nose and forehead at the 2 hour mark.  This type of result was last seen in my L'Oreal Youth Code BB Cream Illuminator review.  I am extremely happy with how well this sits with my oily skin.  I can do a light blot on my nose and forehead and not worry about the rest.  I also love that this makeup provides an INSTANT matte finish for my normally shiny skin.  Major win!
After 8 hours of wear I did not find that it settled into my pores and fine lines, nor did it disappear.  I was worried that it would produce a very dry finish and would highlight imperfections.  I am happy that I was wrong!  I wore it with and without a full face of makeup (bronzer, blush, powder, etc) and was so pleasantly surprised by how much I really loved wearing L'Oreal Paris Magic Nude Liquid Powder.
Overall, I feel that L'Oreal Paris Magic Nude Liquid Powder does deliver on all of its claims and more!  This makeup has been wonderful for my oily skin, providing a matte finish without creating extra oil, and covering my flaws…all while looking natural and feeling like no makeup at all.
L'Oréal Paris Magic Nude Liquid Powder retails for around $12.95 for .91 fl oz.; 12 shades, available at mass food and drug retailers nationwide.
Disclosure: I received complimentary product from SheSpeaks/L'Oréal Paris. All opinions are my own.
More before and after photos:  Hourglass Vanish Foundation Stick, IT Cosmetics CC Cream, Olay CC Cream, Garnier BB Cream, Maybelline Dream Fresh BB Cream, Aveeno BB Cream, L'Oreal Youth Code BB Cream, L'Oreal Paris Magic BB Cream, Maybelline Fit Me! Stick Foundation
Have you tried this makeup yet? If so, what did you think?