I have had a life-long battle with acne. My worst years were from about the age of 14 through 21, where severe breakouts were a constant part of my life. I believe I found ProActiv at 21, my acne was basically under control and I stuck with it for several years. At some point it stopped working and I had to hunt for something new. There were a few years of trying different products. Once I became pregnant with my son, my skin did a complete turn-around. Suddenly I didn't have to worry about constant breakouts! It was something of a miracle in my book. Finally at the age of 32 all I needed were light-duty skincare products made for oily/acne-prone skin and the occasional spot treatment for a pimple here and there.  That brings me to my point:  I recently hit the bottom of my favorite "miracle" acne spot treatment.  While browsing Walmart, I spotted Dr. Lin Skincare Acne Spot Corrector, 1fl oz
.  It was new, handy and inexpensive so I decided to give it a try.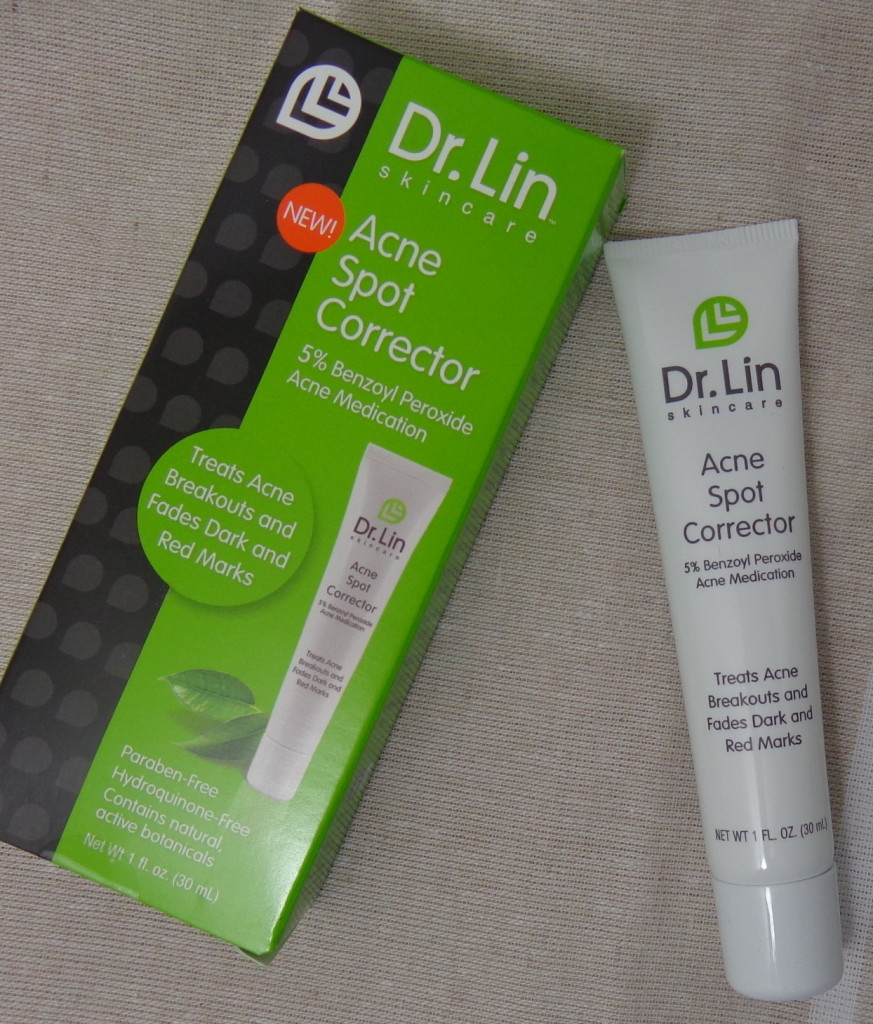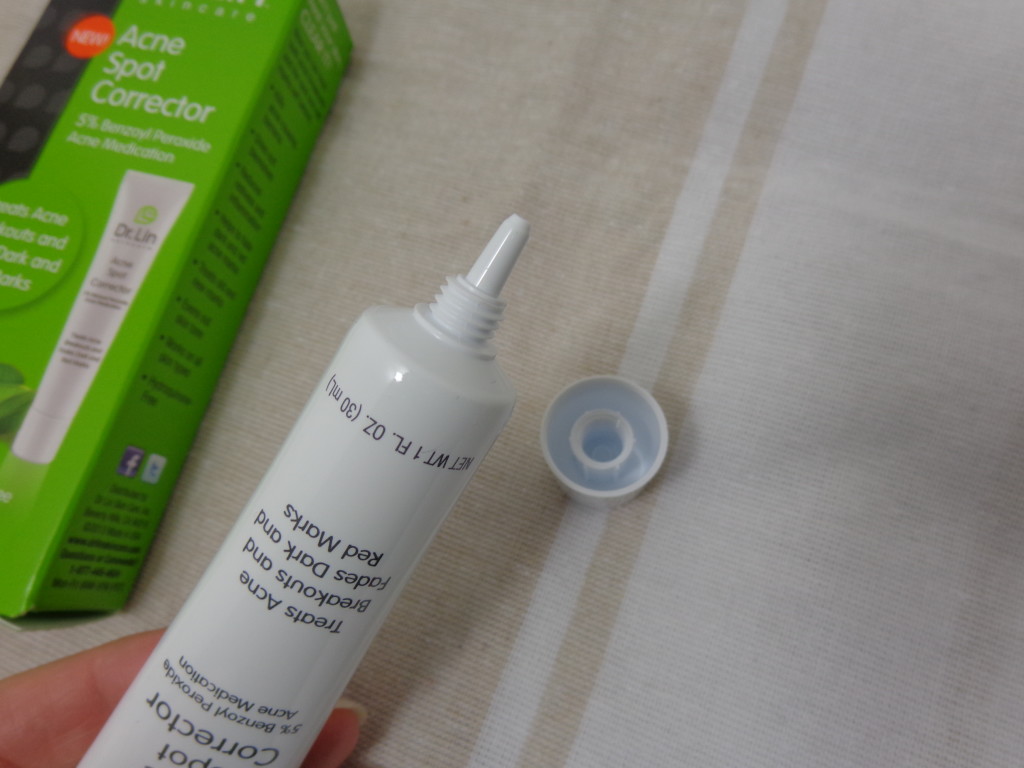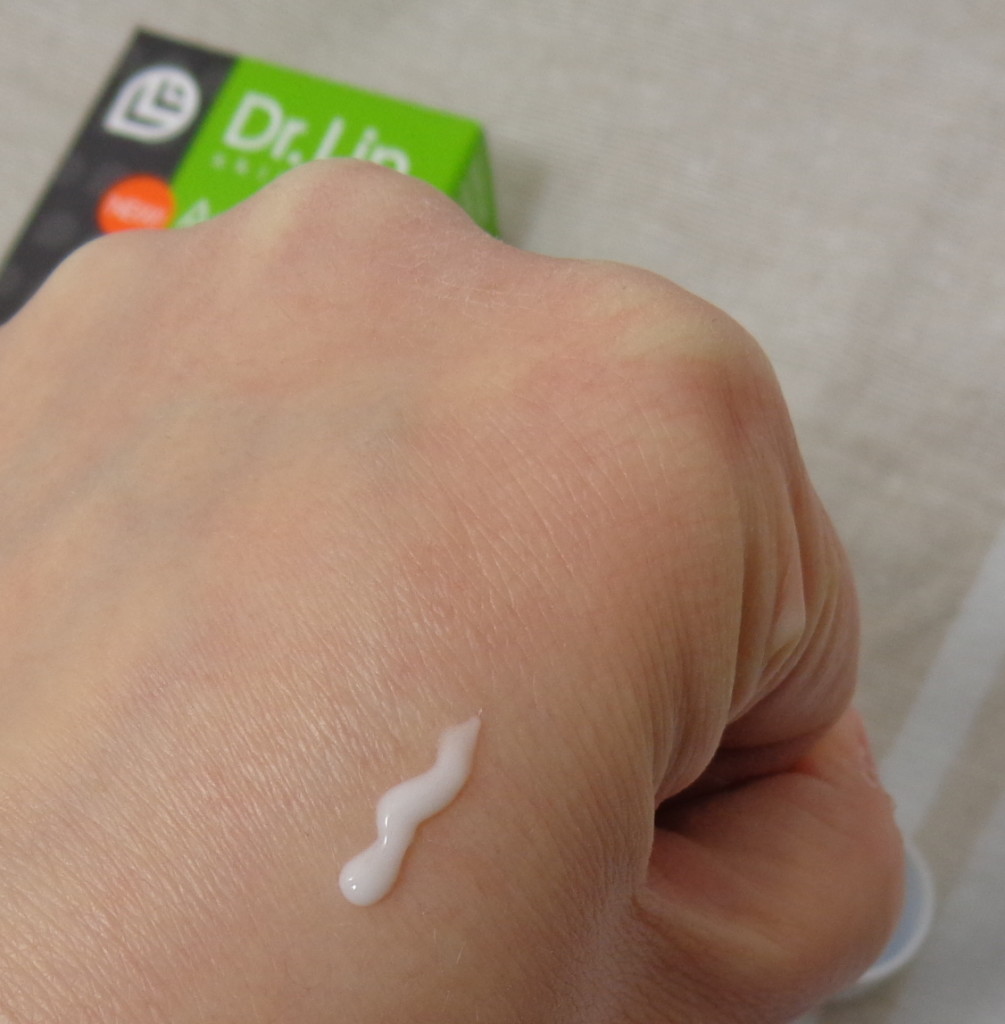 Dr. Lin Skincare Acne Spot Corrector contains 5% Benzoyl Peroxide, is paraben-free, and hydroquinone-free.  It sets out to treat acne breakouts and fade dark / red marks.  I had a breakout going on under my chin that would not respond to any of my cleansers or masks.  I needed a good spot treatment.  I applied this treatment in a thin layer once a day for two days and started to get some relief.  At this point I had about 6 small pimples under my chin which is a CRAZY breakout I have not seen in many years.  The impatient person I am, I decided to bump it up to twice daily (per the instructions).  Unfortunately, I forgot that my Aveeno moisturizer also has Salicylic Acid in it.  Basically, the combination of these two products made the area under my chin unbearable dry and flaky.  Duh, right?  I have been having a string of bad luck with beauty products these days!  Let me tell you it took about a full week to get my skin back to normal using heavier moisturizer on that area.   The state of my skin was so uncomfortable (dry, tight, flaky, itchy) during that week!  I will definitely be more cautious in the future.
I can say that Dr. Lin Skincare Acne Spot Treatment is a good acne spot treatment when used sparingly and cautiously.  Not recklessly, like me, ha!  Since it's really nothing like my old favorite, I will probably repurchase that one.
Available at Walmart
.
Product purchased by me, all opinions expressed are my own. Affiliate link.
Do you have a favorite spot treatment you can share?