This post was made possible by iConnect and Litehouse Foods. I was compensated for my participation in this campaign, but all opinions are 100% mine.
One of my favorite snacks to make for the family (especially on the weekend) is potato wedges.  I don't know about you but I like to switch up the flavors pretty often in my tried and true favorite recipes.  That could mean changing up the seasonings, adding different toppings or sauces, you name it.  That's the fun of creating a dish!  Always a fan of a little cool & spicy flavor combo, this recipe for Jalapeno Ranch Potato Wedges is a total win!  For this recipe I used Litehouse Jalapeno Ranch Dressing and it has just the right amount of jalapenos (I hate when the heat takes over).  The creamy ranch flavor is to-die-for!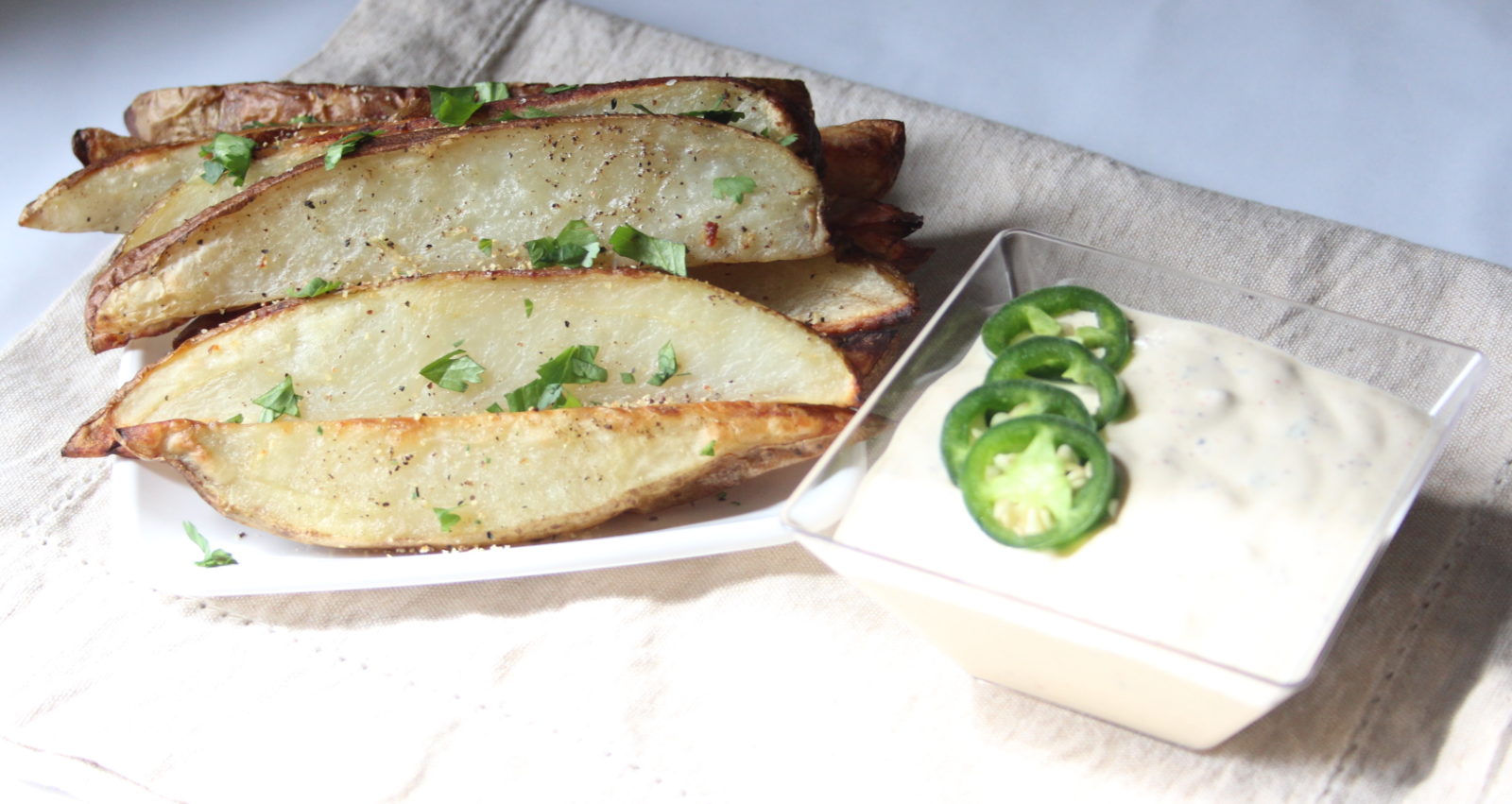 EASY JALAPENO RANCH POTATO WEDGES
Ingredients
5 large russet potatoes (use more or less depending on how many people you are serving)
Olive oil
Fresh cracked pepper
Kosher salt
Any other spices you might like (garlic powder, italian seasoning, get creative!)
Litehouse Jalapeno Ranch Dressing
Directions:
Preheat oven to 450 degrees.  Wash your potatoes, then cut in half, then quarters, to make 8 wedges.  Toss the potatoes with olive oil to coat, then add fresh cracked pepper and kosher salt very generously, toss around again.  At this stage you can add any other seasonings you might like depending on your tastes that day.  Fun, right?  Put your wedges on a baking sheet, single layer, skin side down.  Bake for about 20 minutes, then toss the wedges around a bit so they cook from all angles.  These go back in the oven for another 20 minutes, just keep checking on them so they don't get burned.  You may need to cook longer, just use your own judgement.  After wedges are thoroughly cooked, remove from the pan to another dish so they can cool down a bit.  Pour a generous serving of Litehouse Jalapeno Ranch Dressing in a dish for dipping.  Eat and enjoy!!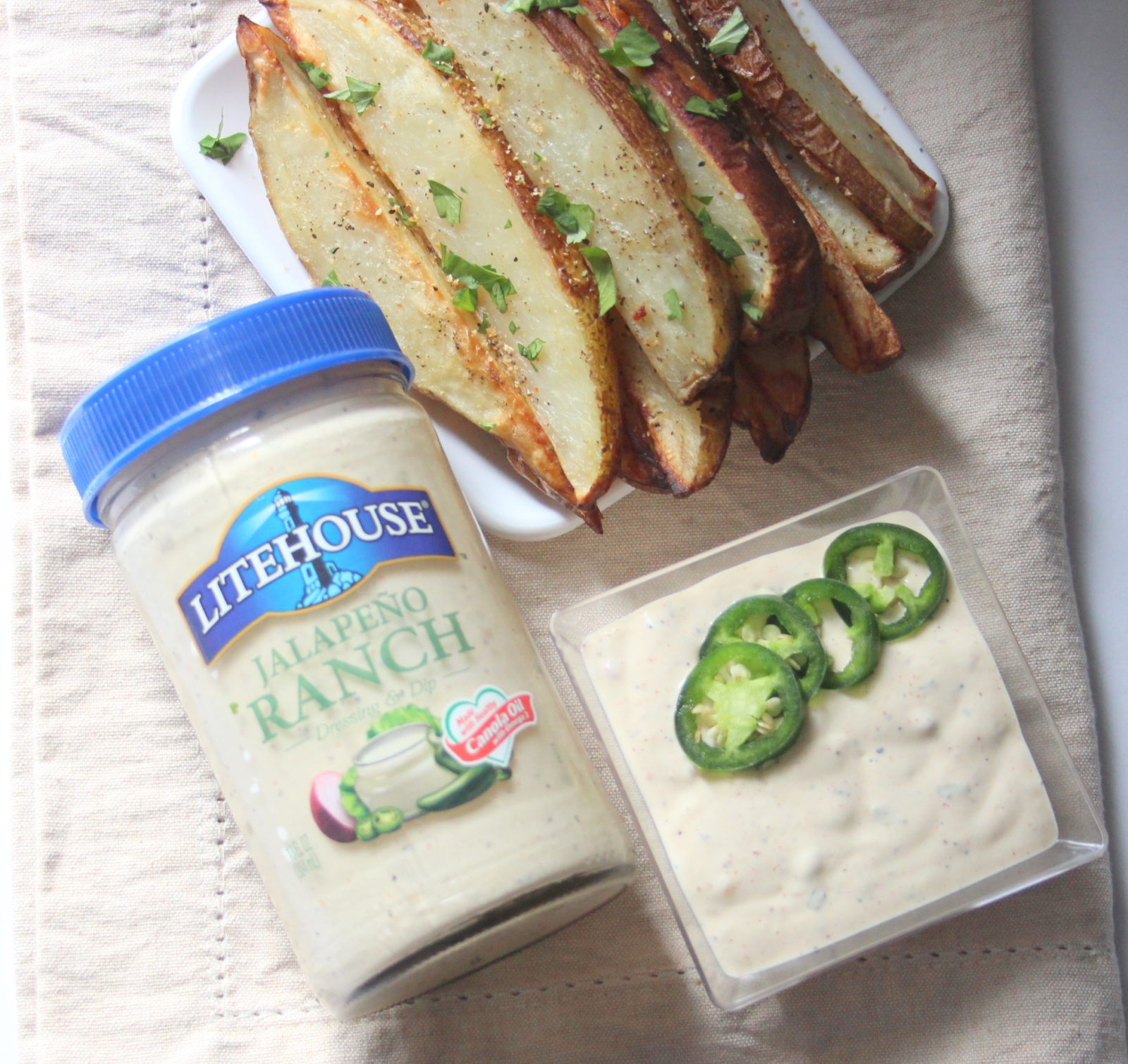 What I love about these Jalapeno Ranch Potato Wedges is that they are quite inexpensive to make and you can eat them several ways.  I absolutely LOVE to dip my wedges but you could certainly opt to drizzle (or smother, LOL!) the Litehouse Jalapeno Ranch Dressing onto the wedges and serve.  I love the perfect flavor of these seasoned wedges with the cool and spicy flavor of the dressing alone but you could easily add more to the dish (think bacon, onions, veggies, etc.).  This could become your main dish!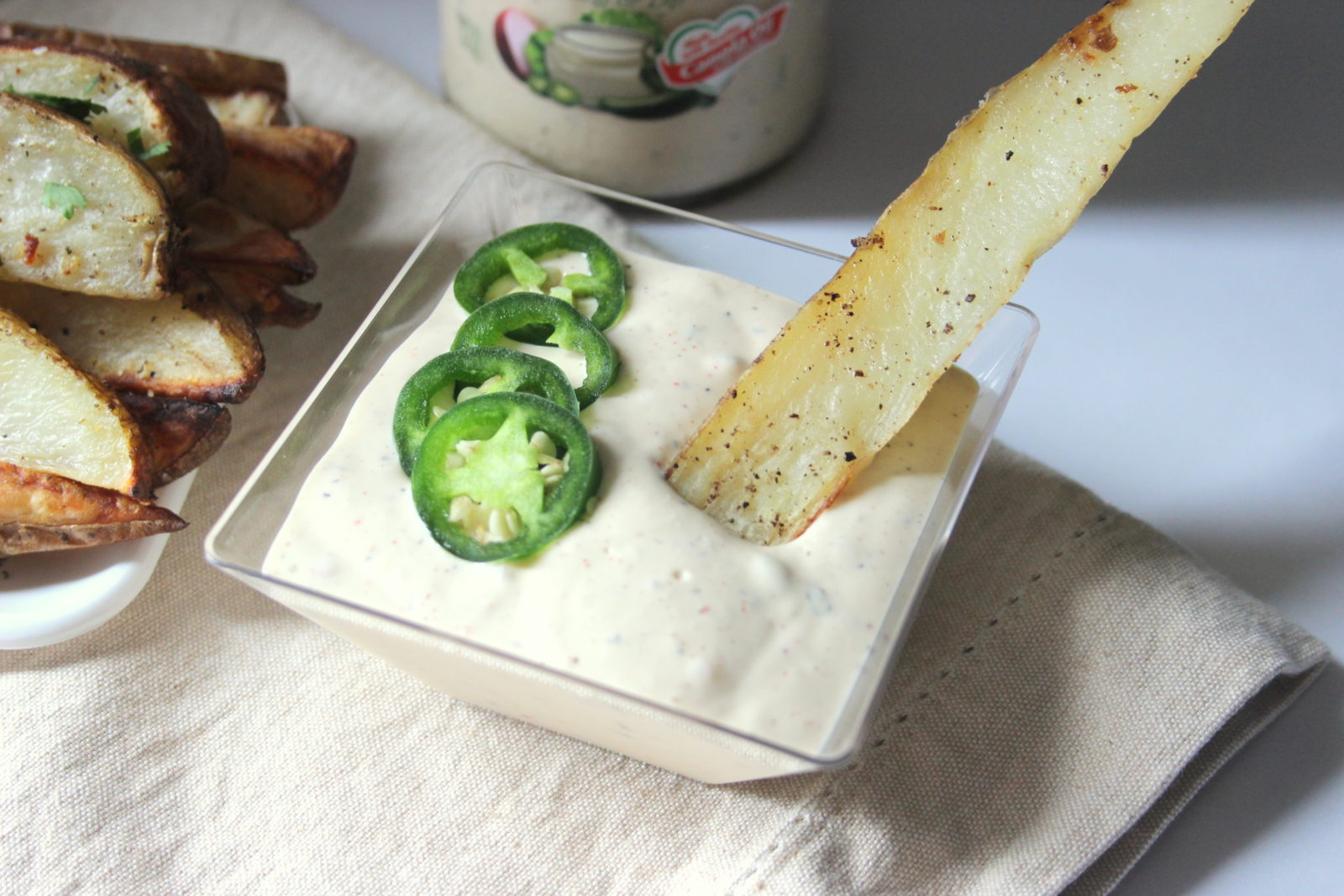 If you don't know, Litehouse products are found in your refrigerated produce section of the grocery store.  I buy Litehouse at our local Jewel since it is just one block away from our home.  There's something about the cold dressing in a glass bottle that makes these dressing the best!  The flavors are so fresh and so versatile.  Be sure to try the other Litehouse Dressings:  Homestyle Ranch, Avocado Ranch with Bacon (my other current love), Chunky Bleu Cheese, and so many more.  If you are like me, you will be hooked after the first time you try Litehouse.  I use them on salads, burgers, sandwiches, as dips, and so much more.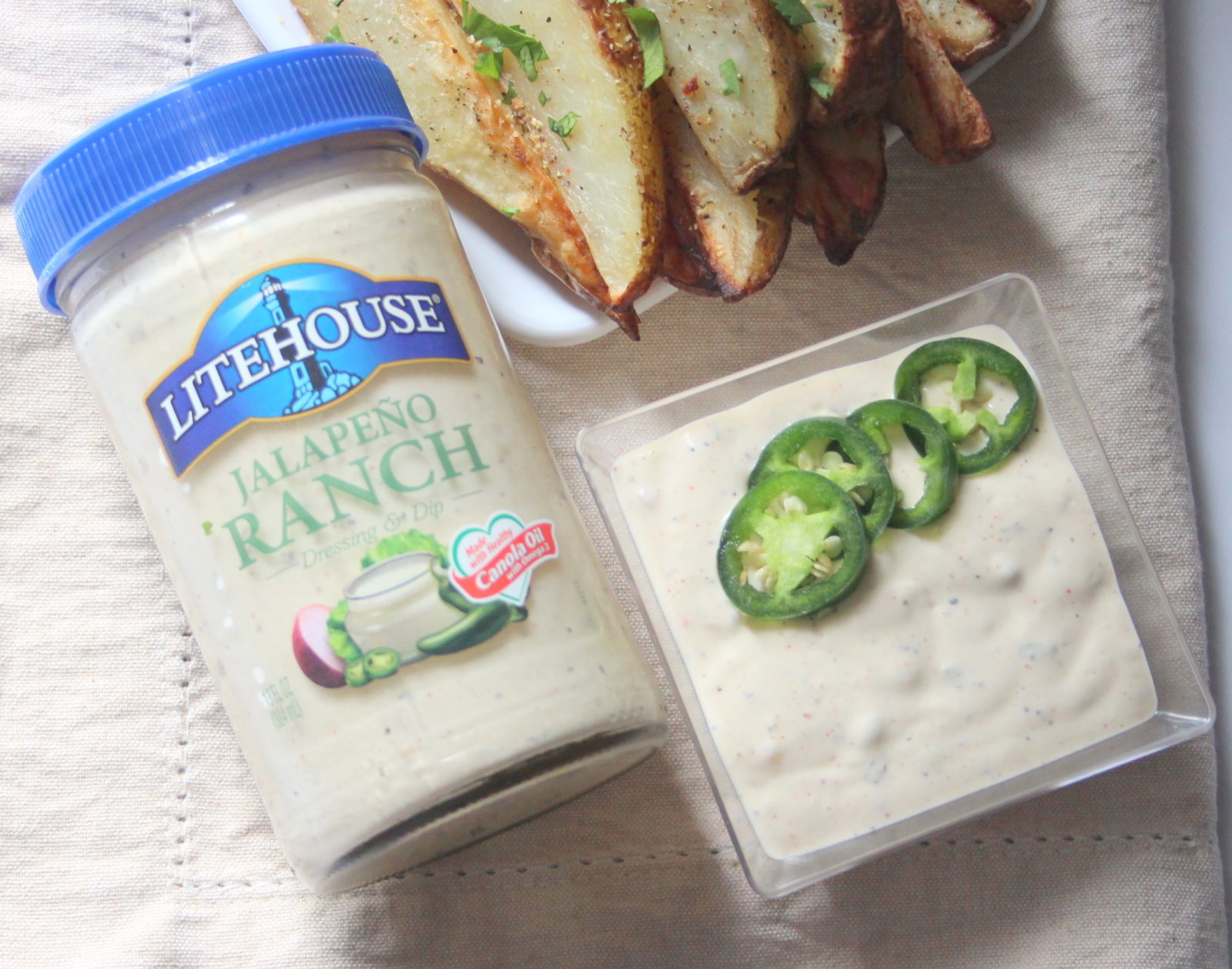 SHOP:  Find where to buy Litehouse near you, with the Store Locator.
I hope you try this easy recipe and have fun switching up the seasonings.  Do let me know what you think if you make these!
Have you tried Litehouse Dressings yet?  Do you prefer to dip your wedges or serve them drizzled or smothered?