I thought I would pass on this fabulous offer.  I signed up (it's simple just enter your address and email via the link below) and received my FREE full size Degree Dry Spray in about a week!  You can choose the women's or men's version.  When my box arrived, it contained my Degree Dry Spray, a $2 off coupon to use on my next Degree Dry Spray, a travel lint brush, and a $10 off code for DRYV (more info below).  It says the offer is for Chicago-based folks but I would still give it a try since they do have locations in several other cities.  Hurry, this offer ends May 31:

It's not always easy to keep black and white wardrobe essentials looking and feeling fresh. In fact, Degree Deodorant recently uncovered that 300 million pieces of clothing – that's $6.5 billion dollars – have been tossed by millennials over a lifetime due to white marks or yellow stains.
This inspired Degree Deodorant and DRYV – an on-demand laundry & dry cleaning service – to join forces to help shoppers end the wasteful cycle and prolong the life of their wardrobe staples.
Degree Deodorant's Anti-Marks Technology (that leaves NO white marks and NO yellow stains), featured in the brand's new UltraClear Black + White Dry Spray, coupled with DRYV's on-demand services allow shoppers to protect their style investments in a way that's fast & convenient.
From April 15th – May 31st, clothing care-obsessed customers in Chicago can visit dryv.com/degreedeodorant/ and opt-in to receive a limited-edition, co-branded Degree Deodorant X DRYV sampling box curated with all the necessities (including a full-size Degree product & savings from DRYV) to ensure a stylish spring.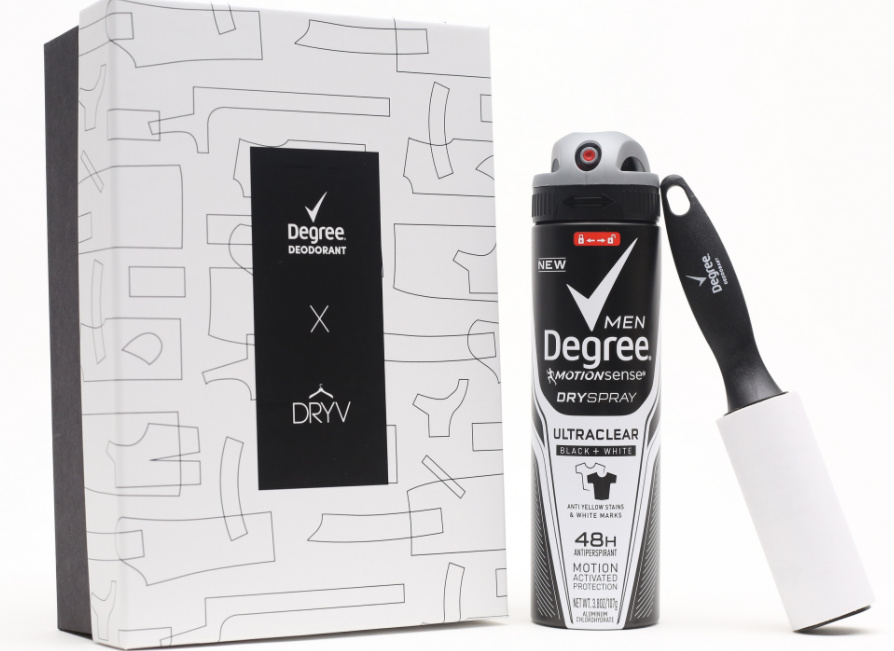 Stop by and let me know if you sign up and what you think when you receive your box!