Review by Contributor Miranda at SlashedBeauty.com.
One of the oldest tricks in the beauty book is using a light mist of hairspray to set makeup. I used to do this when I was just starting out, but it always left my face feeling sticky and tight… because obviously that's not what hairspray is for! Ergo, I love trying out new finishing sprays, and was excited to try the Mary Kay Makeup Finishing Spray by Skindinavia. The packaging claims that the spray works for any skin type, isn't oily or sticky, and leaves makeup looking freshly applied for hours.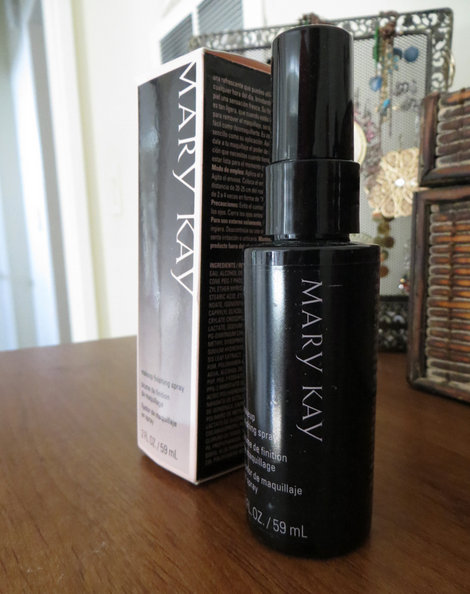 The very first thing I noticed – and loved – about this spray was the coverage. The spray has a broad range, so you can get your whole face sprayed from one angle. The bottle recommends 2-4 sprays to set makeup for all-day wear, and 2 is definitely enough to cover and saturate your face. The formula dries quickly, which is awesome, and definitely doesn't feel sticky or heavy in the least. I've been using it to help mattify my foundation after applying. I tend to get oily skin around my nose, and the spray also helps hold the oil at bay for a while.
The one day I really put it to the test, it was about 85-90 degrees outside and I had been walking – and sweating – all day. I leaned up against my boyfriend and ended up leaving a beige stain on his shirt from my foundation! However, while traveling recently in fair weather, it kept my face perfectly polished. So I believe the staying power really depends on your environment and activities.
The spray I had been using before receiving this one was the Urban Decay All Nighter spray. The reason I now prefer Mary Kay's product over that one would be for the coverage alone. With UD's, I feel like I have to spray my face about 8 times from all different angles, which causes me to use a lot more product a lot quicker. The Mary Kay spray is affordable and I feel like I won't get through it as quickly; I can spray twice and be on my way!
PROS:  All-over coverage from one angle, dries quickly, light formula
CONS:  Not sweat-proof
Find Mary Kay Makeup Finishing Spray at MaryKay.com or from an Independent Beauty Consultant, $18.00.
Product provided by PR for review, all opinions expressed are my own.
Do you use a makeup finishing spray?  Which one is your favorite?