This is a sponsored conversation in partnership with Michael Todd.
Michael Todd products have been on my wish list for quite a while now.  The Soniclear Elite Skin Cleansing System and the masks are a few of the products that I am looking to try soon.  If you are interested in the Soniclear for yourself or to gift during the holidays, today is your lucky day!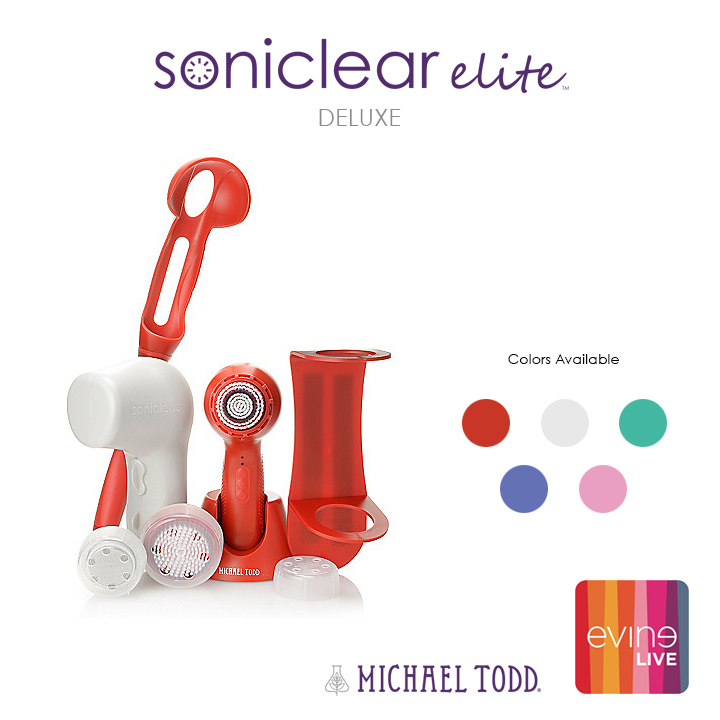 Michael Todd is premiering their Soniclear Elite Deluxe on EVINE Live and evine.com featuring a special Michael Todd Today's Top Value – EVINE Live's best value of the day!
If you aren't familiar with the Soniclear Elite, it will refresh and revive the look of tired skin with its sonic-powered, antimicrobial brush heads. The complete body, pedi and face system with an optional C-Boost™ Technology mode, make this "youth machine" the go-to cleansing and exfoliating tool for all skin types. Especially suited for aging skin to slough off dead dulling skin cells while deep cleaning the pores of dirty and makeup for a refreshed appearance and a more radiant complexion.
Great for gifting, Soniclear Elite Deluxe will be offered in eight different colors! The Deluxe set can be yours for less than $129 plus S&H and will include:
Soniclear Elite Sonic Powered Skin Cleansing System with C-Boost™ Technology, Charging Stand and Power Adapter

Antimicrobial Face Brush Head

Antimicrobial Body Brush Head

Pedi Treatment Head

Shower Extension Arm
This special price is good for a limited time through 9:59pm ET 11/4/15.  
Michael Todd is premiering their Soniclear Elite Deluxe on EVINE Live and evine.com on 11/3 at 10pm and 11pm ET and 11/4 at 4am, 5am, 6am, 10am, 2pm and 7pm ET.
Tune in to watch the show live on evine.com or find EVINE Live on your local station.  You can also buy it now or shop all Michael Todd products on EVINE Live.