I just realized I have had color-treated hair for about the last 20 years!  In the most recent years I have made efforts to use hair products that will protect or prolong my hair color as best I can.  I was excited to try the NEW Nexxus Color Assure Sulfate-Free System on my hair.  It was perfect timing since I had just tried a new hair color at home.  The Nexxus Color Assure System consists of the Color Assure Pre-Wash Primer, Vibrancy Retention Shampoo and Conditioner, and Glossing Tonic. 
I have to say I went gaga over all the packaging which has a holographic look!
The first step is the Pre-Wash Primer, a pre-treatment that repels water to hold your color in.  Ingredients include Sweet Almond Oil, Coconut Oil and more.  Before you shower, you use about 5-7 pumps to coat dry hair (not soak) from edges up.  I have to be honest and say that I used this and did not like it.  It's hard to explain but imagine trying to wash your hair and feeling like you couldn't get the shampoo to work.  I simply could not get a shampoo lather on my hair when I used this Pre-Wash Primer.  It was the strangest feeling!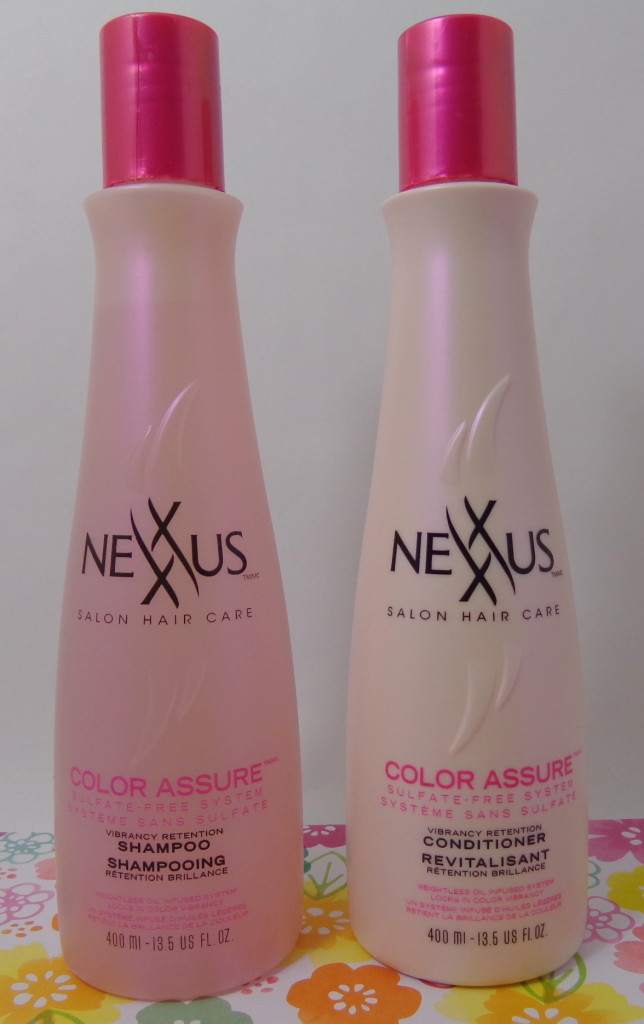 Step 2 is the Vibrancy Retention Shampoo and Conditioner, each featuring White Orchid Extract to seal and protect hair and repel water.  The shampoo is quite thick and (like the Pre-Wash) is made to repel water so the experience was…interesting.  It's almost like trying to wash your hair without water or shampoo, so strange.  The bottle boasts "luxurious lather" so I'm not sure what I was doing wrong.  The conditioner was nice, also thick, and I do like the fragrance of both, it is on the floral side.  Both include ingredients of Sweet Almond Oil and Coconut Oil.
Step 3 is the Glossing Tonic, a fine mist that goes on towel-dried hair.  This tonic is also infused with White Orchid Extract to seal and protect hair.  Unfortunately for me, this product seemed to aggravate my already dry and brittle hair from my recent hair color mishap.  I noticed that the second ingredient is alcohol and I'm guessing that would be why this was not great for my hair at this time.
What I can say for all these products is that they certainly did not fade my hair color!  Unfortunately, the current state of my hair and the odd feeling of some of these products meant they did not work out for me.  I'm sure others will find that they work quite well.  Can't win 'em all!
Find Nexxus Color Assure Sulfate-Free products at ULTA (some of the  products are B1G1 50% off right now and the offer travel size shampoo and conditioner).  Also at SOAP.com where you can find deluxe sized shampoo and conditioner.
Product received from PR for editorial consideration, all opinions expressed are my own. Affiliate link.
What are your favorite hair products for color-treated hair?