The Nexxus Youth Renewal products have gotten a lot of hype around the internet beauty-sphere, receiving rave reviews and detailing great results.  This review will be no different!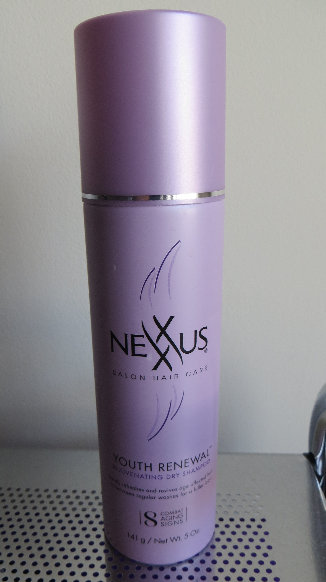 First I tried the Nexxus Youth Renewal Rejuvenating Dry Shampoo. I've always been intrigued by the idea of dry shampoo but never got around to trying it. I wash my hair every 2-3 days, but especially during summer I find myself needing a hair refresher more frequently than normal.
One of my main concerns was the white residue some dry shampoos notoriously leave behind. I struggle with dry scalp depending on the weather, so occasionally I'll get dandruff. I was extremely worried that the dry shampoo would dry out my scalp too much, and the white residue would make dandruff look worse.
I was so excited when neither of those things happened. First off, the spray is light but broad. You don't need to spray more than three times to cover your whole head, and even that doesn't seem heavy in your hair. It has a really fresh, pretty scent that will linger in your hair for hours, no need to wear perfume on days you comb this through your hair!
The Youth Renewal Rejuvenating Dry Shampoo adds volume to "second-day" (but really third or fourth day) hair, leaving your hair bouncier than when you washed it. I'm so glad this was the first dry shampoo I've tried.
Next, I tried the Nexxus Youth Renewal Plump and Lift Blow Dry Spray. I was really afraid to use this product because it was supposed to give the appearance of thicker hair. Now I have enough hair on my head for about 5 people, and my incessant shedding is proof of that. I was, however, excited for its other claims of less breakage, less unruliness, less roughness and dryness plus more color vibrancy.
This product really made my hair look awesome. Plain and simple. The volume increase wasn't that much (which for me, was a good thing… for others maybe not so much) but my natural frizziness was almost nonexistent. My hair was left looking and feeling so much smoother than when left to air-dry.
This is great for blow-dry styling, because it offers hold without feeling like a stiff hairspray–as long as you brush continuously while blow drying. I had a couple of patches that I accidentally neglected that ended up feeling a bit stiff, but brushing it out did the trick.
As for less breakage, I still shed like crazy… but hopefully extended use will help with that!
I think the thickening effect depends on each person, and my hair is probably thick enough where I don't notice any small increase. But if you have very fine hair, this might be your miracle.
Overall, I'm loving the Nexxus Youth Renewal line. My hair has been put through so much over the years.  I've been dying and flat ironing my hair since ELEMENTARY school.  I'll take anything that puts the youth back in my hair!
Find Nexxus Youth Renewal Rejuvenating Dry Shampoo and Youth Renewal Plump and Blow Dry Spray for $17.99 each at Walgreens, ULTA, Drugstore.com and more.