Not too long ago, I spotted a 50% off code on the Demeter Fragrance Library Facebook page.  I ordered a couple of items that caught my eye.  I grabbed the Rain Cologne Spray because I have always had a thing for candles and incense in the scent of rain.   Boy, it brings back memories from SO MANY years ago.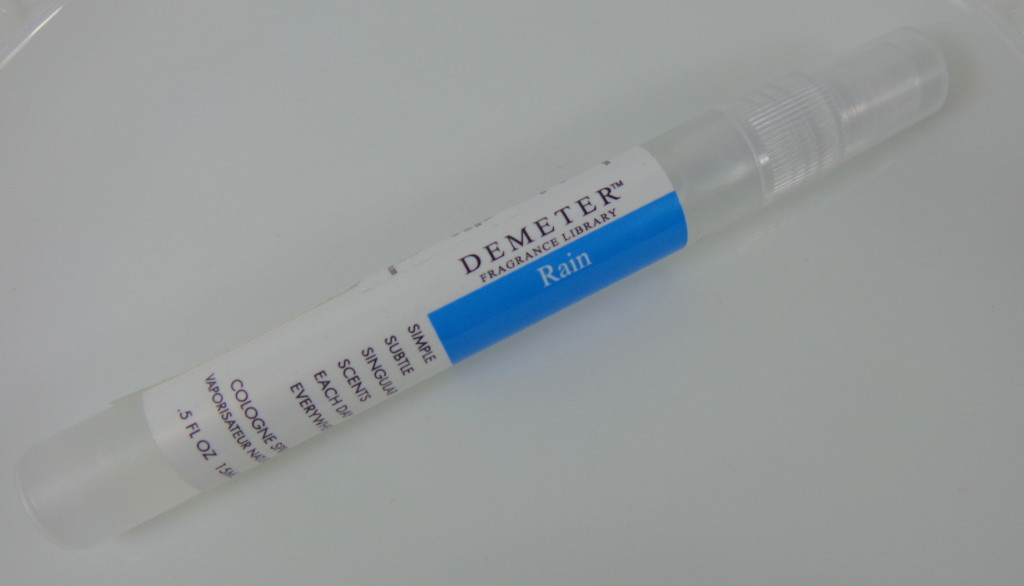 Rain is such a difficult scent to describe, I think.
Demeter describes it this way:

Step outside after the first storm after a dry spell and it invariably hits you: The sweet, fresh, powerfully evocative smell of fresh rain.  What you really smell comes not from the air, but the ground! Plants release oils that enter the soil and blend with the other earthy odors. These odors are released into the air when the relative humidity at ground level exceeds 75 percent. Moist humid air will transmit odors far better than dry air. In these moist humid conditions we notice these odors more readily. And since rain is so often connected with moist humid air, we tend to associate one with the other. Demeter Fragrance Rain captures this complex sensory moment perfectly.
Demeter Rain smells nothing like the rain-scented candles or incense that I adored in the past.  I'll be honest and say I don't LOVE it.  The fragrance seems clean but not natural, if that makes any sense.  It does not have the allure of rain that I longed for.  The rain scent that I recall makes me think of warm Summer nights, love lost and found, breathless kisses that I will never forget.  I think maybe I was expecting a little too much from Demeter Rain :).  The .5 fl oz cologne purse spray is just $10 at DemeterFragrance.com
Do you own any Demeter fragrances?