For the past three weeks I have been testing skincare products from Sibu Beauty.  All Sibu Beauty products are 100% vegan and cruelty free.  In the past I have enjoyed Sea Buckthorn in my beauty products so I already had high hopes for this line.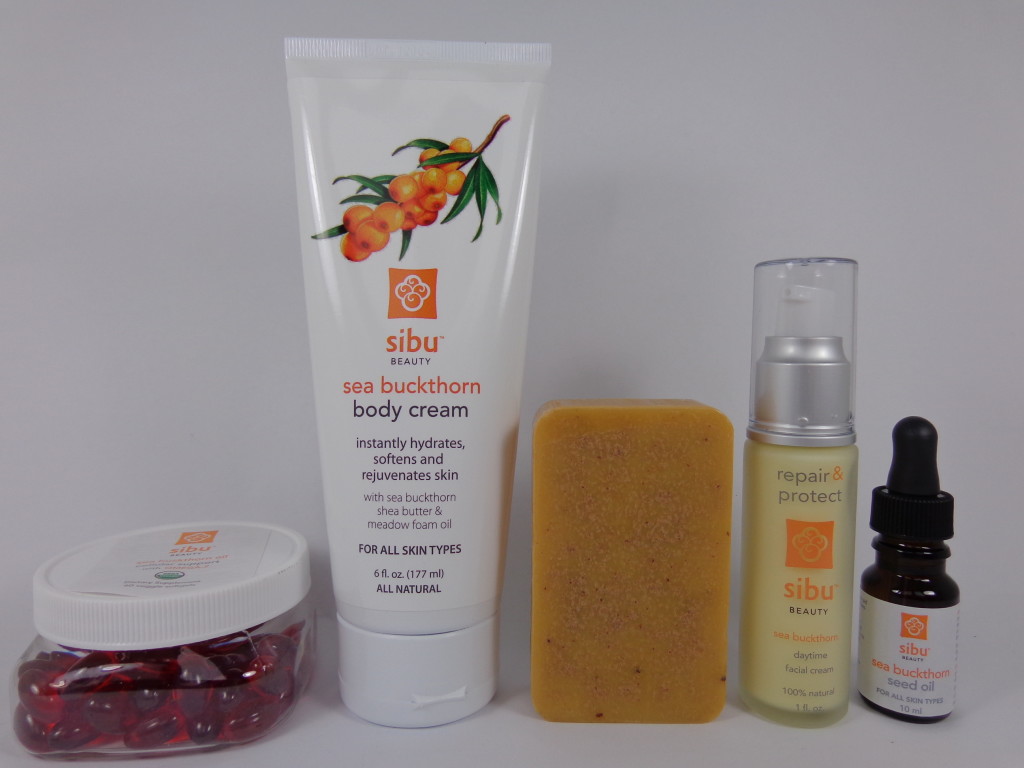 Each product (besides the oil) has a wonderful, very natural orange scent due to essential orange oil.
The Sea Buckthorn Body Cream is fantastic!  Of course, I love the scent and it is ultra-creamy and non-greasy.  Very moisturizing during this cold and windy weather.
The Sea Buckthorn Cleanse & Detox Facial Soap was a true winner in this set.  I used this 100% natural soap twice daily and it provided the best cleansing for my oily, acne-prone skin.  It lathers easily and well, has that orange/lemon fragrance and even has sea buckthorn leaves for exfoliation.  My skin felt clean and never dry.  I highly recommend this soap for oily skin!
The Sea Buckthorn Nourishing Facial Cream is not too thin or thick and absorbs quickly.  It kept my face moisturized without making me oily or shiny.  I did not experience any breakouts or issues with this at all.  I loved it not only for my face but my neck and decollete.  Great moisturizer!  I used this once daily as my morning moisturizer.
The Sea Buckthorn Seed Oil is a bit like a miracle oil.  I applied this at night as directed, massaging on to my entire face.  It does take about 20 minutes or so to fully absorb into skin.  The scent is what I would describe as savory not sweet and I enjoy it.  In the morning, I wake up to truly glowing skin and that is my favorite part!  I have used pure Sea Buckhorn in the past and had excellent results back then as well.  It is for all skin-types.  I highly recommend this oil as a night-time moisturizer, especially to anyone looking to maintain that youthful glow.
I have not tried the Sea Buckthorn Cellular Support Capsules yet but I may in the future.
Overall, I have been very happy with these Sibu Beauty products!  I truly enjoyed them all but my favorite would be a tie between the facial soap and the oil.  I found these to work very well with my oily skin but these are great for all skin types.  Purchase at SibuBeauty.com, priced at $6.95 – $20.95 each.
Products provided for editorial consideration, all opinions expressed are my own.
Have you tried anything from Sibu Beauty yet?