After trying the Mary Kay Finishing Spray by Skindinävia, I had the bar set high for the Skindinävia Bridal Makeup Finish, with the hefty claim of 16-hour long makeup preservation. Obviously this makeup setting spray is targeted towards brides who need to have their makeup applied before a very long day of running around, vowing their undying love to another person, etc.  On the back of the bottle, it clearly states "tear and moisture resistant."  The formula is oil free and light. There is no scent, doesn't sting the eyes and is not tested on animals. It also doesn't stain clothing, although I don't think I've ever come across a makeup setting spray that does.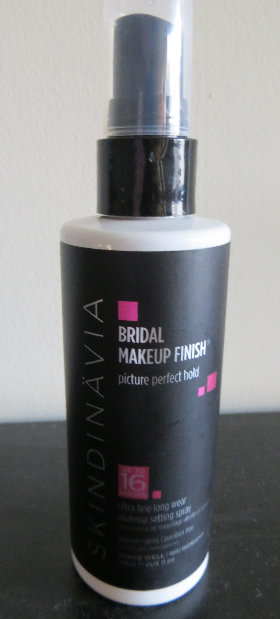 I tested the Skindinävia Bridal Makeup Finish on two separate occasions. One was a day where I had work all day, class in the afternoon, and then an event at night that was going to last until about 2 AM. I figured this was a perfect way to test the claims, as my day was as busy as a bride's–plus I'd be dancing the night away! I applied my makeup around 8AM and only touched up my lipstick a couple of times. However, a few hours into the party (12 hours after using the spray) I was as shiny as a penny. I was surrounded by dancing crowds, posing for pictures, which all turned out pretty cringe-worthy because I'm glistening. So much for moisture resistant!
For the second test, I did the classic Disneyland day experiment. I applied my makeup around 10:30AM and left the park about 12 hours later… again shiny, oily in my T-zone, and lacking most of my foundation/bronzer/blush I had applied that morning.
Overall I'm pretty bummed out about this makeup finish, especially since Skindinävia made such a great makeup setting spray for Mary Kay. I would NOT wear this on my wedding day. I would definitely stick to Urban Decay's All Nighter or the Mary Kay Finishing Spray… heck, I'd even use hairspray to set my makeup before relying on this! That worked for my prom night!
Find the Skindinävia Bridal Makeup Finish (4 oz) for $29.00 at Skindinavia.com.
Product received from PR for editorial consideration, all opinions expressed are my own.
What's your favorite makeup finishing spray?