I am so pleased to share a guest post by Sheila Arkee of Painted Ladies!
Over at Painted Ladies, I've had a daily feature called 365 Days of Makeup that is now in it's 4th year. To say eye makeup is my favorite thing in the beauty world is a massive understatement! Not only do I enjoy the art of eye makeup application, I really enjoy showing people my application tips and techniques.
Here is a step-by-step tutorial featuring one of my all-time favorite looks, a smoky gold eyeshadow that looks good on a variety of skin tones.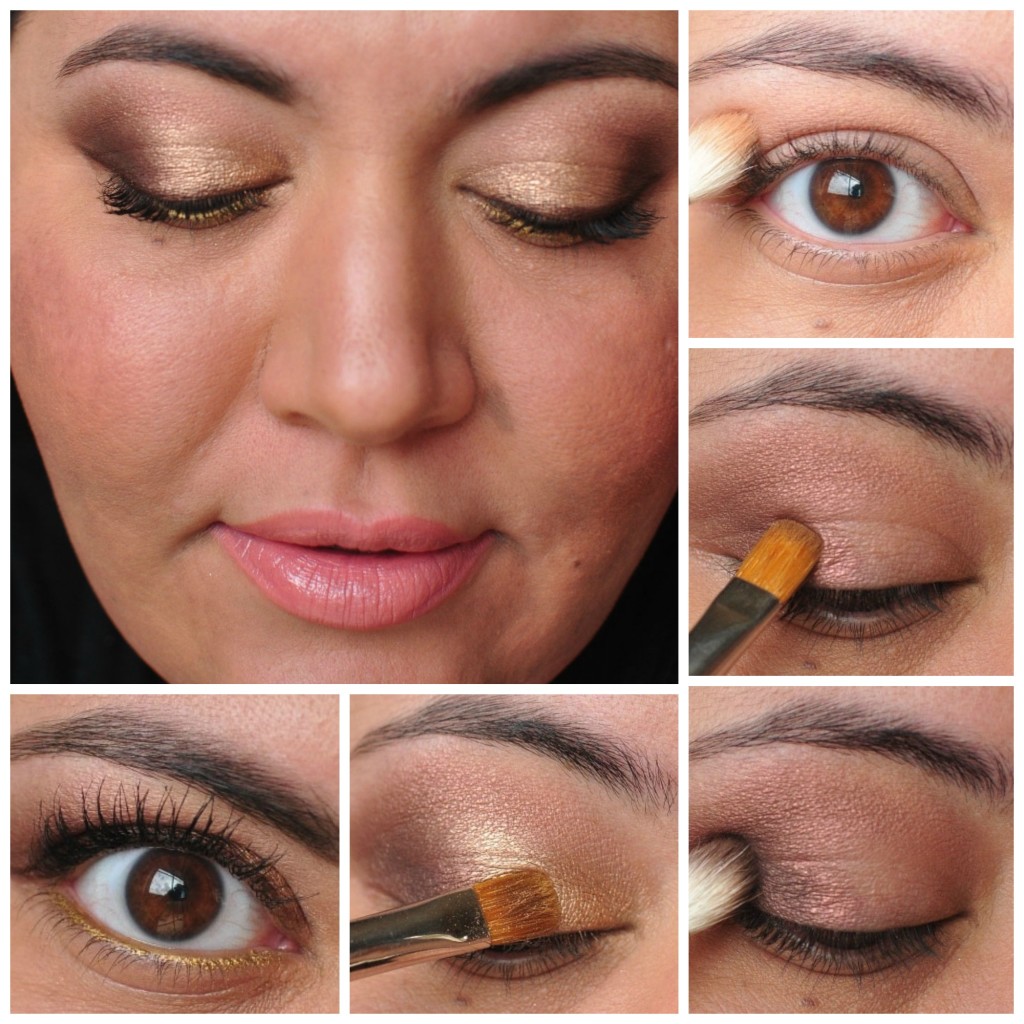 I've used Too Faced The Chocolate Bar Eye Palette
, which is chock full of absolutely beautiful and universally flattering shimmery and satin shadows.

Before we get started with the eyeshadow application, I have to recommend using an eyeshadow primer. It's a makeup must-have and ensures your makeup lasts on your lids as long as you'd like. I've been using Prestige Cosmetics Primed & Ready which is under $10 and well worth the investment.
The three brushes I used for this look are MAC 242 (for the lid), MAC 217 (for the outer corner and blending) and MAC 213 (for the browbone and inner corner).
Are you ready? All right, here we go!
Step 1: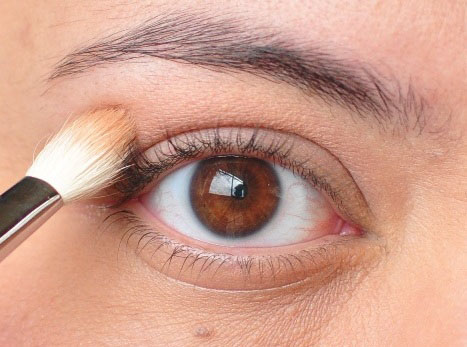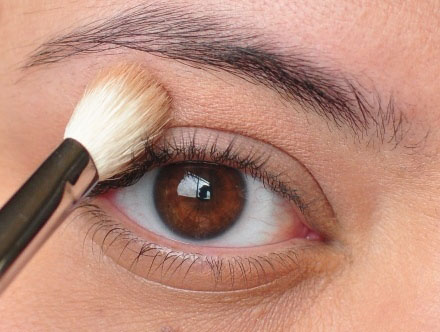 I start off the look by using the MAC 217 brush to blend a light brown (Salted Caramel) into the crease of my eye. My eyes are slightly hooded and I find that adding a contour color to the crease gives them the illusion of added dimension. Use circular motions to blend the color well from the outer edges of your eyes toward the inner corner of your eyes.
Step 2: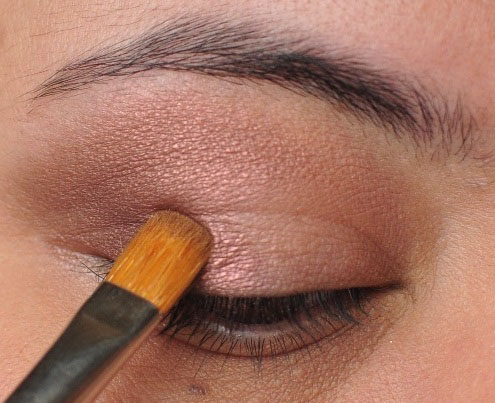 I use a flat brush, MAC 242, for a dense application of a darker shimmery brown (Haute Chocolate) in the shape of a sideways "v" in the outer corner of my lid.
Step 3: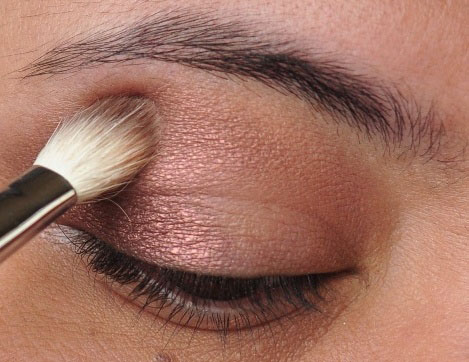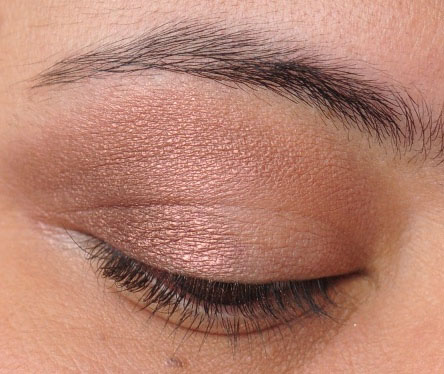 To blend the darker color I've just applied, I use the MAC 217 brush with a teensy bit of the same color with small circular motions. This ensures the edges of this color don't look like sharp edges.
Step 4: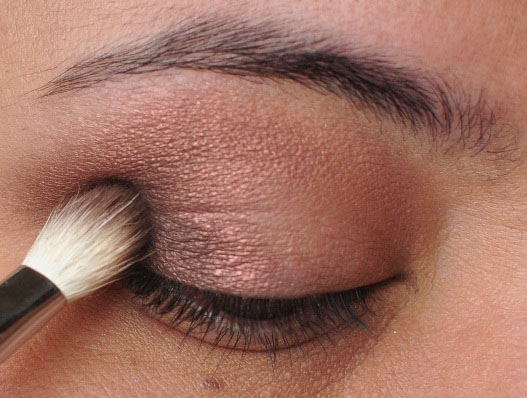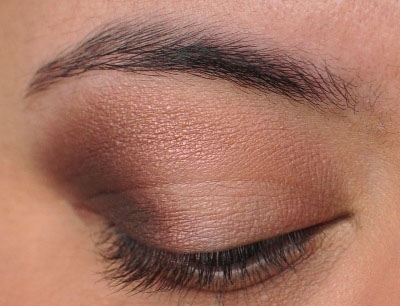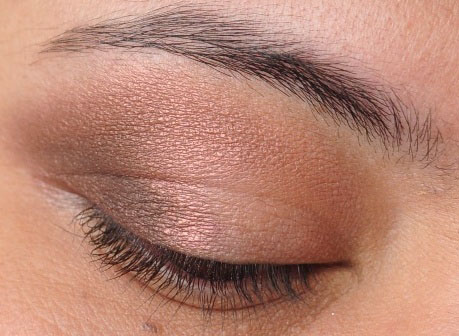 I use a clean MAC 217 brush to add a darker matte shadow to the very outer corner of my lid. This gives a really great contrast and gives the look some smokiness.
Step 5: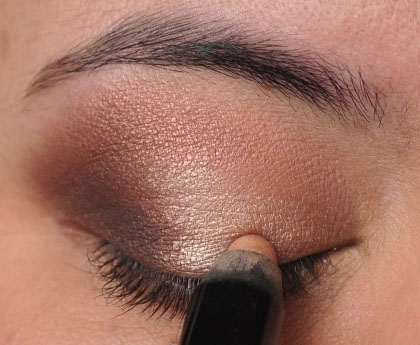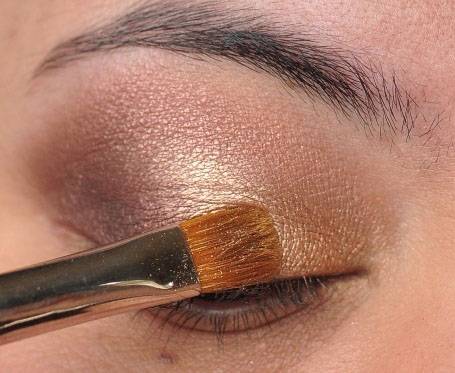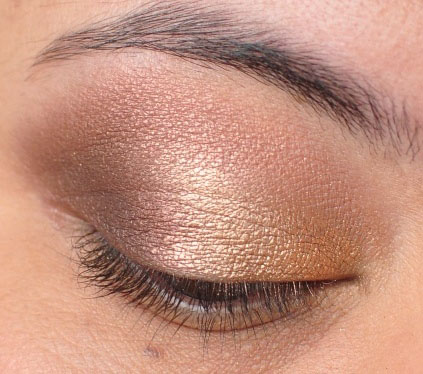 And now for the inner lid! I use a creamy shadow stick (Rimmel Scandaleyes Eyeshadow Stick in Bombshell Beige) to enhance the eyeshadow. It really makes a difference!
I then use a flat brush (MAC 242) to apply the lighter shade (Marzipan) with patting motions.
Step 6: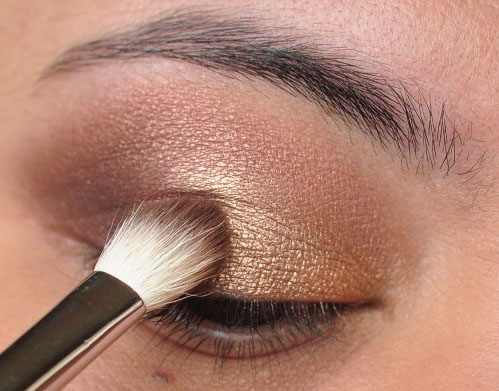 To make sure the edges of the shadows are perfectly blended, I'll go in with the brush I used to apply the darker matte shadow in Step 4 and make sure the shadows are melded together.
Step 7: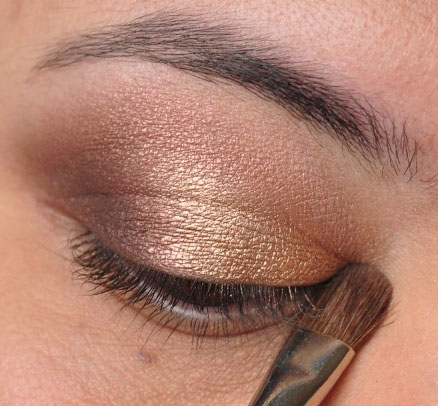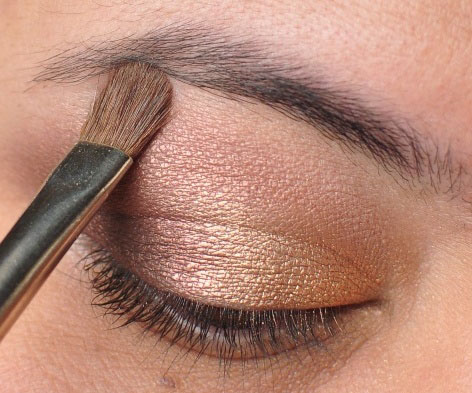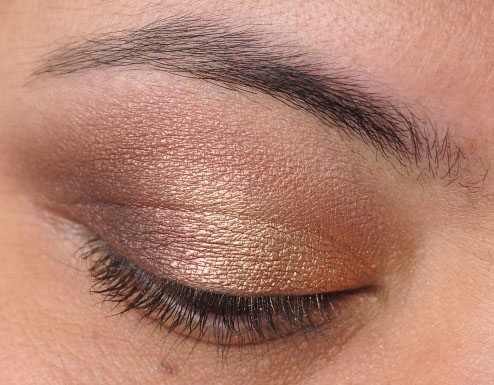 For the finishing eyeshadow touches, I use a small fluffy brush (MAC 213) to add a lighter, matte shadow (White Chocolate) to the browbone and in the inner corner of my eyes.
Step 8: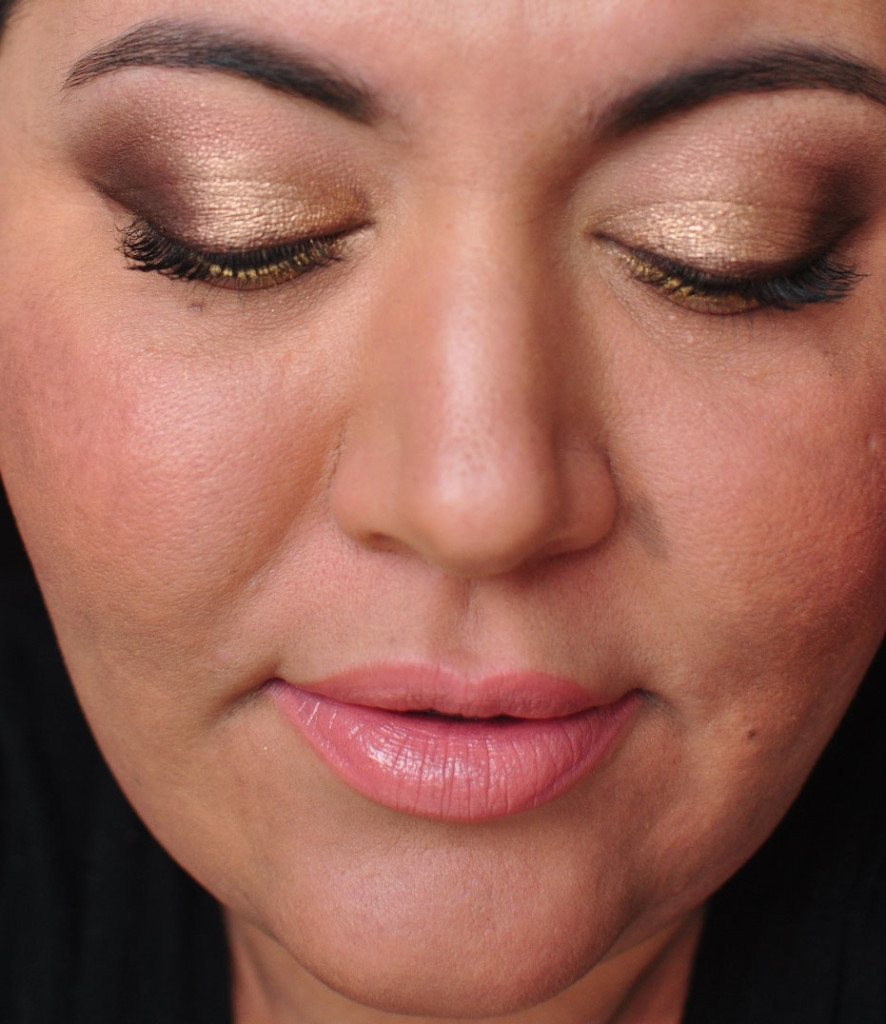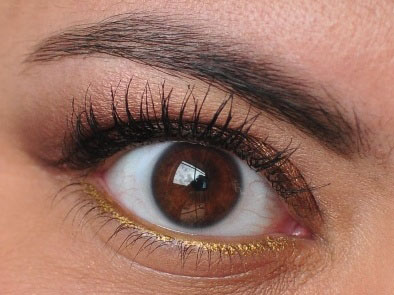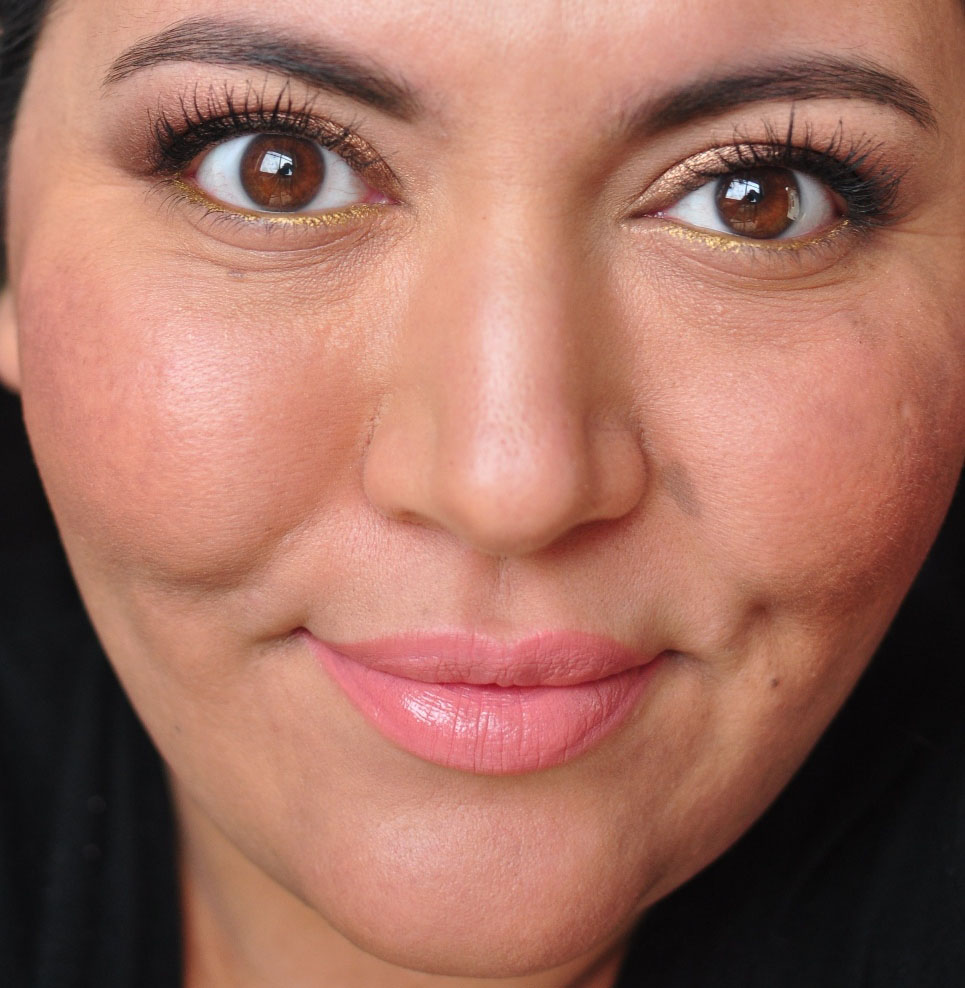 The eyeshadow application is finished, so I add eyeliner (MAC Teddy), mascara (L'Oreal Voluminous Butterfly), and fill in brows (NYC Brow Pencil in Sable & MAC Espresso Eyeshadow), and the look is all set!
And voila! A beautiful, flattering look that you can wear day or night, and can be enhanced with a darker eye liner or false lashes
for some added drama.
Enjoy!
Find Sheila at Painted Ladies, Twitter, and Facebook.
Affiliate links.