I cannot believe that we are well into Summer and Fall collections are debuting.  However, I am so pleased to share my swatches of the Zoya PixieDust Fall collection today!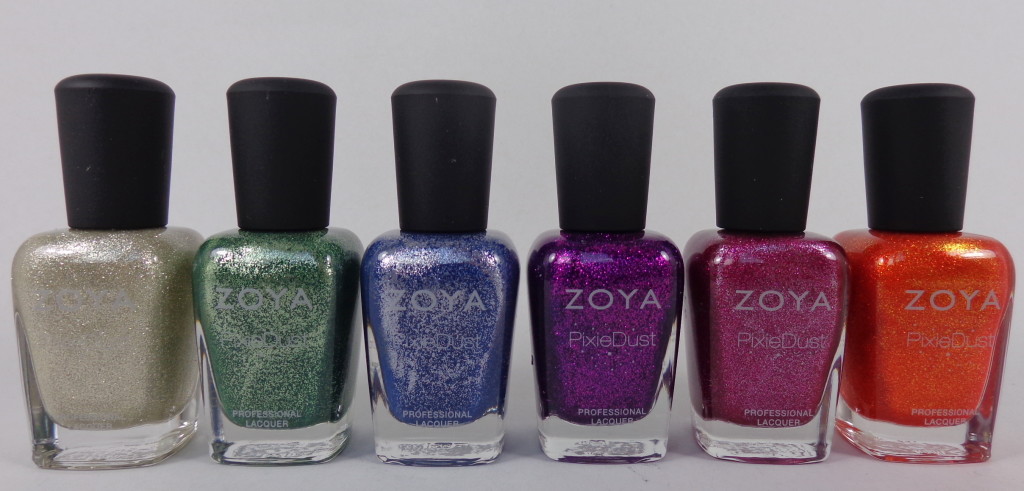 This collection of six new PixieDust shades (matte textured sparkle) includes:  Tomoko – Glowing Champagne Silver, Chita: Emerald Forest Green, Sunshine: Van Gogh Navy Blue, Carter: Regal Purple, Arabella: Rich Fuchsia Pink, Dhara: Dazzling Coppery Orange
Important info on application of PixieDust from Zoya.com –  Do not use a base coat or top coat. Apply 1-3 (for full coverage) thin coats of polish. Allow product to dry down completely matte in between layers for full textured effect. The PixieDust textured formula may take up to 10 minutes to dry completely matte. Once dry, the textured finish is long-lasting, matte and ultra-glittery!
I can tell you that the Zoya PixieDust Fall collection are a no-fuss collection of matte textured sparkle shades.  Most were good-to-go with just one coat and were also very easy to remove using a non-acetone polish remover.  The textured surface is not extreme or annoying at all and does not catch on any clothing.  The glitter is so fine that it makes for a very smooth application and gorgeous finish.
Let's take a look at the new PixieDust shades for Fall 2013!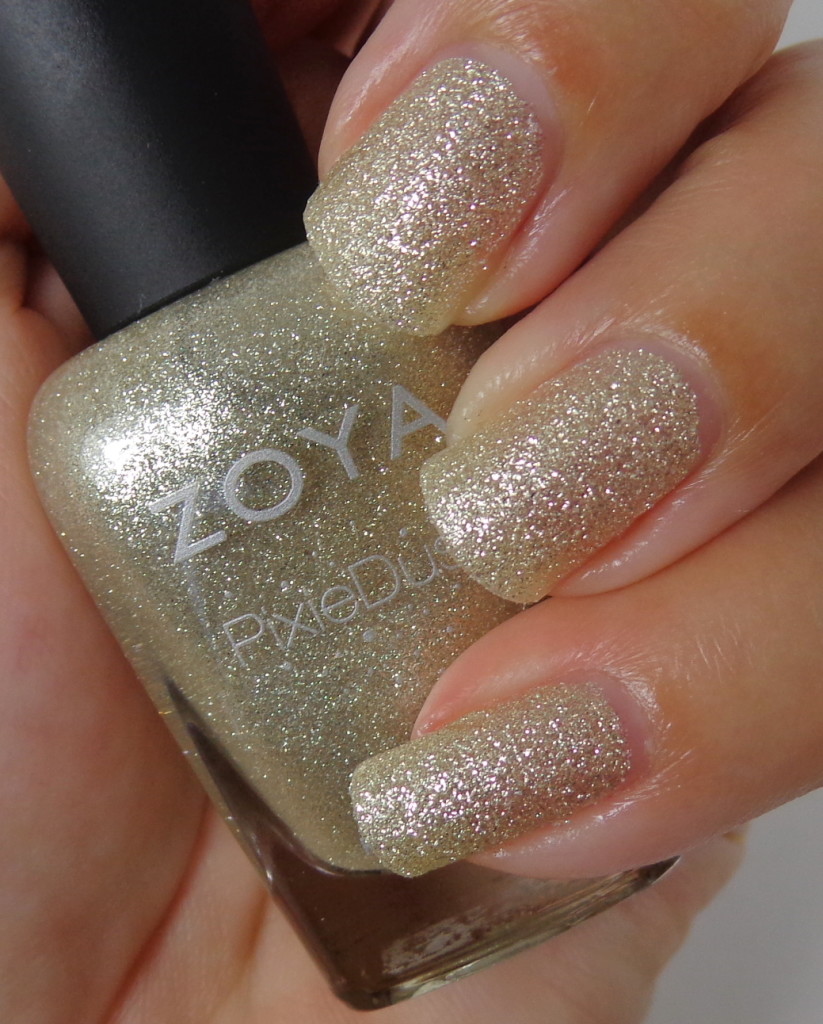 Tomoko is gorgeous with 2 coats shown here.  Perfect for those who like sparkle but nothing too crazy.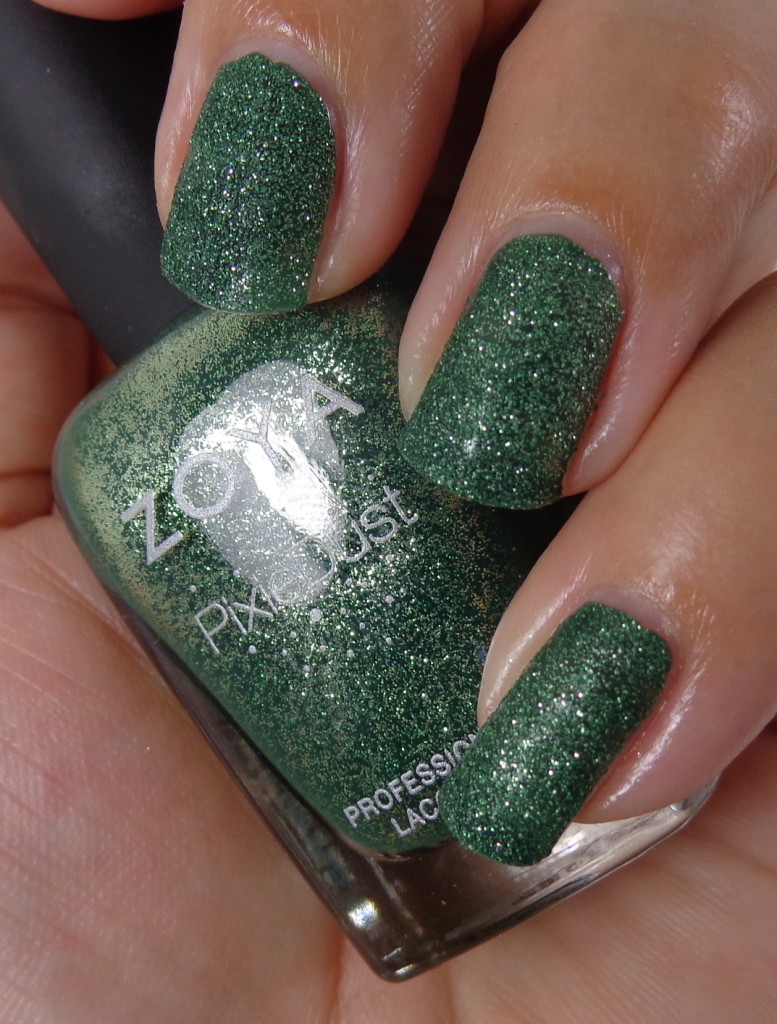 Chita is a TOTAL holiday shade in my opinion.  I could not believe how green it looked on the nail and so opaque with just one coat.  A forest green sparkle is just perfect for the holidays so keep this one in mind for your Christmas manicure this year!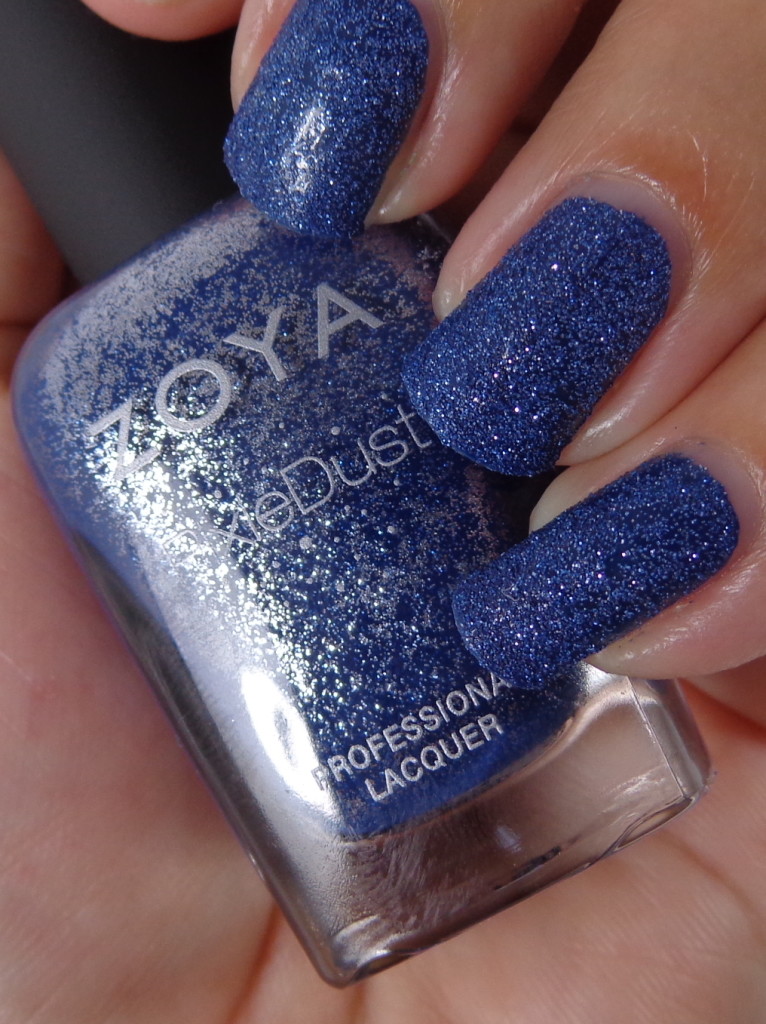 Sunshine is such a pretty blue, again perfectly opaque with just one coat.  I enjoyed the sparkle in this one A LOT.  I think this color really shows off the PixieDust formula.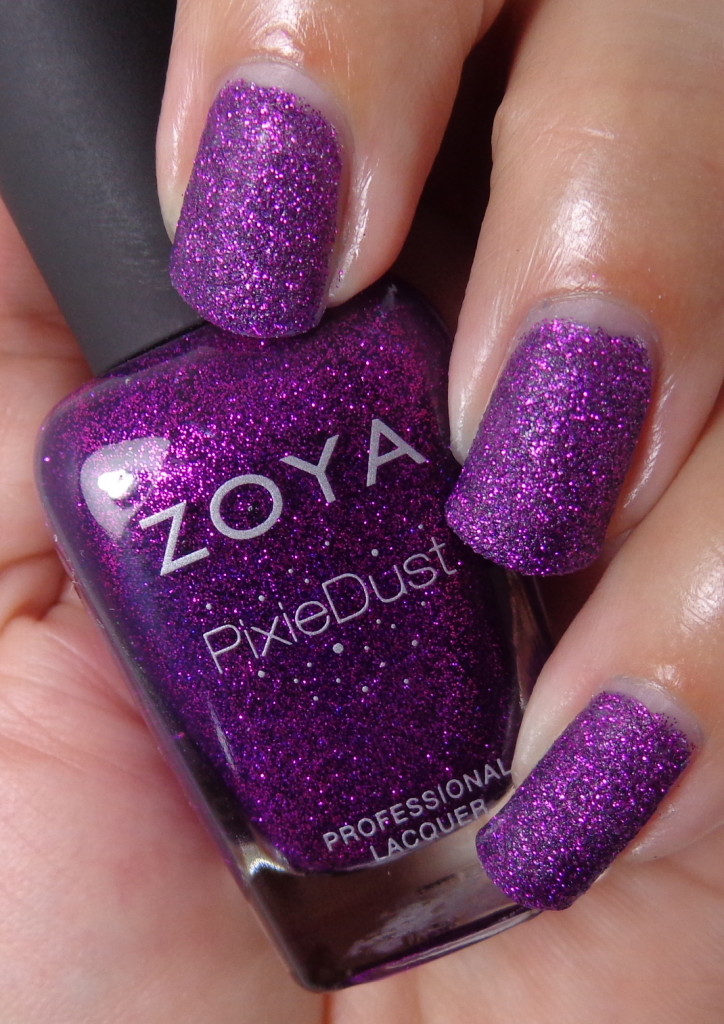 Carter is a really "in your face" purple sparkle and it reminds me of what this nail polish wants to be when it grows up.  I used two coats for these photos.  If you love the look of glitter nail polish but hate the removal process, PixieDust is your answer.  You get the look without the fuss.
Arabella is just such a gorgeous fuchsia/purple!  This shade is a close second when it comes to my favorites in this collection.  I am partial to hot pinks/fuchsias so with the added sparkle I just fell in love with Arabella!  I am wearing it today and when the sunlight hit my nails, oh boy it looked amazing.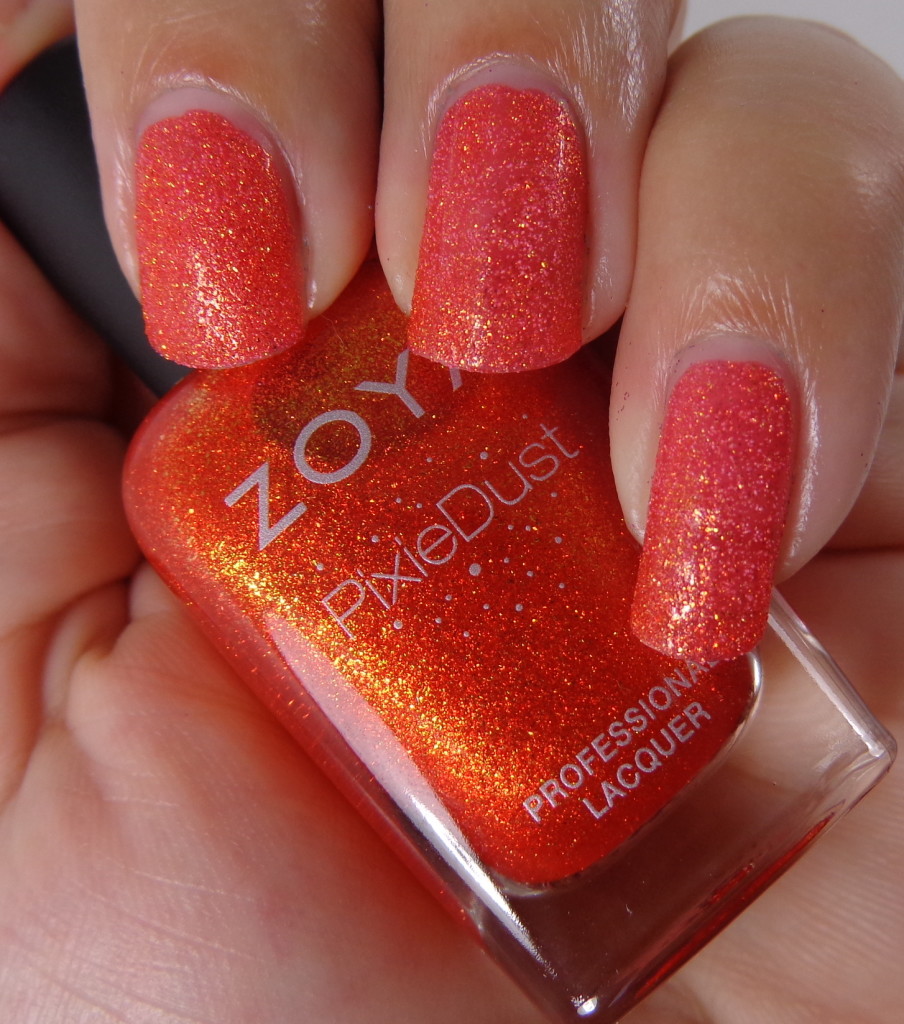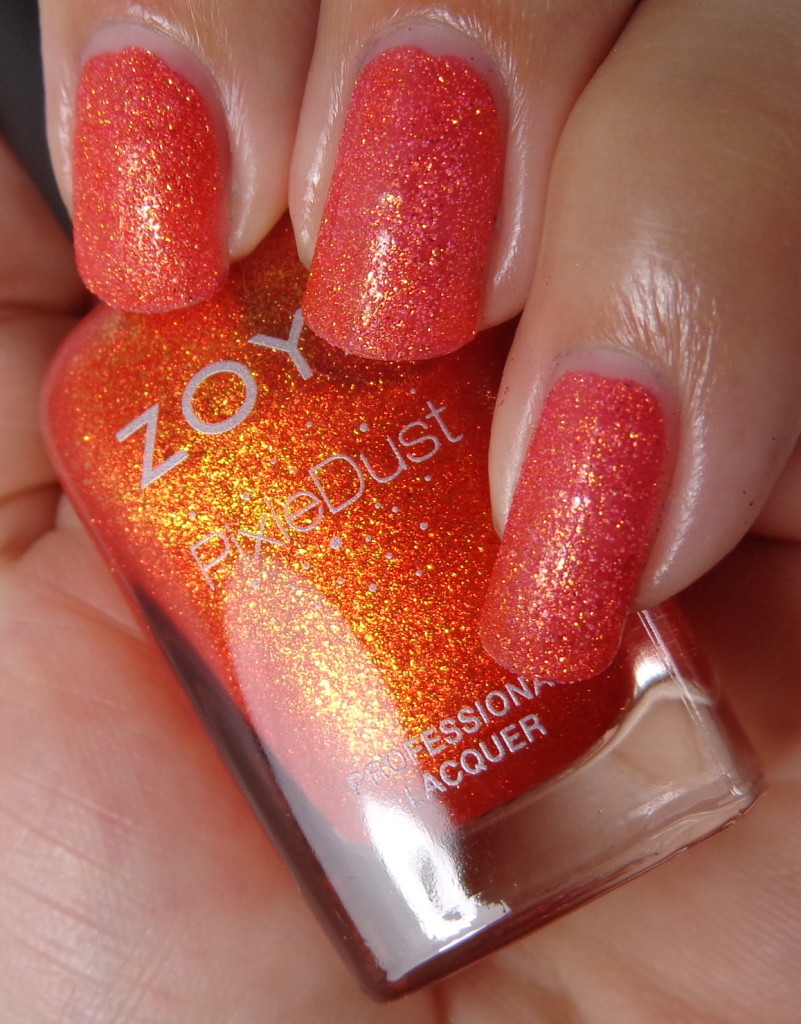 Finally, on to Dhara my absolute favorite in this collection!  I needed just one coat for great coverage.  The amazing thing is that it looks like this stunning shade of pink/melon/coral when the light hits it!  It certainly is orange in the bottle but I love the subtle color change the most.  I cannot wait to wear Dhara on my toes this week!!
Overall, I have to say the Zoya PixieDust Collection for Fall 2013 is full of shades that will appeal to a wide group of nail polish lovers.  If you have ever been afraid of glitter polish for any reason, I would recommend trying one of the PixieDust shades.  These matte textured sparkle shades are like the grown-up version of glitter polish, in my opinion.  I love that they are not high maintenance, most needing just one coat and easy to remove.
Zoya.com, $9 each
Products received from PR for editorial consideration, all opinions expressed are my own.
What do you think of this new collection for Fall?  See anything you like?