Oh boy, we are getting down to the wire here with this Holiday Season quickly closing in on us! I'm assuming that most of you have done your shopping, but in case you are a little naughty and you have been putting it off then you don't want to miss your opportunity to grab this awesome holiday set from Tarte.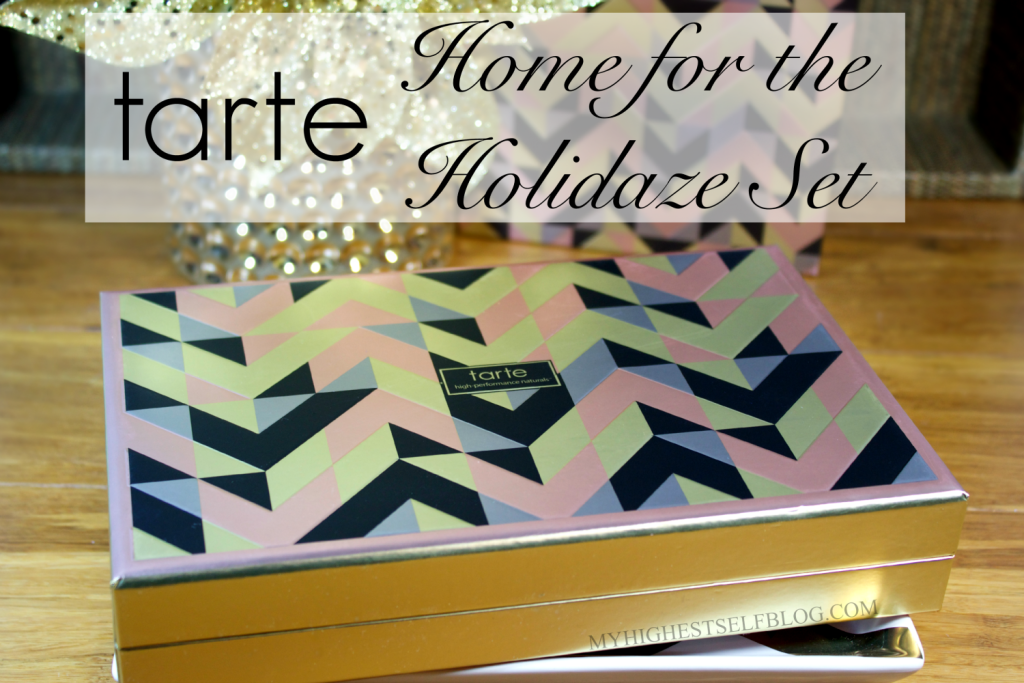 The Tarte Home for the Holidaze Set is the perfect last-minute gift solution for your makeup loving bestie or relative. Heck, you could even gift it to yourself because it seriously has everything you'll need to create a lovely makeup look for your Christmas or New Year's Eve festivities.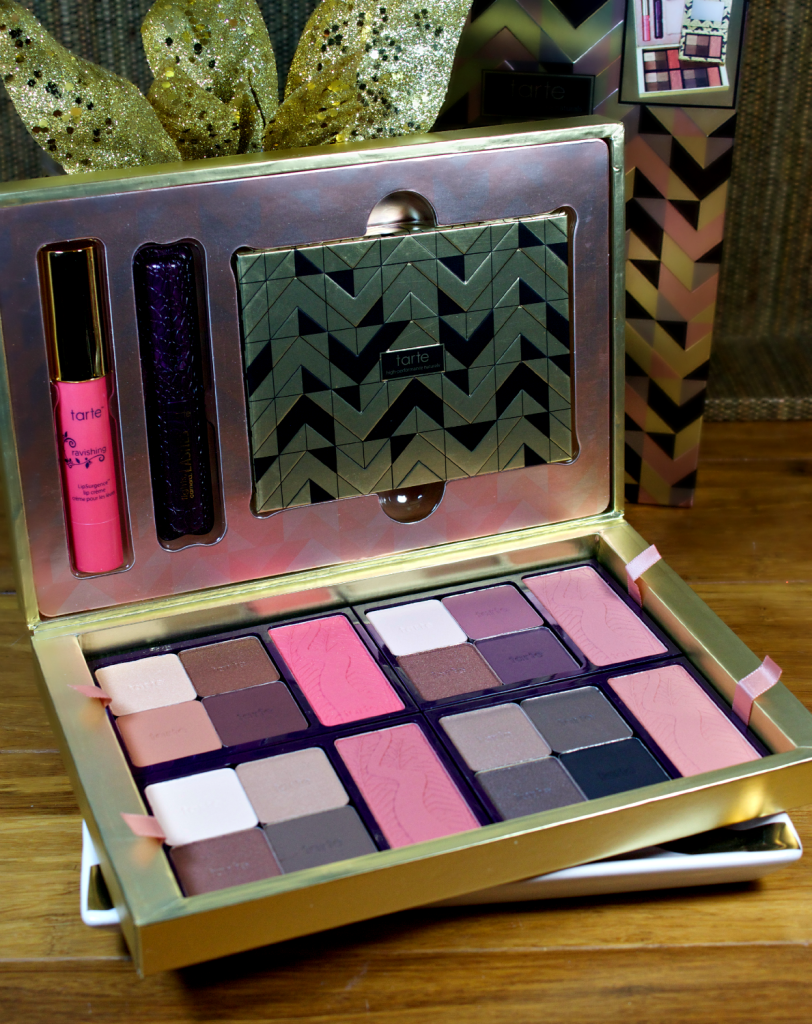 This limited edition set is packed with 16 eyeshadows, 4 blushes, a full size LipSurgence, a deluxe size Lights Camera Lashes Mascara, and a portable mini palette. Everything comes housed in a beautiful chevron patterned box that is large, but not overly cumbersome. You could easily pack it into a suitcase for travel, but it wouldn't be practical for a pocketbook. Luckily, each shadow/blush quad pops out and they included a handy travel palette to easily take with you anywhere. All of the quads have a magnetic bottom and the palette has a magnetic closure, so it's all feels very secure.
The included LipSurgence is the shade Ravishing which is a beautiful warm rose creme.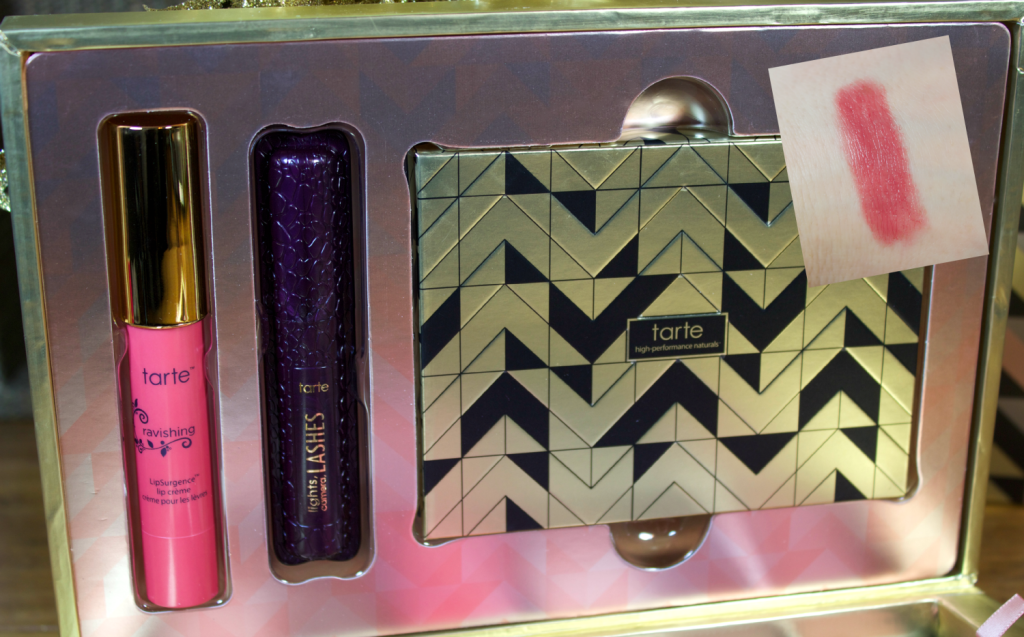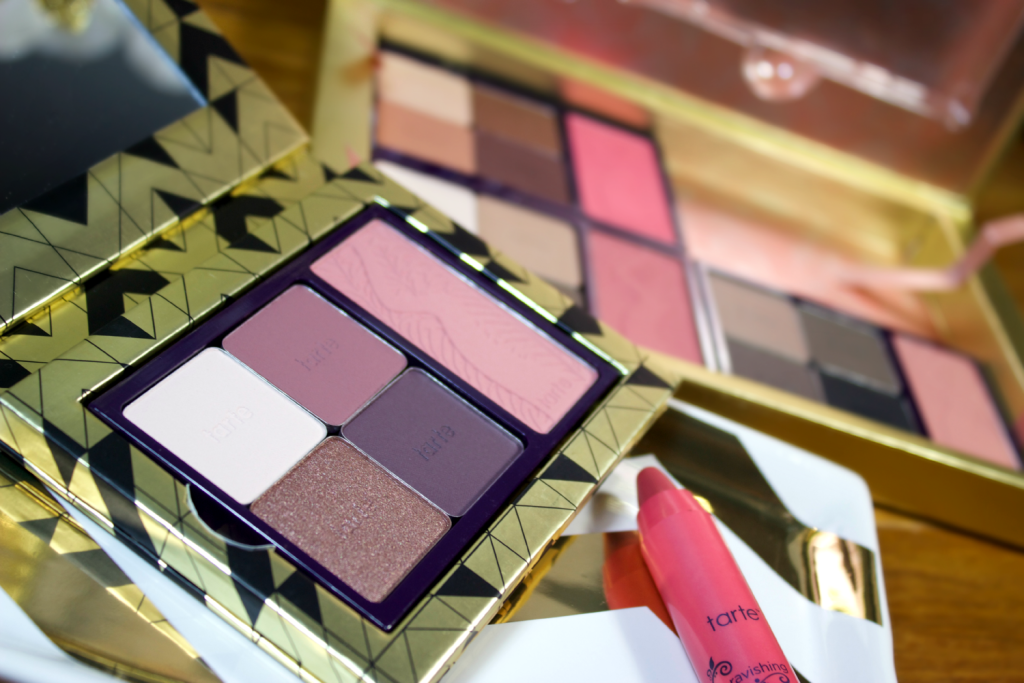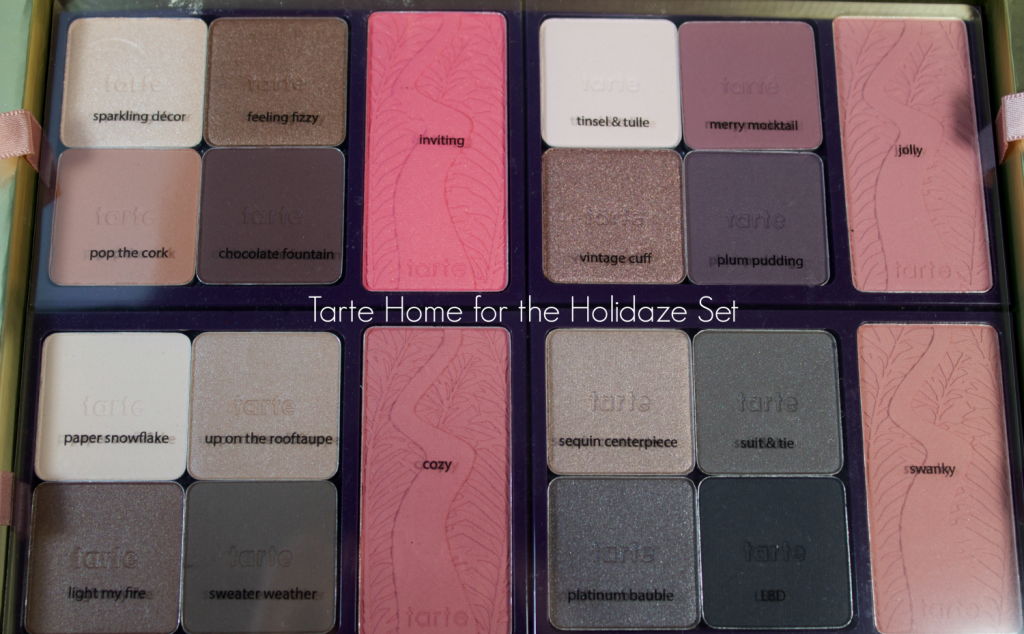 Quad 1:
Sparkling Decor – a champagne pearl

Feeling Fizzy – shimmering copper

Chocolate Fountain – dark matte warm brown

Pop the Cork – matte hazelnut

Inviting – vibrant cool pink
Quad 2:
Tinsel & Tulle – matte ivory

Merry Mocktail – matte mauve

Plum Pudding – matte plum

Vintage Cuff – metallic rose gold/bronze

Jolly – soft pink
Quad 3:
Paper Snowflake – matte light beige

Up on the Rooftaupe- light shimmering taupe (love the name of this one!)

Sweater Weather – dark matte cool brown

Light My Fire – shimmering bronze

Cozy –  shimmering warm pink/coral
Quad 4:
Sequin Centerpiece – cool shimmering taupe

Suit & Tie – metallic grey

LBD – matte black

Platinum Bauble – shimmering slate grey

Swanky – light nude/pink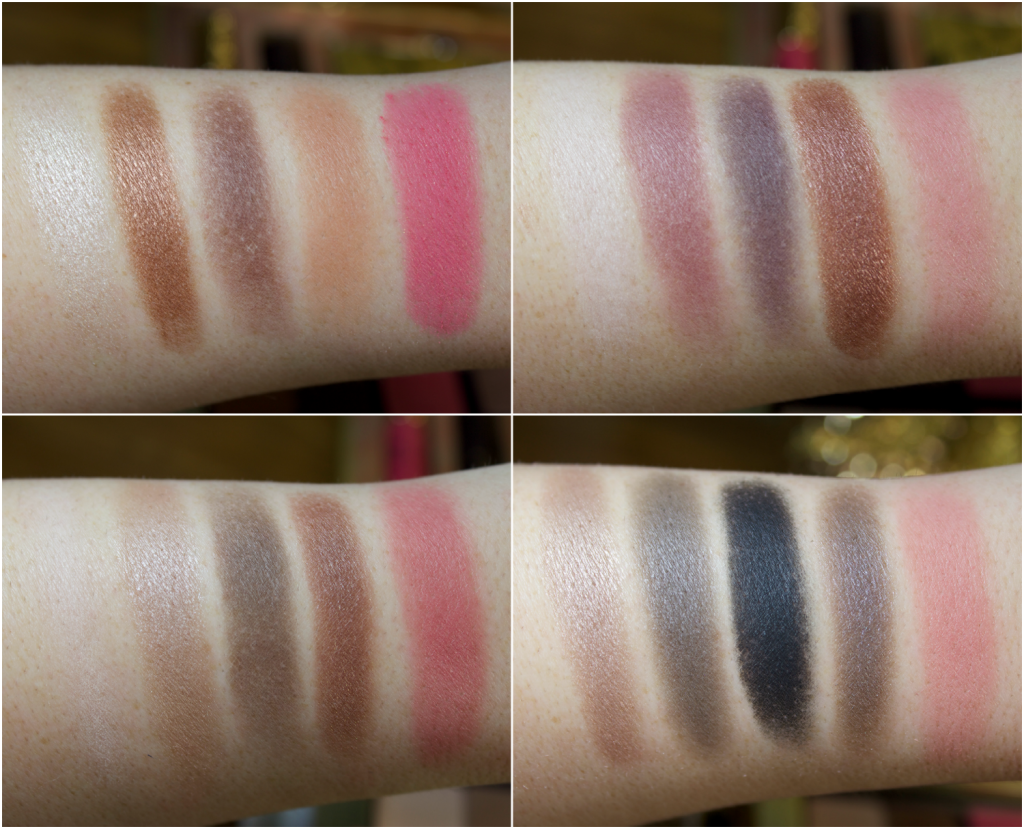 Sometimes with holiday value sets the quality can be hit or miss and I am happy to say that this one is a total home run for me! All of the shadows are very pigmented and are easy to apply with maybe the exception of Chocolate Fountain and Plum Pudding, but even those are good with some layering. The blushes are all extremely pigmented and very easy to blend, and the LipSurgence is a perfect feminine shade that is appropriate for all seasons. It's safe to say, I love this palette, and for the price (just $49) it can't be beat! As of right now, it's only available at Macy's, so if you are out shopping these next few days I would stop in and check it out, or you can find it online if you can't make it to the store.
Product received from PR for editorial consideration, all opinions expressed are my own.
Does this Holiday Set spark your interest?