This weekend I was inspired by a nail tutorial by Keiko Lynn that I pinned to my Nail Inspiration board on Pinterest.  I decided to use the pastel neon shades from The Wanderlust Collection from Birchbox and Color Club.  This set of 4 minis are exclusive colors custom blended by the Birchbox editors.  Neon shades were mixed with a white base to create "pastel neons" which are pale yet bright.  The four shades: Mod in Manhattan:  brilliant off-white; London Calling:  sunny green; Reign in Spain:  fiery coral; Pardon My French:  charming purple.
Step 1:  I applied two coats of Mod in Manhattan (such a cool white!) on all nails:
I waited several minutes making sure my white base was dry.
Step 2:  I applied one swipe of London Calling across one side of four nails and one coat of Reign in Spain across the accent nail:
Step 3:  I applied two coats of Reign in Spain accross the other side of four nails and two coats of Pardon My French across the other side of the accent nail:
I cleaned up any polish from my cuticles and waited about 20 minutes to make sure all the polish was dry before adding top coat.  After all my careful work I simply did not want to risk smearing my polish!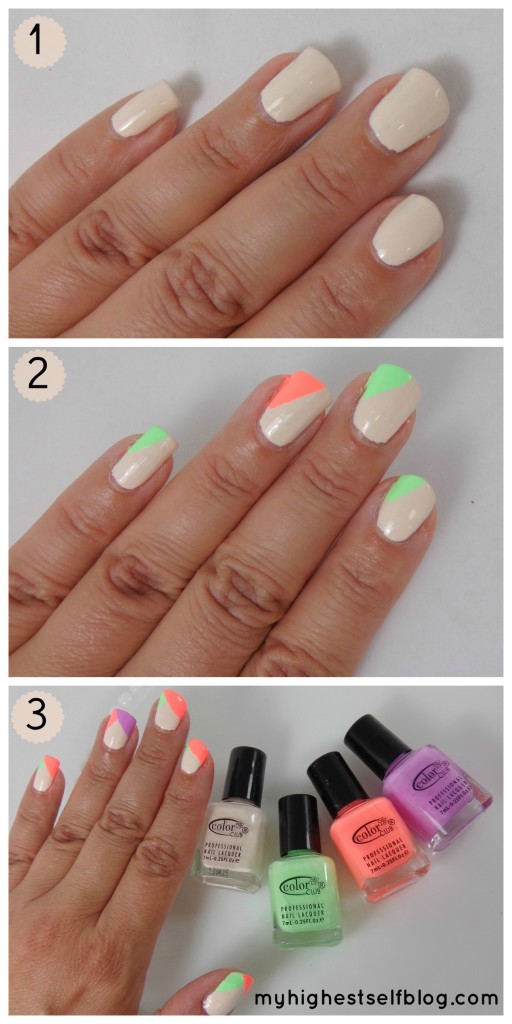 I have to say that I am beyond thrilled with the outcome of my interpretation of this mani!  The Wanderlust Collection could not have been more perfect for this design.  These colors are outstanding and I love the quality.  I had zero issues with application and the final result is now my all-time favorite manicure!  Birchbox Shop, $8.00
Products received from PR for editorial consideration, all opinions expressed are my own. Post contains affiliate link.
What do you think of my weekend mani and The Wanderlust Collection?