Over the past couple of weeks, I have almost completely overhauled my diet.  I've practically eliminated processed foods, I eat salads and drink green smoothies frequently.  Yay, me!  Choosing my foods at home is easy, I'm in control of that.  When I'm out and about and the family is in the mood to grab lunch, that's when it gets challenging.  You see, even the "healthy" and "fresh" salad options at restaurants are often not all that healthy and (sadly) not all that fresh.  The need for fresh salad options at fast food restaurants is real.  I had the chance to go behind-the-scenes at Wendy's and see what fresh means to them!
Did you know?  Wendy's founder Dave Thomas opened the first Wendy's restaurant in 1969 grounded on the premise that "Quality is our Recipe®." For more than 45 years, Wendy's has been invested in bringing customers the quality ingredients that differentiate us from others in the industry.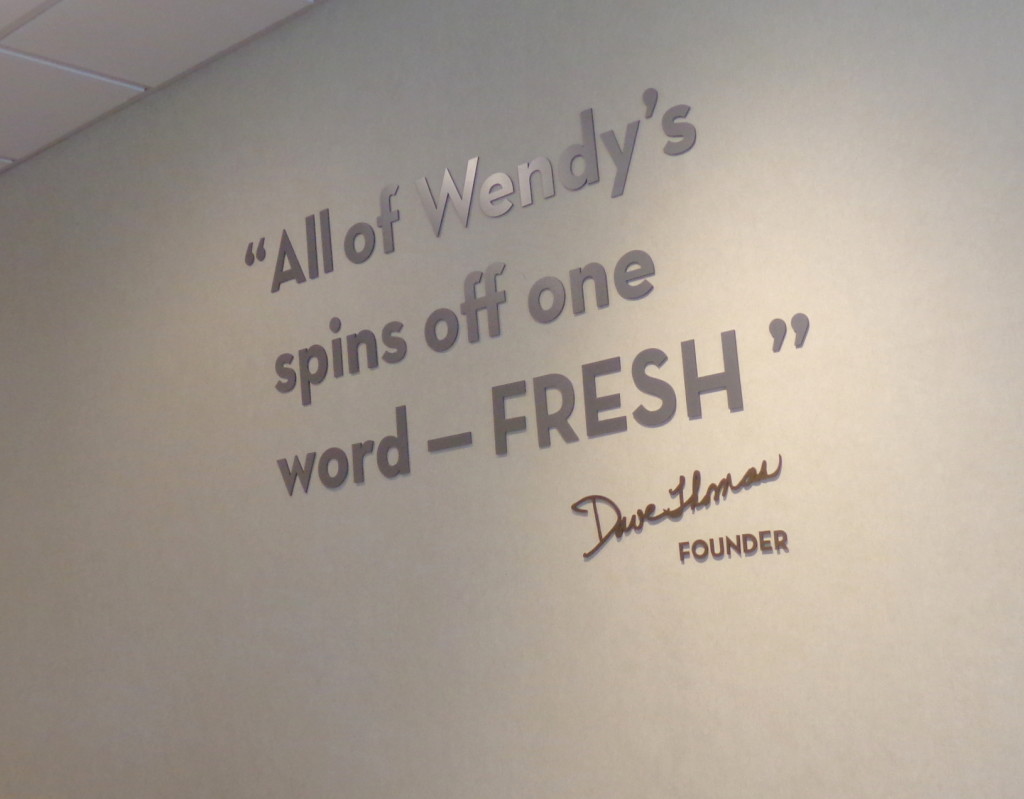 Going in, I can tell you that my previous perception was that Wendy's salads were probably assembled using bagged ingredients just like a lot of restaurants.  What I saw with my own two eyes was just the opposite!  Our small group of bloggers was taken into the Wendy's kitchen to see all the steps in preparing their salads.  Crew members washed, spun dried, and chopped fresh heads of romaine and iceberg lettuce, peppers, cucumbers and tomatoes.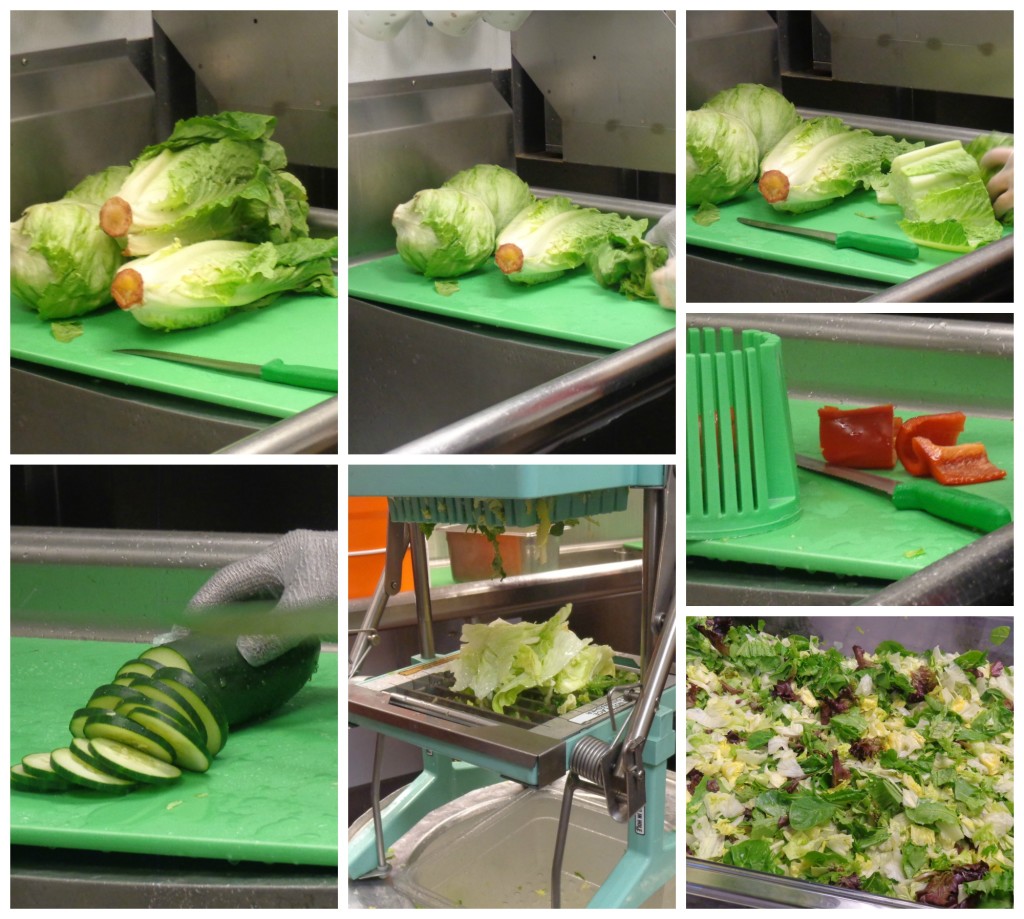 We watched Wendy's crew members do all the things that we would do at home to make our own fresh salads.  What a concept, right?  There were absolutely no bags of pre-cut ingredients in sight.  This process actually happens several times a day, so the salads are always truly fresh.  The lettuce blend of 11 different kinds of greens is topped with the rest of the veggies and then the chicken breast (100% premium, all-white meat) is hand-chopped and served warm on top right when you order.   We watched while a few of the salads were prepared before our eyes:  Asian Cashew Chicken Salad, BBQ Ranch Chicken Salad, Apple Pecan Chicken Salad.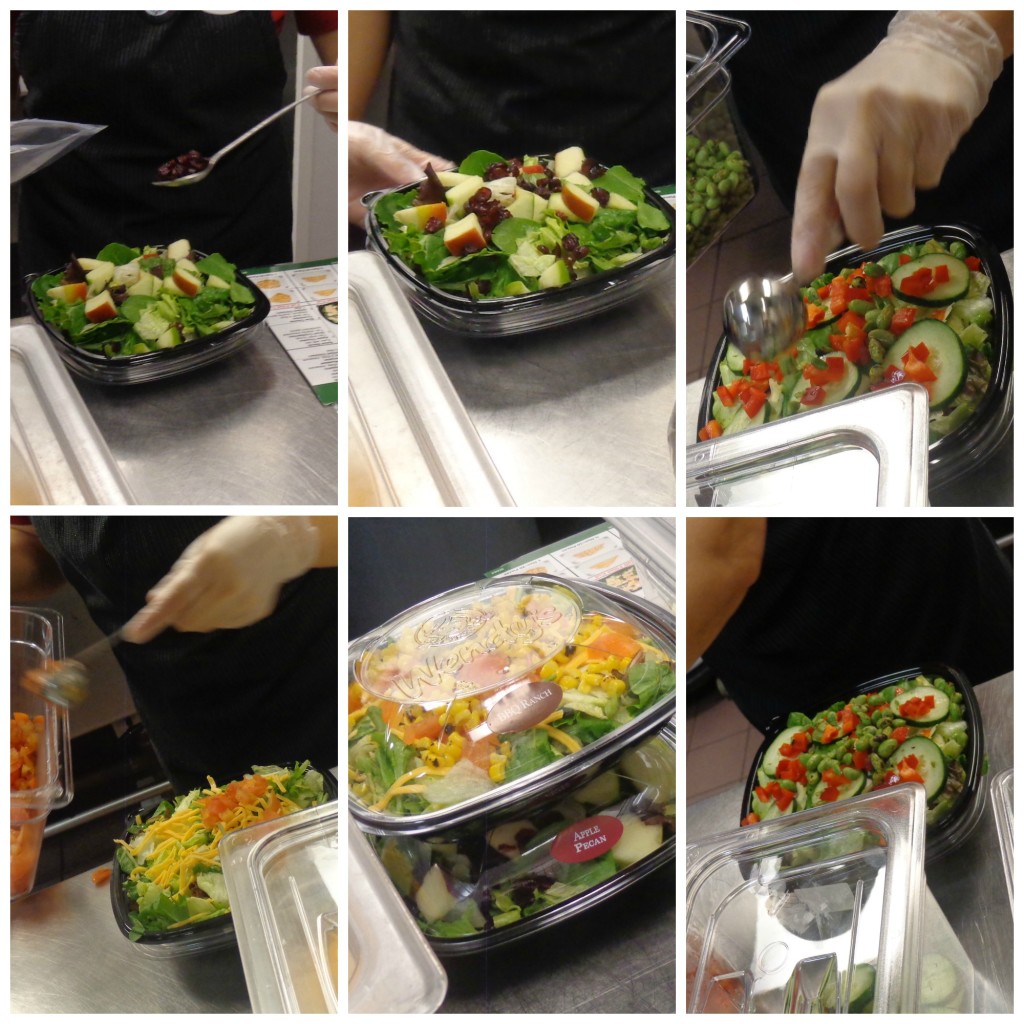 Then, we each had the chance to make the salad of our choice!  I chose the BBQ Ranch Chicken Salad because it sounded the most interesting to me.  It may or may not have something to do with the Applewood Smoked Bacon on top (it was a splurge day for me).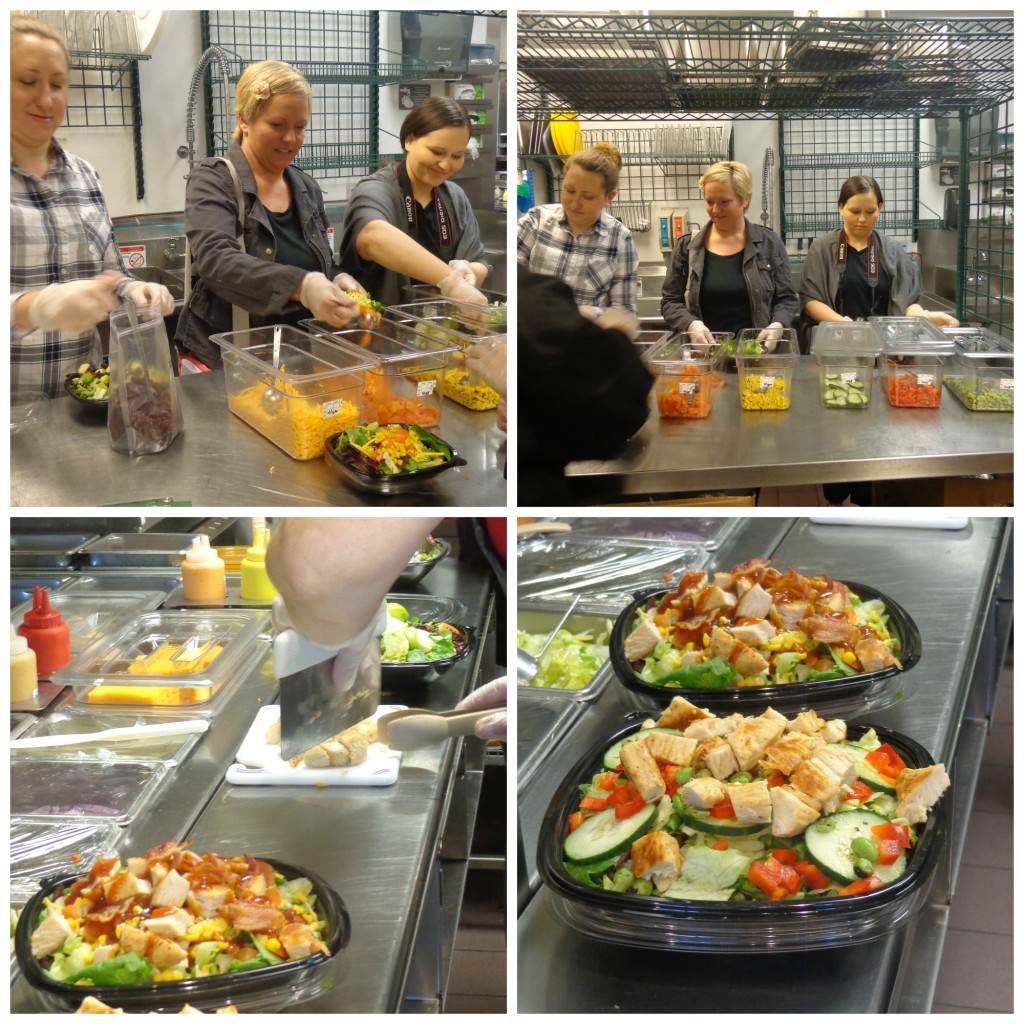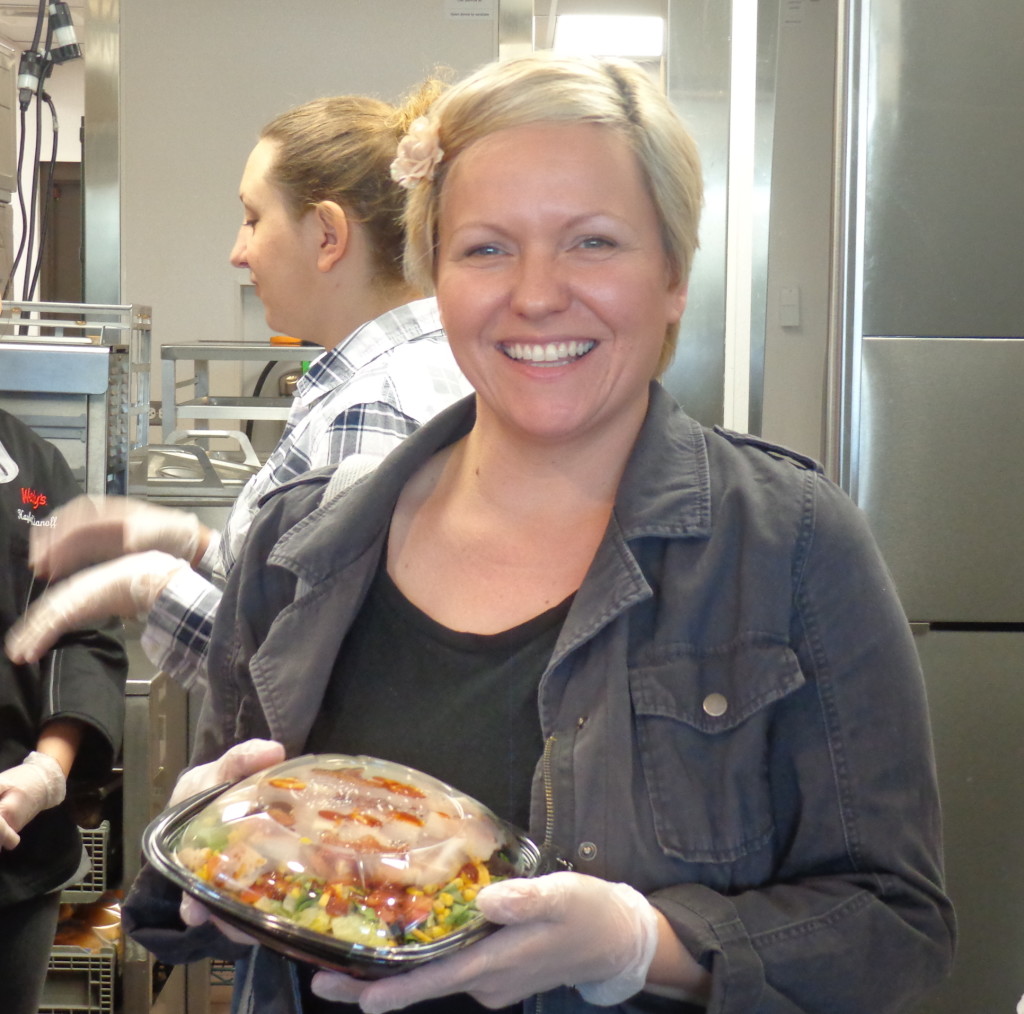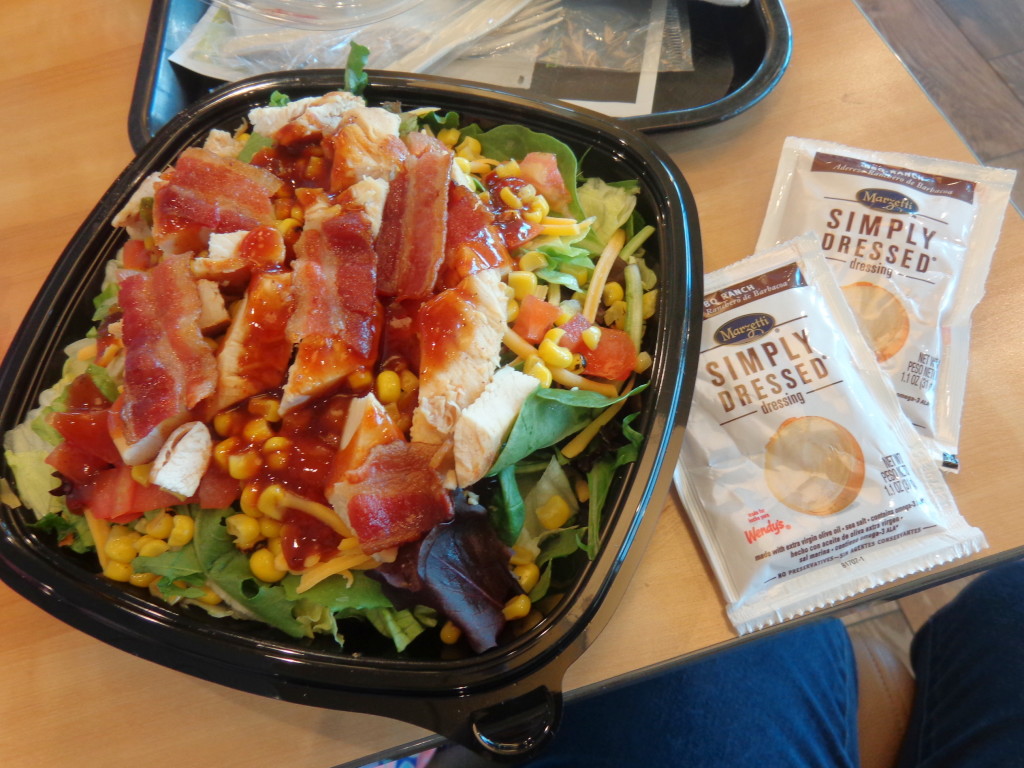 Some of my favorite details:  the fire-roasted corn on the BBQ Ranch Chicken Salad; the roasted pecans seasoned with sea salt on the Apple Pecan Chicken Salad;  fire-roasted edamame and spicy roasted cashews on the Asian Cashew Chicken Salad.  Besides the fact that all Wendy's salads are truly made with fresh ingredients, these type of details are what puts the salads in the "fab food options" category for me.  My BBQ Ranch Chicken Salad had all the fresh taste and unique details that I loved.  Total win for me.  I am thrilled that there are unique and delicious fresh salad options offered at Wendy's.  With full-size and half-size options available for all flavors, I can choose what's right for me.  I'm looking forward to trying them all in the next few weeks.  I think the Spicy Chicken Caesar is next on my list.  At just 200 calories, the Garden Side Salad will be great for those days when I am looking for a quick, low-cal lunch.
Connect:  Visit Wendys.com / Watch Wendy's "Romaine Lettuce Journey" on You Tube
Have you tried the fresh salads at Wendy's lately?  If not, which one would you like to try first?
I was selected for this opportunity as a member of Clever Girls and the content and opinions expressed here are all my own.